By Madushka Balasuriya

Sri Lankan spinner Ajantha Mendis has announced his retirement from all forms of cricket, calling time on a 13-year career. Now 34, he last played for Sri Lanka in December 2015.

Mendis is most famous for popularising the 'carrom ball', a delivery bowled from the front of the hand with the ball propelled forward with the use of the index finger, similar to a carrom player flicking a disk.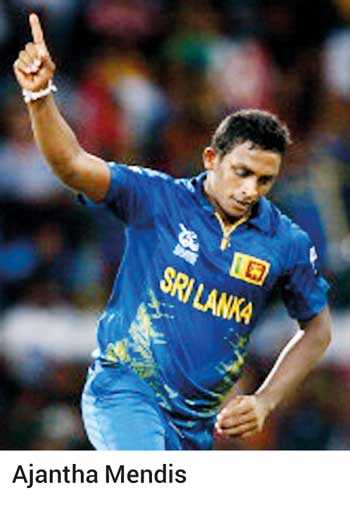 Following his debut in 2008 the mysterious nature of the delivery had seen Mendis enjoy the most explosive of starts to his international career, as he became the fastest bowler to reach 50 ODI wickets in just 19 games. He would end with 152 wickets in 82 ODIs, eighth on Sri Lanka's all-time list, though his average of 21.83 remains unmatched.

Mendis' numerous variations, allowing him to spin the ball both ways or skid it on, proved particularly effective in T20 cricket, where in 39 T20Is he picked up 66 wickets at Sri Lankan best average of 14.42. He also remains the only cricketer to have taken two six-wicket hauls in T20Is.

In Test cricket meanwhile, he enjoyed arguably the most impressive of his debuts picking up 28 wickets across three home Tests against India. At the time, Mendis was fast building a reputation as one of the most dangerous bowlers in world cricket, and many in Sri Lanka felt they had stumbled upon a long-term replacement for the retiring Muttiah Muralitharan.

However, as batsmen became more wary of Mendis' threat, his effectiveness would gradually begin to wane; despite being Sri Lanka's top spinner at the 2009 and 2012 T20 World Cups, by 2015 he would be out of the national set up altogether. His 28 Test wickets in his first-ever series, meanwhile, would end up constituting 40% of his overall 70 Test scalps.

In recent years Mendis has been captaining Police Sports Club in Sri Lanka's domestic Tier B tournament, where he reinvented himself as a batting all-rounder scoring four 50-plus scores in his last 10 innings.