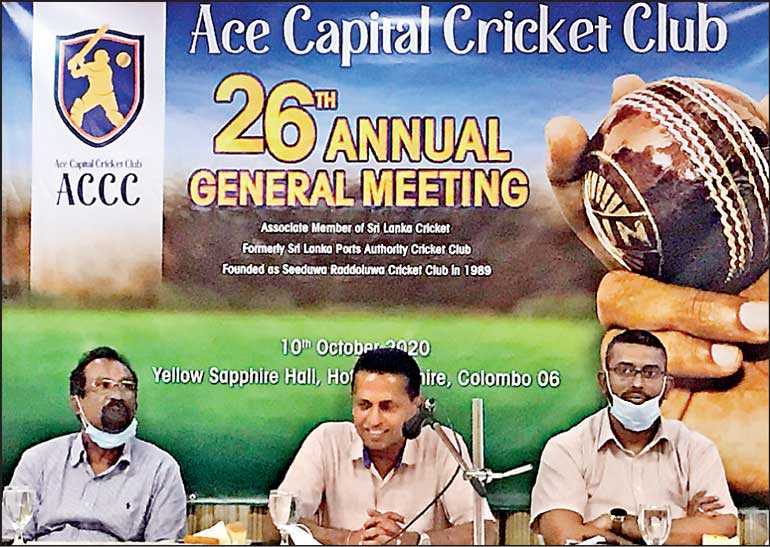 ---
Dr. Priyath B. Wickrama was elected as the incoming President of the Ace Capital Cricket Club (ACCC) at its 26th General Meeting held on 10th October at the Sapphire Hotel, Wellawatte.

The appointment of new office bearers for the upcoming year saw 15 members elected to the Executive Committee including Nalin Aponso (Secretary), Agil Hewagigana (Treasurer), and Retired Major General M.R.W. Zoysa (Senior Vice President). Future activities of the club were also discussed at this meeting.

The cricket club founded as the Seeduwa Raddoluwa Cricket Club in 1989 was later renamed as Sri Lanka Ports Authority (SLPA) Cricket Club. At the general meeting held in 2011, it was decided that the Seeduwa Raddoluwa Cricket Club would henceforth be known as the Sri Lanka Ports Authority Cricket Club.

In 2011 it was agreed that if the SLPA withdraws from the cricket club, the club will be handed over to its former staff. Accordingly, this year the SLPA transferred the Cricket Club back to its former staff, while the club was renamed as the Ace Capital Cricket Club.

Speaking at the event, Dr. Priyath Wickrama said that he hopes to see his team move forward with a new face and renewed enthusiasm.

Ace Capital Cricket Club, an associate member of Sri Lanka Cricket, will play in Tier B of the Premier League this year, with Johan de Silva as the captain and Omesh Wijesiriwardena as the head coach.