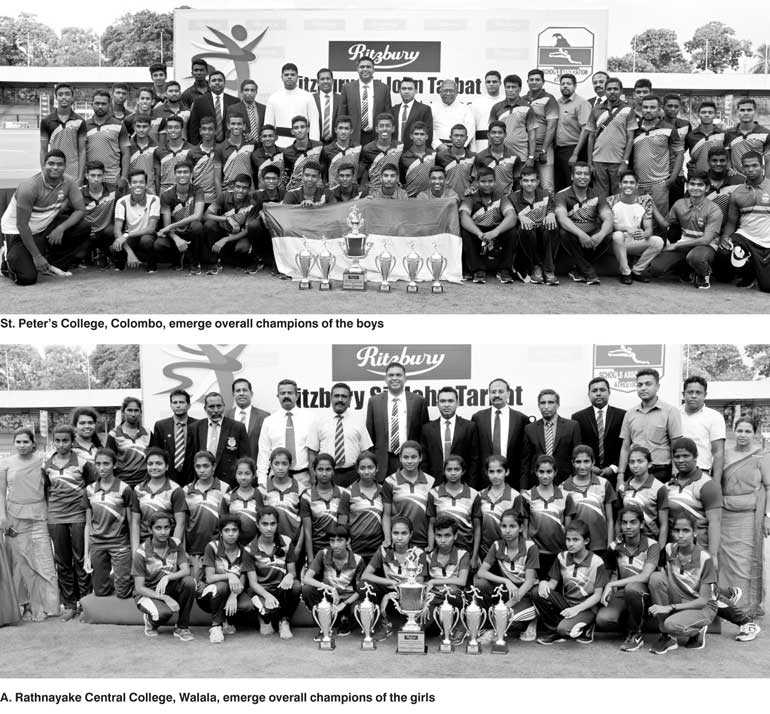 The 88th Sir John Tarbat Senior Schools Athletics Championships concluded on a high note with St. Peter's College, Colombo, winning the overall championship for the boys with 206 points and A. Rathnayake Central College, Walala, winning the girls' title with 240 points.
First and second runners-up for the girls were Gateway International School, Rajagiriya, and Ratnapura Sumana Balika Vidyalaya, respectively, while Maris Stella College, Negombo and Royal College, Colombo, earned the first and second runners-up places for the Boys.
The Championship Athlete of the Year – Boys was S. T. Amarasinghe of Royal College, Colombo. He won the High Jump Under-18 category with a new meet record of 2.10 metres. The Championship Athlete of the Year – Girls was Parami Wasanthi of Kuliyapitiya Central College who created new meet records for both the 3000 metres and for the 2000 metres Steeple Chase.
During the three-day competition held at the Sugathadasa Stadium in Colombo, a total of 23 meet records were broken. Over 4,500 athletes from 600 schools vied for honours during this prestigious competition.
Ritzbury of Ceylon Biscuits Ltd. (CBL) sponsored the meet for the sixth consecutive year.
Boys – New meet records
400m Hurdles Under-20: P. M. P. l. Kodikara (Maliyadeva College, Kurunegala) 52.69s. In second place, bettering the previous (bpr) record, S. H. Nawodya Sankalpa (Mahinda College, Galle) 53.50s
High Jump Under-18: S. T. Amarasinghe (Royal College, Colombo-07) 2.10 metres
4x100m Under-18: Royal College, Colombo 7, 41.88s; St. Peters College, Colombo, 42.14s *bpr; St. Benedict's College, Colombo 13, 42.53s *bpr; St. Joseph Vaz College, Wennappuwa, 42.93s *bpr
4x100m Under-20: St. Benedict's College, Colombo 13, 41.73s; Maris Stella College, Negombo, 42.43s *bpr
Discus Throw Under-16: Rumesh Tharanga (St. Peters College, Colombo) 61.67 metres; Suseenthirakumar Mithunraj (Hartley College, Point Pedro) 53.79 metres *bpr
200m Under-18: Ramesh Malshan (Maris Stella College, Negombo) 21.92s
800m Under-16: G. D. Lahiru Avishka Garusinghe (Ch/Senanayake National College, Madampe) 1:59.02
4x400m Under-20: St. Benedict's College, Colombo 13, 3:18.96; St. Peters College, Colombo 3:19.24 *bpr; Maris Stella College, Negombo, 3:20.69 *bpr
200m Under-18: Ramesh Malshan (Maris Stella College, Negombo) 21.92s
400m (Heat No. 8) Under-18: D. M. Bogoda (Sir John Kothalawala MV) 48.23s
400m Under-16: Kavish Nikila de Soyza (Leeds International School, Panadura) 49.82s; H. H. R. S. Jayasundara (Sir John Kothalawala MV) 49.88s *bpr
Girls – New meet records
2000 Steeple Chase Under-18: Parmai Wasanthi (Center College, Kuliyapitiya) 6:37.9
Javelin Throw Under-16: H. A. V. L. K. Hapuarachchi (Sumana Balika Vidyalaya) 37.91 metres
5000m Under-20: K. Shashikala Seshani Makandura (Central College, Makadura) 27:58.35
3000m Under-18: Parmai Wasanthi (Center College, Kuliyapitiya) 9:58.3
Shot Put Under-16: Ovini Chandrasekara (Bishop's College, Colombo) 13.15 metres
800m Under-20: KGDMS Kumarasinghe (A. Rathnayaka Central College, Walala) 2:12.67
4x100m Under-18: Gamini National College, Bentota, 49.74s
100m Under-18: Shelinda Jansen (Gateway College, Colombo) 12.41s
Shot Put Under-18: Sarisha Gunasekara (Ladies College) 12.63 metres
Javelin Throw Under-18: D. M. I. Hasanthi (A. Rathnayaka Central College, Walala) 45.05 metres
400m Under-16: Kavindi Sanjana Edirisinghe (President's College, Nawala) 56.88s