Trinity Squad

Royal Squad
By Shamseer Jaleel

Trinity =39

Royal=31

1 game tied in 1992



Royal College, defending Singer league champions 2015, will hold a slight edge over Trinity when they lock horns in the 72nd Bradby Shield encounter on 30 April at the Royal Sports Complex. The return leg will be played at the Trinity College Rugby stadium in Pallekelle on 14 May.

Bradby Shield was first offered by then Royal Principal, E.L. Bradby in 1945. Trinity was administered by C E Simthrachchi who offered the Under 18 (then Under 17) trophy. Royal took up rugby after Kingswood and Trinity. Both the Kandy schools played their first game in 1906. History favors the first leg winning team to take home the Bradby Shield which is the 'Blue Ribbon' in local rugby which will be witnessed by more than 10,000 spectators each year in the two leg event one in Colombo and the other in Kandy. Trinity lead the tally with 39 to Royal 21 with one game tied. The tied encounter took place in 1992 where both the legs scores were level on 3 all and nil all.

Royal is led by junior national player, Nilkila Gunadheera. He is an excellent lose player plus master in 5 meter scrum to go over the visitors line in scoring number of tries. Their forward Ayesh Maduranga and hooker Hamze Reza too are class acts with mobile always will be a major threat for the Trinitians. Their place kicker Orvin Askey will fit in for the fly half's berth scoring many points for the Reid Avenue school this season through his place kicking. Their winger Shabith Feroze is lightning pace at full gear and will be tough to be stopped. Royal is coached by former Isipathana and CR & FC player, Sanath Martis, who is also the present Junior National coach who proved in the past with success wherever he coached. His deputy is Dushantha Lewke.

Royal beat DS Senanyake (36/10), Wesley (17/14), lost to the Thomians (24/15) and drew with Joes 27 a piece in their last outing. Joes outing was a near disaster for the Reid Avenue boys when they were 14/27 down but made a bold comeback to level scores and go confident for the first leg.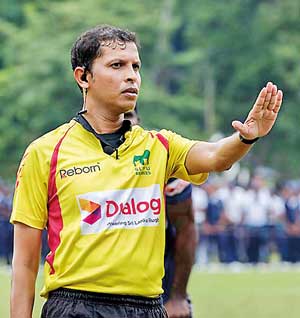 Trinity is led by junior national player, Rahul Karunathilake the lanky second rower but he will be banned for one game due to his "Red Card" offense in their last encounter against the Thomians. This will allow fly half Thusila Perera to lead the outfit. Trinity too poses some quality players in their rank. They have best set of flankers made up of rock solid Rukshan Dhammapala and Shade Dean. Both are excellent defenders with their superb cover tackles which kept many players away from scoring freely. Centre, Sanjana Sagansinghe Winger, Geshan Bandaranyake and Full back, Shanushka Abeywickrema all three are top class players performed well for the "lions" this season.

Trinity will need to convert the territorial advantage in to points from the start. They will heavily depend on their acting skipper and fly half Thusila Perera not only to be accurate in his kicks but with his passes should reach the three quarter line in lightning pace. Trinity is coached by former Ireland test player, Eric Miller with former Kandy SC and Sri Lanka skipper, Sean Wijesinghe assisting the forwards while Saliya Kumara looking after the three quarter line.

Trinity beat Wesley (7/5), Joes (41/14), D S Senanayake (65/0) and lost the Thomians (20/23).

One of the leading referees in the country, Dinka will officiate the first leg. He started refereeing in 2000 having done some major games with World Rugby level 3 accredited three years back. A fast learner the former Prince of Wales player officiating at Dubai sevens, Cobra sevens, Saint sevens, Asian five nations, Junior Asiad, Serendib Cup, many crunch Inter club league and Clifford Cup encounters. He rates his last game involving Isipathana and St Peter's as his best game so far.

Royal squad

Mohamed Nabeel, Ayesh Maduranga, Dhammika de Silva, Lahin Attygalle, Hamza Reza, Azmir Fajudeen, Shavinda Viduranga, Ashen Fernando, Sasitha Siyath, Fadhil Adahan, Abishek Jayawardena, Harith Lokugamage, Ibrahim Barie, Pasindu Amarasinghe, Chamal Rajapakse, Maleesha Madhumewan, Asel Rodrigo, Samadhi Induwara, Nikhila Gunadeera (Captain),Harith Lokugamage, Nikhil de Silva, Ashok Vijekumar, Orvin Aaskey, Lennox Calyaneratne, Lennox Calyaneratne, Mahima Gamage, Andrew de Silva, Thulaib Hassen, Sabith Feroze, Shaqir Nawfer, Mahima Gamage, Nikhil George, Shenuka Perera, Andrew de Silva and Thulaib Hassen.

Trinity Squad

Aveesha Priyankara, Anuka Boyagoda, Shalindra Alahakoon, Sanushka Abeywickrama, Rahul Karunanayake (Captain), Thushila Perera (Vice Captain), Nathan Chan, Geeshan Pethiyagoda, Anjana Bandara, Avishka Shiek, Ayesha Edirisinghe, Melan Maliesh, Pasan Samarawickrama, Diluksha Dange, Sajana Sangasinghe, Rishen Madena, Shadhi Dean, Lashan Wijesuriya, Rukshan Dhammapala, Shaveen Ekanayake, Rashen Bandaranayake, Naveen Devadson, Woren Weerakoon, Pubudu Fernanado, Parinda Wijethilake, Aqthab Ramzeen, Kanchana Wimalasiri, Kanesha Alwis, Charitha Nanayakkara, Hasiru Waliwatte, Keshawa Palayangoda, Amith Kulatunge, Patric Jayasundera, Mohammed Ikram and Mahadhi Abdulla