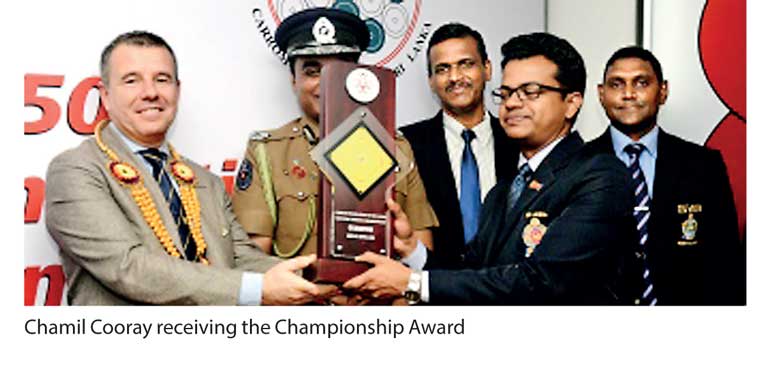 Seylan Bank sponsored the Golden Jubilee National Carrom Championship 2018 as the official title sponsor which concluded at the Hilton Residence Colombo recently.

Chamil Cooray of Seylan Bankbagged SL National Singles title for the 14th time defeating his opponent Yashika Rahubaddha, former 2012 World Carrom Champion of SL Air Force. The final award ceremony took place coinciding with the Diamond Jubilee celebrations of the Sri Lanka Carrom Federation (CFSL).

"I joined Seylan Bank in the year2005 and I am very much thankful to the support I have been receiving through means of flexible work arrangements and timely sponsorships by Seylan Bank which help me immensely in balancing both work and carrom life," he said.

One of the significant moments of this year's event was, for the first time in the history of National Carrom Championship, winners were awarded with cash prizes in addition to the trophies and souvenirs.

As 'the bank with a heart' Seylan Bank is committed to assisting and empowering employees who desire to succeed. Seylan Bank believes that a corporate sporting culture promotes values of team cohesiveness embodied in the sustainable development goals of the bank.

Cooray won a double crown and as well as the Mixed Doubles partnering ThashmilaKavindi. Being an employee of Seylan Bank for 14 years, he praised the continuous support and sponsorship given to him by the bankand how his achievements are acknowledged.

Hailing from a family of carrom players, Cooray participated in his first international carrom championship at the age of 15 and later became the youngest player to win the National Carrom Championship at the age of 17.After representing Seylan Bank on a number of National and International competitions bringing glory to the nation and as well as to the Seylan family, this Championship marks the finalCarom Championship of Coorayrepresenting the Seylan Bank and Sri Lanka.

In 2016, he set the record by becoming the only Sri Lankan carrom player to win the Swiss World League on two consecutive occasions; 2014 and 2016. He also won the 2016 Carrom World Championship held in Birmingham, England captaining the Sri Lankan men's carom team.