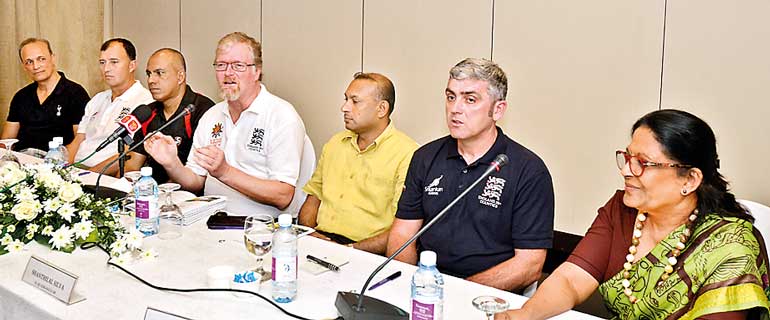 At the 50+ ODI Cricket Tournament, from left: from SL Cavaliers Dushan Soza, England 50+ South Captain Mel Hussain, from Blue Lions Charith Senanayake, 50+ Tournaments Chairman David Humphreys, from SL Quadrangular Shanthilal Silva, 50+ North Captain Tony Birbeck and from Paradise Sports Golden Isle, Paddy Paul – Pic by Daminda Harsha Perera
The 50+ International Cricket Tournament is currently on in Colombo under the initiative of 50+ Tournaments and England 50+ Counties together with the leading outbound sports and leisure agent in the UK , Paradise Sports Travel and Paradise Vacations.

The tournament teams are: two from the UK (England 50+ North & England 50+ South), the official Pakistan 50+ and three Sri Lankan 50+ teams. The matches will be held at SSC, Galle Stadium, Pallekele Stadium, The P. Sara, Surrey Ground, CCC, Colts and NCC.

Barbados & South Africa were considered as alternate destinations to stage this tournament, but we were able to attract 50+ Tournaments to offer the opportunity to Sri Lanka. As a result, both Sri Lankan Airlines and the Tourism of Sri Lanka will benefit to the tune of approximately Rs 52,500,000 in revenue.

A number of the players in the UK squads are former county players like Mel Hussain (brother of Nasser Hussain ex-England Captain), Tony Murphy, Andy Fothergill, Rajesh Sharma, Tony Dutton, Phil Catterall, & Tony Birbeck to name a few. In the UK squad are also two players who represented the famous England Police team: Graham Shaw & Duncan Watson. The Pakistan squad includes ex-National team players like Aamir Sohail, Akram Raza and Sajid Ali. The Sri Lankan teams too will consist of a number of ex-National players and club cricketers.

All ground arrangements will be handled by Golden Isle Travels.