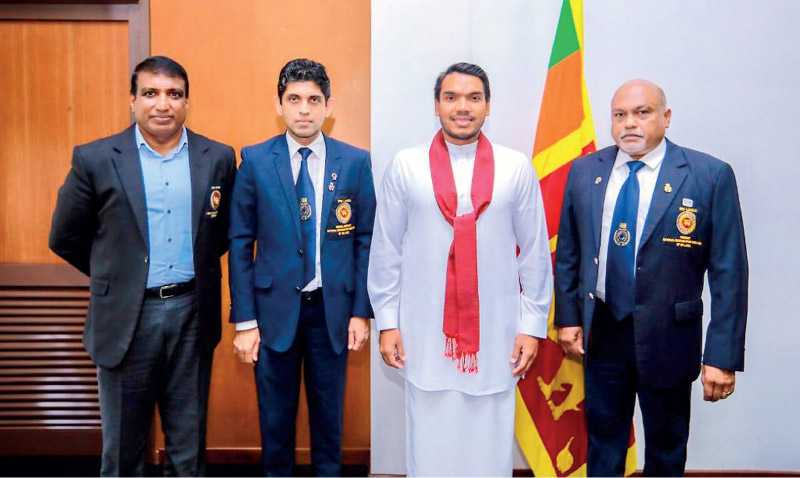 NSSF president Shirantha Peries (right) and NSSF Secretary Pradeep Edirisinghe (2nd left) with the Minister of Sports Namal Rajapaksa
---
The Ministry of Sports have swiftly responded to the request made by the National Shooting Sport Federation (NSSF) officials, agreeing to three new ranges for school shooters, when the two entities met for the first time since the appointment of the new minister.

On the request made by the president of the National Shooting Sport Federation (NSSF) Shirantha Peries, the Minister of Sports Namal Rajapaksa granted an appointment to present their development plan, which turned out to be a fruitful meeting for shooting sports.

As a first step to supporting the plan, the minister, on principal, approved the construction of one air gun range per district in order to facilitate over the 7500 school shooters' community. The final objective would be to have ranges in all 25 districts of Sri Lanka that would be accessible not only to the students but also to the sport shooting community in general, as well as the general public for leisure shooting.

The minister was quick to approve three locations to be completed immediately, and the herculean task of completing the three ranges by 31 December was handed over to the President and Secretary of the NSSF.

When inquired, the President of NSSF stated that this was the first time after many years a minister had given a firm decision to go ahead without interruption, and that it was a pleasure to work with a minister who believes in action and not long drawn meetings – which seldom brought results.

"I am so happy that these children can now have a venue to train. Shooting will also improve their focus in studies, and their general discipline," NSSF president Shirantha Peries stated.

The program is also extended to train school teachers as coaches, who will overlook the training of their students. This will be coordinated with the Ministry of Education, and the President and Secretary of the NSSF have already had discussions with the Education Ministry chaired by Director of Education and Sports Daya Bandara.