The ability to convert ideas into tangible things is the hardest part of any innovator. Ideas are seeds that grow into bigger things only with the right amount of sustenance and leadership. And there were plenty of great ideas showcased at the recently concluded TADhack 2015.

Organised by hSenid Mobile Solutions, the Telecom Application Development Hackathon Sri Lanka (TAHack 2015) is considered to be the largest international telco hackathon to be held in Sri Lanka, with the event simultaneously held in 15 locations across 11 countries.

With participants coming from across the island, we highlight some of the great ideas showcased: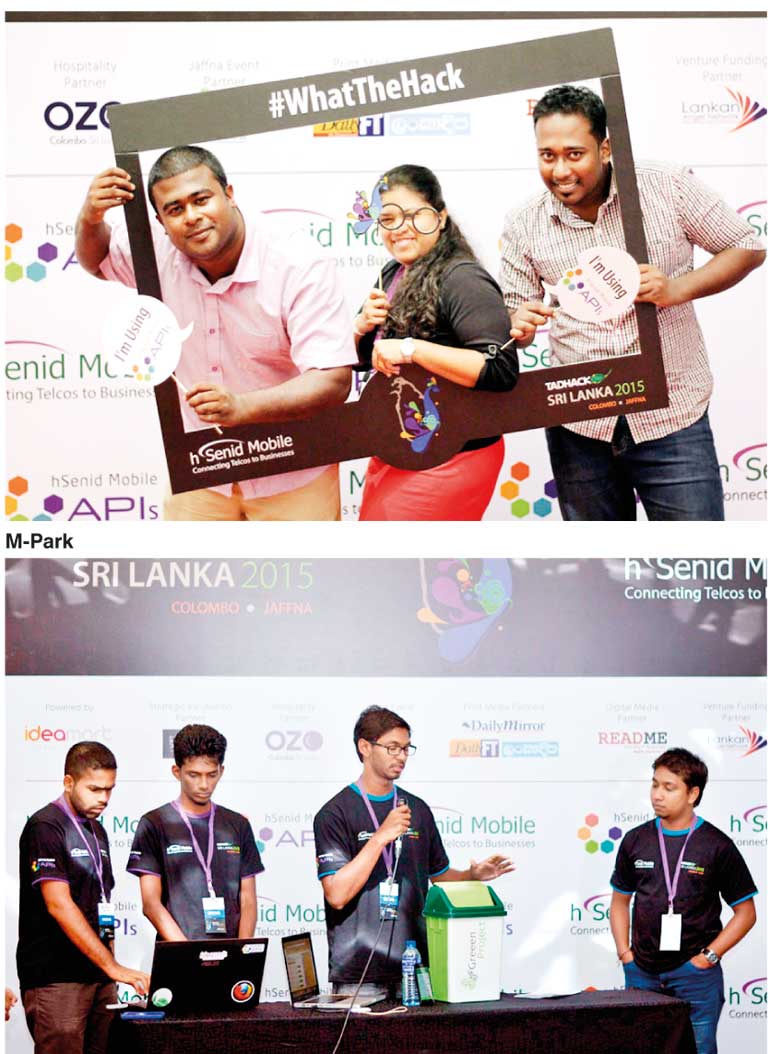 Winner – Team M-Park with the Car Park M-Pay System

"It all started when I had to drive my mother to the Pettah market," says Sajith Udayanga of winning team M-Park. "I wanted to drop her off as close to the market as possible, so she wouldn't have to walk far, but because parking is so difficult in the area there was no way I could do that." Their project, the 'Car Park M-Pay' system is an easy solution for battling the hassle and stress of parking in Colombo.

Car Park M-Pay is simple, yet effective. The platform connects drivers in search of parking with owners of parking facilities, whether it is a carpark or space for a car to park. "This isn't just for large scale car parks, but anyone who has a large plot of unused land, or even a few spots in front of their house or in their garden can register their parking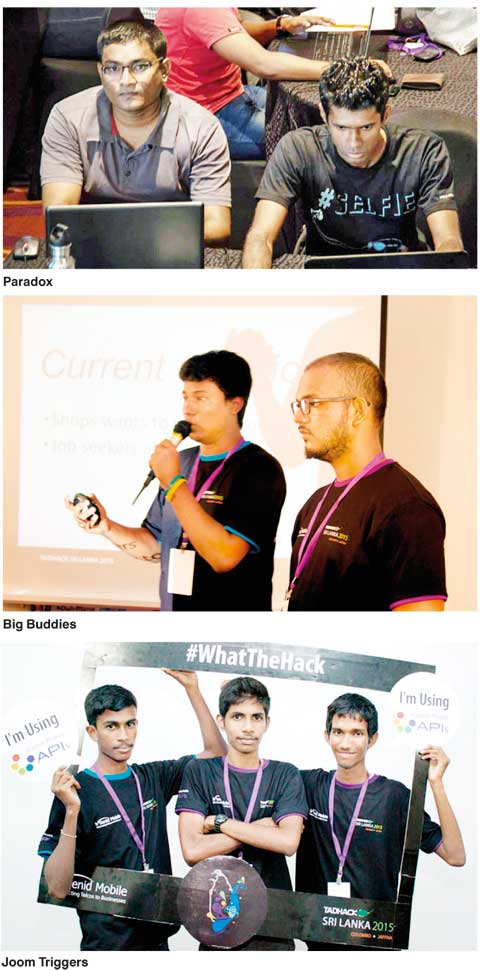 spots and make some money," adds Udayanga.

The method is simple. A driver looking for a place to park has to sms his details and the system will locate the nearest free parking space and pre-book it for them. Drivers are automatically charged for the parking space, and an additional convenience fee for placing the booking on their mobile bill, so that hunting for change to pay for parking will no longer be a problem.

The payment will be split among the parties involved with 85% going to the owner of the car park, 10% to the mobile service provider and 5% to the M-Pay system. "This makes parking stress free, cost effective and cash free. You won't have to drive around in circles trying to find a spot."

The team comprises brothers Udayanga and Sandun Maduranga, and friend Shivika Pussewele, developed this app using SMS, USSD, Charging, LBS, and IoT APIs of the hSenid Mobile API family.
First Runners Up – Team Paradox with e-Carry

First runners up, Team Paradox, made up of Chathura Kankanage, Damith Karunaratne and Anushka Mahesh of the University of Moratuwa; Nuwan Chathuranga of the University of Colombo and Manoj Fernando from NIBM worked on an ad-hoc courier service. The five team members are currently employed at Orange HRM.

Titled 'e-Carry', the project is simple. It identifies travellers with empty space in their vehicles and connects them with people who have parcels and goods to courier. "We were inspired by a situation a friend faced. His mother was trying to send him something and didn't have a way of getting it across," explains team leader, Kankanamge.

Utilising both the SMS and location based APIs from hSenid Mobile, users have to simply send in an SMS with details of pickup and drop off points of the package, which will be matched with a suitable 'courier' who can transport their package.

"There's a lot of empty space (in vehicles) travelling around the country which are not being utilised," added Kankanamge. "This is no different to asking a friend to carry something for us when we know the location they're travelling to and if we have to send something there. It's just that the e-Carry system makes our pool of friends much larger."
Second Runners Up – Team Greeen with Project Greeen

Team members Haritha Thilakaratne, Tejan Rajapakse, Mihindu Lakshan from Rajarata University; Lahiru Ratnayake from Sabaragamuwa University and Tharindu Rodrigo from the University of Colombo's School of Computing, make up Team Greeen who have focused their efforts on creating a more effective and efficient way to dispose of waste, claiming that 'waste is money in the wrong place.'

Speaking about the project, Thilakaratne said, "Waste is a huge problem for technological innovation. Tech must be used to better life, not just to travel to the moon. Approximately 1500 tons of solid waste is disposed per day in Colombo. And this is an innovative platform that connects citizens and recycling facilities."

Users (average citizens) need to send in a text message to a dedicated number with the type and quantity of recyclable waste - be it cardboard and paper, plastics or e-waste. They will then be informed of a convenient place for drop off or a pick up can be arranged from their home. The system is powered by Arduino Uno and supported with a GSM Shield. A fee will be charged per SMS request placed, along with a registration fee form collection portals.

"We interconnected IoT (Internet of Things) and web and mobile to create one solution which can be easily used on any phone USP," added Thilakaratne.

Competing from Jaffna were numerous teams with equally exciting ideas.
Team Big Buddies from Jaffna

This unique solution comes from teammates R. Kumaran and S. Saahithyan who study at the Department of Computing at the University of Jaffna. After brainstorming several ideas, they settled on this project which facilitates promotional opportunities for local businesses and part-time sales jobs for students.

"The solution is for shops that can't promote their offers and specials targeting students," according to Kumaran. Operating via a website, the site connects possible sales reps (i.e. students interested in making some extra money) with the stores.

"For example, if a store decides to offer a 10% discount on a specific laptop, the store owner will update information about the discount on to the website. If I'm an interested student, I can register through a USSD menu and then promote the offer in the category (it could be laptops, or phones or whichever areas that the students are comfortable promoting). If they convince a customer to use the offer, the student can ask the system to generate a unique code, which will be sent directly to the customer via SMS, who in turn can then visit the store and claim their prize with the code."

Revenue will be generated through a payment made by store owners. "Since they will anyway have to pay for outside sales reps, this will be a more economical option for them," explained Kumaran. Eighty percent of the payment will go to the sales reps and twenty percent to the website. The team will be pitching their idea for a chance to win a 12-month incubation period at LOFT 1024 for further development and implementation.
Team Joomtriggers from Jaffna

Team Joomtriggers, made up of Gnanakeethan Balasubramaniam, Dayanantha Shanmugardnam and Thavabalan Thirunilavan created a timetable management solution for the private education sector.

Inspired by their experiences at the eSoft Metro campus, the team came up with an app called INQURTIME that enables institutions to keep their students informed ahead of time of urgent announcements, timetable changes, etc.

"Messages are broadcast to all students who have subscribed to this app and they will receive updates from the institute via a shortcode. Automatic messages or reminders will also be sent periodically at scheduled times," explained Gnanakeethan, an IT Mastermind winner of 2014. He added that the app uses hSenid Mobile's SMS and USSD APIs.