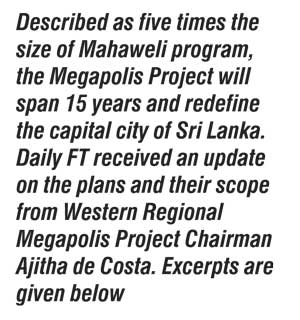 By Uditha Jayasinghe

Q: What is the current status of the Megapolis project?

A: Still in the planning stage. In 2002 the Prime Minister had a meeting with the Prime Minister of Singapore and discussed the possibility of developing Colombo because it was turning into an unplanned urban sprawl.

After 14 months a team of experts gave their plan but by that point the prime minister had changed. But we kept it because we knew the time would come at some point. So we are revisiting the plan and it needs to be change because the plan is 13 years old. The Singaporean officials are doing a walkthrough of Colombo including outlying wetland areas to understand how it needs to be changed. That is where we are now. We are getting several experts from them, including an aviation specialist because we are planning an aero city. We are not trying to create another Singapore; we are merely taking experts from Singapore.


Q: You mentioned an airport specialist. What will be his focus?

A: To make everything work we need to be a hub. So to have an aviation hub with an international airport with just one runway is impossible. A second runway is a must because there is going to be a lot of activity and we need to connect it with the port, which is already more or less a hub.

Then we are creating an IT City around Malabe and a Forest City in Kalutara. The Megapolis area is from Negombo to Kalutara to Avissawella and we are fortunate in having lots of trees so we want to incorporate those elements. We will also try to have a university in Kalutara.


Q: How is the data going to be gathered to understand how Colombo is going to grow in the next few decades?

A: We have a data gathering team. We have four professors working with the rest of the megapolis team. We have gathered information about the movement of people in the Gampaha District and vehicle movement. As you know two problems facing people and what they are concerned about, mainly is traffic and garbage. The lack of decent public transport is a huge impact. That is where the problem is, so people prefer to go in their car rather than a bad bus service. So we are trying to change that. There is a concept of a monorail that Japan has offered cheaply, almost a gift, and other efforts are underway.


Q: Has the Government decided to accept the monorail option?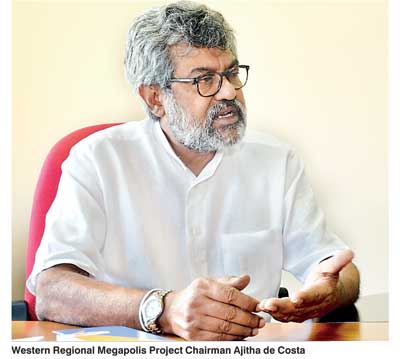 A: Not yet. The Government is awaiting a report from the Megapolis project because we are doing a serious study on it. There is also a suggestion to have a railway track of the Malabe marshlands to Borella, which can be done if the prisons complex is moved. Anyway the prison should be moved because it is on prime land and it can be used more productively.


Q: Can Sri Lanka bear the cost of monorail?

A: I really don't know. The experts have to look it but it will be provided at very concessionary rates by the Japanese with a repayment period of about 50 years, which makes it almost free then.


Q: JAICA has been lauded for coming up with a transport plan for Colombo. Will that also be implemented?

A: We are looking at how it can harmonise with our plan. It's a little different to what we are planning. We are trying to bring it in alignment with the Megapolis project. We are hoping to finalise the plan and give at least the first draft by 10 December to the Prime Minister. We want to see it through Parliament before the House shuts for Christmas and New Year.

The first draft will be little more than a rough cut, then it will go to refining because Government officials will want to have a say and adjust it. But generally the zoning will remain the same. It will also contain the translation of the vision into something solid and tangible. The vision is to make it the most liveable place in South Asia. We want to make it a smart city, a technologically savvy city; we want to do a quantum leap into the 22nd Century.


Q: What specific transport systems will the first draft have?

A: I think it will be a combination of several systems. I don't think one single system can solve Colombo's traffic problem. Rajagiriya traffic is better now and that was done by the Megapolis committee. It is a law and order problem but having said that we have started a meeting with DIG Traffic and formed a traffic committee. They are dealing with transport and traffic and they are dealing with it all the time.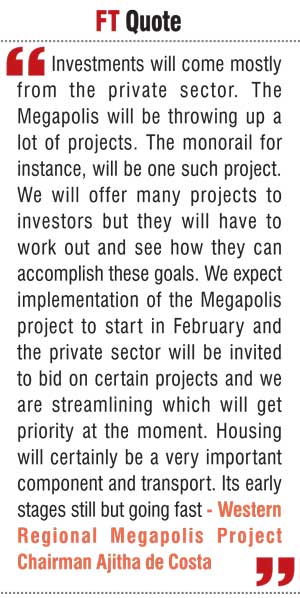 Q: The Megapolis is tasked with bringing together many different Government bodies. How has this amalgamation been?

A: We have a lot of support. The UDA Direct General is now working with us half an hour every day. We have done the 13th draft of legislation to bring these bodies under the Megapolis structure. This is the latest draft of a new piece of legislation called the Megapolis Authority Act and we are meeting the legal advisor to the Prime Minister this week and she will then run it by the Prime Minister. The Premier will then put it to the Cabinet and then eventually through Parliament. I think these authorities will be satisfied under the Megapolis framework because we will be coordinating their functions to provide better living standards for citizens.


Q: Have you identified any cities around the world that Colombo could be modelled on?

A: We are looking at Curitiba, which is the capital of the Brazilian state of Paraná. It is considered to be the epitome of a well-planned city and where they have clean transport, clean energy and other scientifically integrated services.


Q: How do you hope to assist low income areas within Colombo?

A: We need to get low income families out of this trap. One way is to get them used to living with better standards. They do not want to be moved as their lives are entrenched to their homes. So the UDA will come up with a plan to give them ownership of land or rights to it.

Another concept is to move them to apartment blocks, but not high rises, perhaps about five floors and release land for development. In the next 15-20 years the population will double from the current 4.5 million to 9 million not through births but accelerated migration. In addition, by positioning ourselves as a very liveable Colombo will have more international companies relocating here and there staff will want to live here.


Q: How will waste be tackled?

A: Within the next two years at least one waste to energy plant will be set up. Last week the UDA and the Central Environment Authority (CEA) agreed on a location for the proposed plant. The machinery has to be made and it has to be clean. Unfortunately till then the conventional garbage collection will have to continue. This plant will be able to handle most of the Colombo garbage. Domestic compost making and other measures are ongoing and are very popular.


Q: How will the Megapolis be funded?

A: Investments will come mostly from the private sector. The Megapolis will be throwing up a lot of projects. The monorail for instance, will be one such project. We will offer many projects to investors but they will have to work out and see how they can accomplish these goals. We expect implementation of the Megapolis project to start in February and the private sector will be invited to bid on certain projects and we are streamlining which will get priority at the moment. Housing will certainly be a very important component and transport. Its early stages still but going fast.


Q: The Megapolis will be one of the largest projects ever attempted in Sri Lanka. Is corruption a concern?

A: What we are thinking of doing is having the plan together with the regulations passed by Parliament. Then it is almost like being set in stone. This way even when an investor comes in he will not be able to change the initial plan by appealing to politicians, there will be no such option. But every three to four years there will be a review committee to analyze progress and make improvements for the next stage. This is the method implemented by other countries.

There are also several civil society groups that are interested in the project and we want to involve them in monitoring once the plan is complete. You cannot rely on the Government for everything. If they are on board with the plan then they must ensure that the plan goes through correctly. Tender procedures will be dealt with by Cabinet and they will also set up a procedure to evaluate applications. I believe the Prime Minister has gone public insisting he and the President will take joint responsibility in making sure the project meets the highest standards of transparency and good governance.