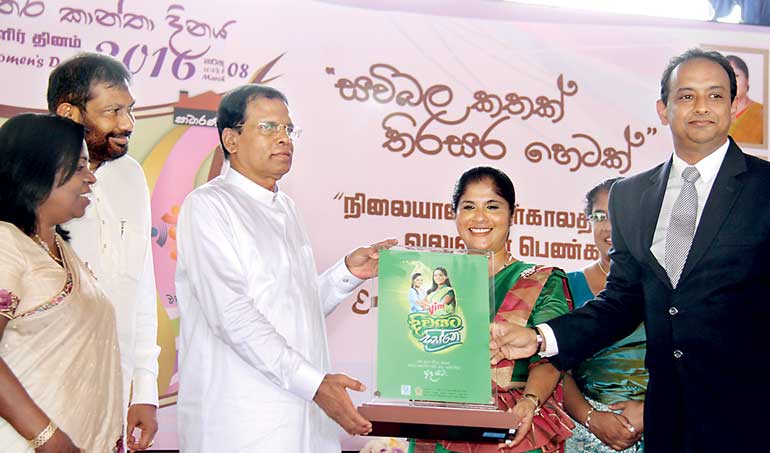 Unilever Sri Lanka Communication Channel Manager Channa Tennakoon hands over the plaque commemorating the launch of the Vim Diriyata Disne initiative to President Maithripala Sirisena at the national celebrations held in Ampara to celebrate International Women's Day while Minister of Women Affairs and Child Development Chandrani Bandara, Deputy Minister of Petroleum Resource Development Anoma Gamage and Minister of Primary Industries Daya Gamage look on
The role of women has evolved over time moving from the primary role of a woman as a wife, a mother and a keeper of the household to a more challenging and demanding role which involves active engagement and contribution towards her family's financial and social wellbeing. Given this background, empowering women to rise up to this challenge through equipping them with adequate skills is essential to the betterment of society.

Vim, a much-loved household name has recognised the importance of empowering women to face the future and has responded with a unique initiative titled 'Vim Diviyata Disne' aimed at enabling women across the country to harness their full potential. The initiative inaugurated on Women's Day in partnership with the Ministry of Women and Child Affairs will make this part and parcel of the national agenda.

"For over 65 years Vim has stood by Sri Lankan housewives assisting them with their household chores," says Unilever Sri Lanka Marketing Director – Home Care Makshoodh Meerasaibu. "This initiative will elevate the brand from one that merely brightens the kitchen to one that brighten up the lives of Sri Lankan women empowering them to step up to the challenge and positively influence the lives of their families."

In staging Vim Diviyata Disne, Vim plans to form strategic partnerships with other organisations, widening its reach towards a greater participation of women throughout the island.

Commenting on the project, Minister of Women's Affairs & Child Development Chandrani Bandara said, "Empowering women and uplifting their living standards form key areas of concern for the Government. In keeping with such an agenda, we are happy to be able to partner and endorse this initiative, which seeks to build women entrepreneurs and economically empower women throughout Sri Lanka."

The Vim Diviyata Disne initiative will encompass a series of island wide projects, in which participating women will have the opportunity to engage in self employment initiatives. Exhibitions providing knowledge and skills on various fields such as sewing, cookery, IT, regional cottage industries, and personal grooming, beauty and business consultancy will be conducted across the country enabling Sri Lankan women to explore available opportunities and avenues available for them to exploit and further contribute towards uplifting their family's economic and social wellbeing.

Recognising that the advancement of women's rights and economic inclusion is of critical importance, 'Vim Diviyata Disne' is part of Vim's contribution towards Unilever's Sustainable Living Plan pillar of Enhancing Livelihoods by providing 'Opportunities for Women'. The Unilever Sustainable Living Plan has three overarching goals that by 2020 will help improve people's health and well-being, reduce the company's environmental footprint, and enhance livelihoods across its value chain.