Reuters (United Nations/Washington): Seven US women senators urged President Barack Obama on Thursday to push for the election of the United Nations' first female secretary-general later this year.

UN Secretary-General Ban Ki-moon, a former South Korean foreign minister, is due to step down at the end of 2016 after two five-year terms. A man has held the top job at the world organisation since its inception 70 years ago.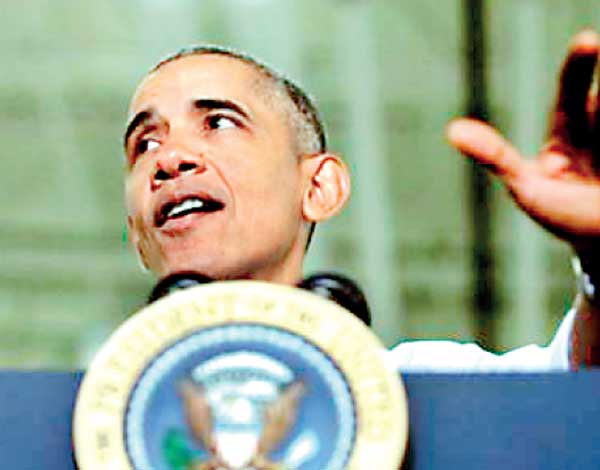 U.S. President Barack Obama delivers a speech after touring Saft America Advanced Batteries Plant in Jacksonville, Florida February 26, 2016.
The 15-member Security Council, including veto powers China, Russia, the United States, Britain and France, will recommend a candidate for election by the 193-member General Assembly to succeed Ban.

"We ask that the United States play a leading role in pressing for the strong consideration of qualified women," the seven Democratic senators wrote to Obama.

Led by Barbara Boxer, a senior member of the Senate Foreign Relations Committee, the letter was also signed by senators Patty Murray, Mazie Hirono, Tammy Baldwin, Kirsten Gillibrand, Jeanne Shaheen and Barbara Mikulski.

In response to the senators' letter, a senior Obama administration official said: "While we would welcome the selection of a woman as the next Secretary-General, we will ultimately support the best candidate of either gender."

Fifty-three 53 countries, led by Colombia, are pushing for a female secretary-general. Several civil society groups are also lobbying for a woman to lead the organisation.

Seven candidates have been put forward, including three women: UN cultural organisation (UNESCO) Director-General Irina Bokova, former Croatian Foreign Minister Vesna Pusic and Moldova's former Foreign Minister Natalia Gherman.

The other four candidates are former Macedonian Foreign Minister Srgjan Kerim, Montenegro Foreign Minister Igor Luksic, former Slovenian President Danilo Turk and former UN High Commissioner for Refugees Antonio Guterres.

"I would say Guterres has got the better chance of all of those who have entered the race, but I still don't think the winning candidate has entered yet," a senior Security Council diplomat said on condition of anonymity.

Diplomats said other potential female candidates included Helen Clark, former New Zealand prime minister and head of the UN Development Programme; Argentine Foreign Minister Susana Malcorra; and European Union Commissioner for Budget and Human Resources Kristalina Georgieva.

The UN top job traditionally rotates between regions, with Eastern Europe next on the list.

"While the UN has upheld the consideration of regional rotation, it has not given full consideration to gender equality," the US senators wrote.

A US congressional aide said other female senators, including Republicans, were approached to back the letter to Obama, but none had yet signed on. Most Republicans see many of the UN's actions as attempts to improperly influence US policy.