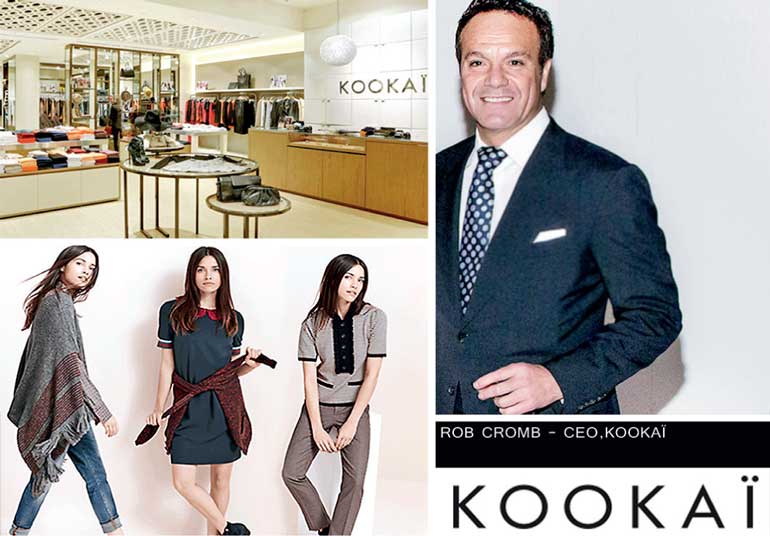 Serial entrepreneur, style icon and owner of legendary brand Kookai, Rob Cromb speaks on his journey and how his brand is leveraging its future to continue growing and staying relevant in today's retail world
Retail is going through the most volatile of all times and everything that was predicted about the new age consumer impacting retail is happening now; retailers and brands traditionally buying from Sri Lanka seems to be the most affected. How does Sri Lankan manufacturing gear up to deal with all this?

The organisers of the South Asian Leadership Forum believe it is worthwhile to listen to someone who has already taken the journey and succeeded, and has also recently invested in Sri Lankan manufacturing to re-structure it and help it thrive to deliver to a new age vision.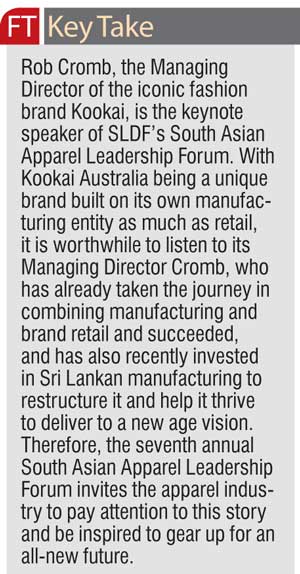 Therefore, the seventh annual South Asian Apparel Leadership Forum invites the apparel industry to pay attention to this story and be inspired to gear up for a future that's possible if it was viewed as a new world to adapt to. With Sri Lanka Apparel always being at the forefront as a visionary industry that is ever so keen to tune into new knowledge, listening to Rob Cromb and his novel views would be inspirational and insightful to many.

Rob Cromb, Managing Director of the Kookai fashion empire, has a simple mantra for fashion businesses: find a niche, something that can't be replicated anywhere, then reinvent, reinvent and reinvent. Cromb comes from a creative, risk-taking mind-set and before Kookai reached its current legendary status, he reinvented the business several times, and continues to do so today to build a brand that's become one of the most successful and iconic ones in fashion.

The lesson that Rob Cromb can deliver for Sri Lanka is that not only brands and retailers but manufacturers too need to create a unique point of difference within their company to stay in businesses and on top of the competition.

Kookai already had a winning formula, a point of difference that kept the customers returning – a niche that they identified in time and gained trust for over decades and maintained customer loyalty through hundred many unique strategies. However, this wasn't enough. Not only was there online shopping and bigger brands to compete with, but the retailer/manufacturer based brand had to face the looming threat of large international chains that are opening up all over the world.

Here, Cromb stayed true to his mantra to reinvent, reinvent and reinvent; this is what kept Kookai at the top despite the major transformations in the fashion world. And this is where they began to target the niche market. Cromb says: "Eighteen years ago, a woman couldn't buy a basic T-shirt for herself in colours." Kookai's niche is basics for the twenty22-year-old woman and the brand settled on the principle that every item of clothing can be individualised to create one's own look. This call to reinvent their business to focus on what the market really needed was what set Kookai apart in the changing face of fashion. The fact that about 70% of the business is from the basics such as T-shirts and jackets, despite the company's full fashion range, proves the effectiveness of this strategic shift.

It's not only the business model and focus that Cromb has reinvented over time. The design team at Kookai too has vastly changed over the years to better suit the Australian market first and then as the brand expanded, to meet those of a global consumer. Kookai was constantly reinventing, constantly pushing boundaries. Rob believes that 24 years in the fashion industry – a path he never expected to take – has taught him to be patient with success, and not to expand too quickly but to be on top of his game.

"I think fashion is a very crowded area, therefore the intense competition you experience has taught me you can't survive in this environment without a propensity to take measured risks, without a sense of adventurousness – or somewhat recklessness," he says.

With this seasoned appetite for risk, Rob hopes to expand Kookai internationally in the near future. Rob's latest endeavour has taken him back to Fiji where he's started a network of businesses, each aimed at providing training and employment, and helping to stimulate Fiji's developing economy. Not unlike KOOKAI, these businesses are in industries where Rob will have to rely on his business acumen and that too has many lessons for our apparel industry leaders for passive investments. Rob Cromb will be visiting Sri Lanka as a special invitee of Sri Lanka Design Festival (SLDF) and the keynote speaker at the South Asian Apparel Leadership to be held on 5 November. The Forum will discuss his inspiring journey in fashion and how the commitment to reinvention kept his brand on top. The main focus for the forum as an audience is Sri Lanka's apparel industry. The forum has been designed to most benefit Audiences such as C- Suite executives/CEOs/entrepreneurs/business owners/young leaders of family-owned businesses/leadership teams and apparel manufacturing entities/apparel industry associated organisations and industries such as the software industry, logistics and others as well as future young leaders in business.

As the Lankan apparel industry looks to enter into an age where there are massive new age opportunities to harness, the South Asian Apparel Leadership Forum will play the role of providing thought leadership through an informed transformative strategy. This will be an essential contributor to help propel industry into the future. The forum, with its fresh insights and ground-breaking thought leadership, will engage the local apparel industry in a global dialogue on 'transformation' on 5 November at SLECC, as part of the annual Sri Lanka Design Festival.

SLDF will take place on 4, 5 and 6 November at SLECC Colombo, with AOD in partnership with DIMO hosting Mercedes-Benz Fashion Runways. SLDF is also supported by, Coats Thread – Official Thread and Zip Partner, GT Nexus – Official Technology Partner, HNB – Official Banking Partner, Mount Lavinia Hotel – Official Host, Wijeya Newspapers Group – Print Media Partner, Just-Style – International Media Partner, Free Lanka – Official Beverage Partner, Secquoro – Business Transformation Partner, Salon Kess – Official Hair & Make up Partner and We Are Designers as well the key apparel industry participants MAS, Hirdaramani, Timex, Star Garments, LICC, MRC, Nor Lanka, Orit, Innovative Knits, EKKO, Union Apparel, Penguin, Lanka Leather, Rakshaa, Textured Jersey, Avirate and Vogue Tex. The event is endorsed by the Joint Apparel Association Forum. If you are interested in learning how to harness some of today's most creative and future-facing thinkers, be shown a glimpse into the future to see what you would not normally see and also be shown how you could do things differently to envision your competitors reaction, this forum is for you. What would you say? Sounds like a good forum to attend? The South Asian Apparel leadership forum is for the benefit of Sri Lankan industries – don't miss out!

The future is here. For tickets, login to www.srilankadesignfestival.com and buy online or for more information, contact the SLDF secretariat on 0763427772, 5867772-3 email info@srilankadesignfestival.com or walk in between 9am-5pm to the Sri Lanka Design Festival Secretariat at AOD, 29, Laurie's Road, Colombo 4.