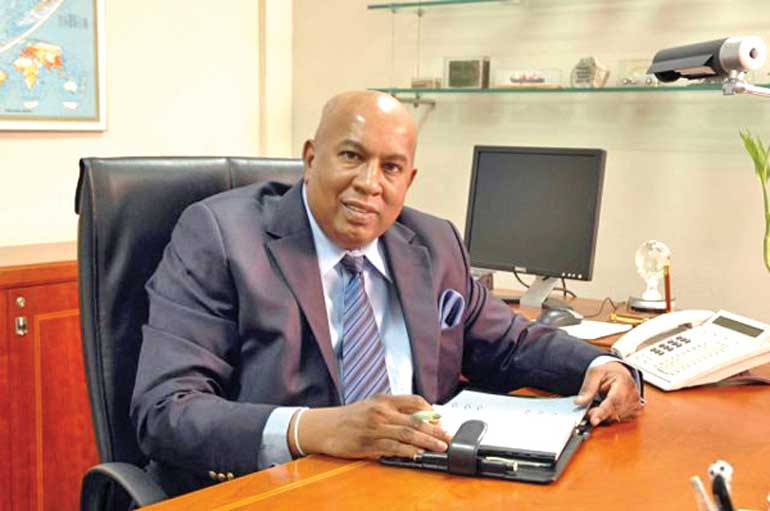 Hayleys Chairman/CEO Mohan Pandithage
Identifying the reason why Sri Lanka's exports are contributing less to GDP and what can be done to reverse this trend are two of the issues explored by Mohan Pandithage, the Chairman and CEO of the multinational conglomerate Hayleys, in an interview given to the global publishing, research and consultancy firm Oxford Business Group (OBG).

Pandithage told OBG that a number of factors had led to exports falling from 15.4% of GDP in 2013 to 14.9% the following year. These, he said, ranged from rising competition and a reliance on the US and Europe, to Sri Lanka's somewhat narrow basket of goods. The fact that 66% of Sri Lanka's tea is exported to the Middle East and the Commonwealth of Independent States , which are dependent on petroleum income, presented another challenge, Pandithage added.

"We must find alternative emerging markets for our products to reduce our vulnerability, notably Latin America, China, India and South-east Asia," he said. The businessman told OBG that allowing tea to be blended in the free zones, while increasing the focus on adding value to the country's natural resources, are some of the ways in which Sri Lanka can boost its competitiveness.

The full interview with Pandithage will appear in The Report: Sri Lanka 2016, OBG's first report on the country's economy. The landmark publication will contain a detailed, sector-by-sector guide for investors, alongside contributions from leading industry representatives, including the Chairman of Softlogic Holdings Ashok Pathirage, the Deputy Chairman and Managing Director of Aitken Spence RajanBrito and the CEO of Dialog Axiata Hans Wijayasuriya.

In the interview, Pandithage also highlighted the labour challenges that Sri Lanka's manufacturers and exporters face which, he said, included staff shortages, changing demographics and rigid legislation.

"A younger generation of plantation workers is reluctant to work on estates. Across our factories we are seeing a shortage of labour," he told OBG. "Sri Lanka's labour laws are very challenging. It is very difficult to lay people off and salary demands are often made without a productivity component factored in, particularly on estates. This productivity basis for wages is what we want."

The Report: Sri Lanka 2016 will be a vital guide to the many facets of the country, including its macroeconomics, infrastructure, banking and other sectoral developments. The launch report will be produced in partnership with the Board of Investment Sri Lanka and will be available in print or online.

Oxford Business Group (OBG) is a global publishing, research and consultancy firm, which publishes economic intelligence on the markets of the Middle East, Africa, Asia and Latin America and the Caribbean. Through its range of print and online products, OBG offers comprehensive and accurate analysis of macroeconomic and sectoral developments, including banking, capital markets, insurance, energy, transport, industry and telecoms.

The critically acclaimed economic and business reports have become the leading source of business intelligence on developing countries in the regions they cover. OBG's online economic briefings provide up-to-date in-depth analysis on the issues that matter for tens of thousands of subscribers worldwide. OBG's consultancy arm offers tailor-made market intelligence and advice to firms currently operating in these markets and those looking to enter them.