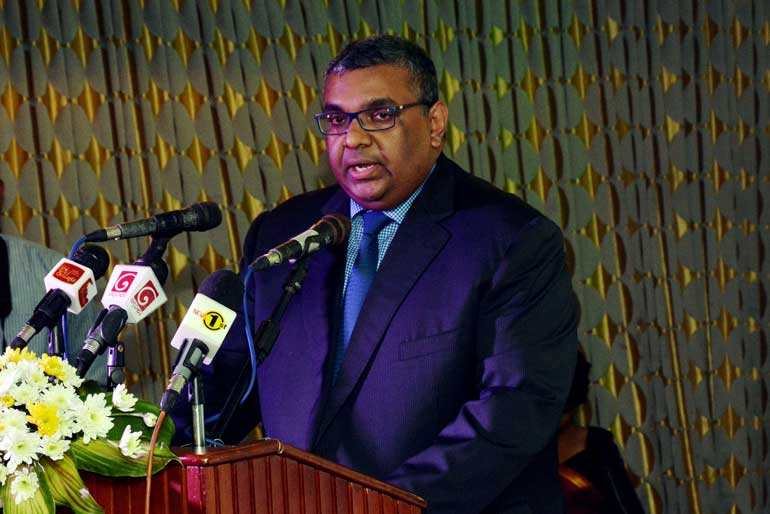 SLAMERP President PrabhashSubasinghe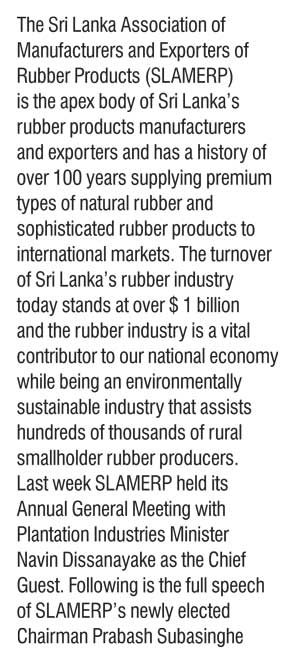 Our Chief Guest Honourable Navin Dissanayake, Minister of Plantation Industries, the outgoing President Justin Seneviratne, distinguished invitees, office bearers, ladies and gentleman.

Thank you very much for your presence this evening despite your busy schedules, I sincerely appreciate you being here with us today to celebrate the 30th anniversary of our prestigious SLAMERP organisation.

I take this opportunity to congratulate the outgoing president and his team of office bearers for an excellent job. Well done! We all acknowledge and appreciate the tremendous challenges that were undertaken and achieved by them during their tenure.

It is now with much pride and honour I stand here, with the sense of immense trust that you have bestowed on me, as the incoming President of this Association, and I honour this new responsibility.

The mission of the SLAMERP organisation since its inception in 1985 is to interact with the Government on policy matters, represent the rubber industry at local and international forums, represent the industry in various related advisory committees and research institutes, and to be a representative of the members to the Sri Lankan Government.

Brief industry overview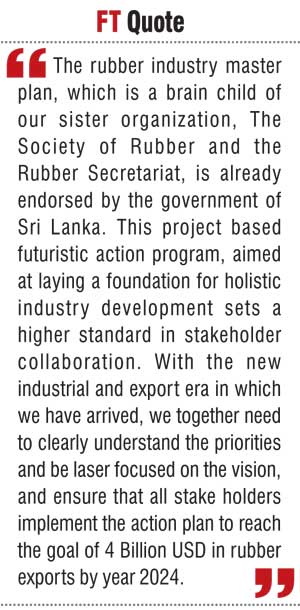 Let me give a brief overview of the rubber industry in Sri Lanka – the key highlights are that we are exporting just under a billion dollars annually, and unfortunately, exports have been on a downward trend since 2011.

Year-on-Year exports in 2015 are currently lower by 12.3%. We also don't have any encouraging news as far as natural rubber production in Sri Lanka is concerned, from a high of 150,000 MT in 2011 the production expected in 2015 is around 80,000MT.

Moreover, our neighbours in Thailand, Vietnam, and Indonesia have all gown their rubber production between 10 and 25%. This is a cause for serious concern, and I invite the attention of the Honourable Plantation Minister to take all necessary action to uplift and promote natural rubber production in Sri Lanka.

Furthermore, and this is an important point, the Honourable Minister must allow and ensure that the manufacturers in Sri Lanka can import their shortfall of natural rubber so that they can add value and maintain the capacities of their factories.

Let me take a moment to quote the Honourable Prime Minister, Mr. Ranil Wickremesinghe from his policy statement which was made to the parliament recently, and I quote, "The current framework of policies is not export focused. Due to the taxes imposed, we have been on a road to a closed economy reminiscent of the 1970s. The exports have been going down. In 2000, the exports stood at 30% of the Gross Domestic Product. By 2014, it has gone down to 15%, indicating a reduction of 50%, which is considered very low. We occupy a lower rung in meeting specialised exports needs of the world and technology-based exports. Our contribution to the global market of exports is very low."

Clarion call

Thank you Mr. Prime Minister for the wake-up call to grow exports. This is a clarion call to all exporters as well as policymakers. What we require from the Government of Sri Lanka is clear, export-driven, sustainable policies. This is all we ask of you. Leave the rest to us.

Our country needs to rapidly strive forward to make this a reality, as I believe the rubber industry has the potential to grow bigger than the garment industry. Sri Lanka can become a natural polymer hub and a centre of excellence for producing high-value specialised rubber products.

As an example, whilst Sri Lanka is only at 1% of Global Rubber production, our little country is the world's largest producer of high-quality solid industrial tyres, dominating about 60% of the global market. So there is great promise and a brighter future for the rubber industry in Sri Lanka. With significant value addition in the manufacturing process as well as the vast potential for future investment, this industry in Sri Lanka can be a 10-billion-dollar business annually. But we need to be known as a serious player in raw material production, and if Sri Lanka is to attain 'hub' status, rubber production overall needs to increase. There is no doubt in my mind that with a focus on niche market specialised rubber products, our country can be a global force in rubber.

Therefore, I believe that we are at a momentous juncture in time, and I will need every member's assistance to make the forthcoming year a success.

The rubber industry master plan, which is a brainchild of our sister organisation, the Society of Rubber and the Rubber Secretariat, is already endorsed by the Government of Sri Lanka. This project-based futuristic action program, aimed at laying a foundation for holistic industry development, sets a higher standard in stakeholder collaboration. With the new industrial and export era in which we have arrived, we together need to clearly understand the priorities and be laser focused on the vision, and ensure that all stake holders implement the action plan to reach the goal of $ 4 billion in rubber exports by the year 2024. At this historical moment, I would like to pledge my commitment along with my team to make all endeavours to realise this plan.

My personal story is one of hard work and entrepreneurship, and I hope to be a catalyst for the next generation of growth in the rubber industry. Your confidence will be a considerable source of strength for me as we step into this renewed phase of growth. I expect that we continue to support each other and work as one strong team for our industry and our country.

Finally, I would like to end my speech with a quote from Sir Winston Churchill: "Success is the ability to go from failure to failure without losing your enthusiasm."

And I can tell you ladies and gentleman, that I am extremely enthusiastic about the future of the rubber industry in Sri Lanka. Thank you.