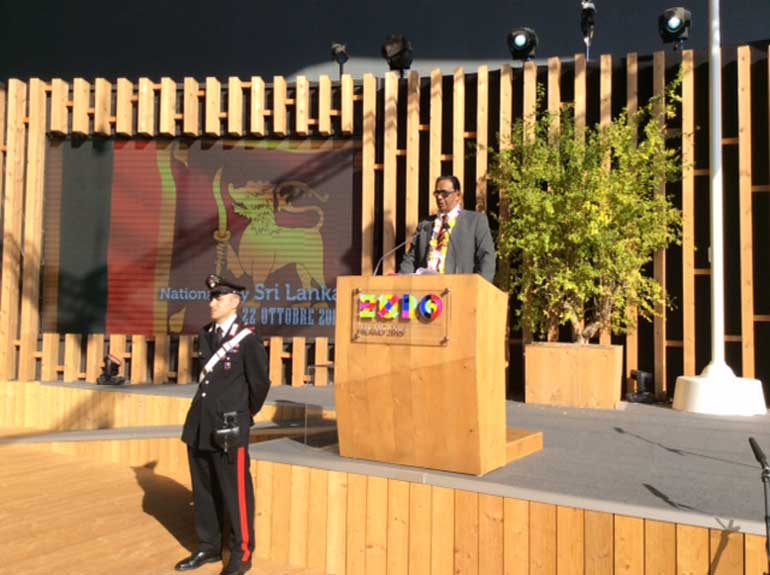 Sri Lanka is transforming positively and invites the world to engage with it said Tourism Minister John Amaratunga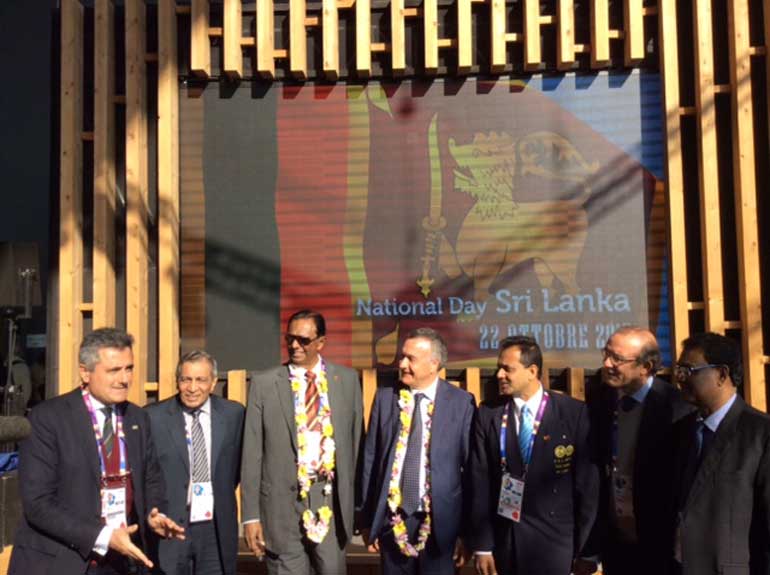 The Expo 2015 Commissioner General - Italy Daya Pelpola, the Ambassador designate to Italy, Tourism Minister John Seneviratne, Commissioner General Expo - Sri Lanka Dr. Rohantha Athukorala and EDB Chairman Bandula Egodage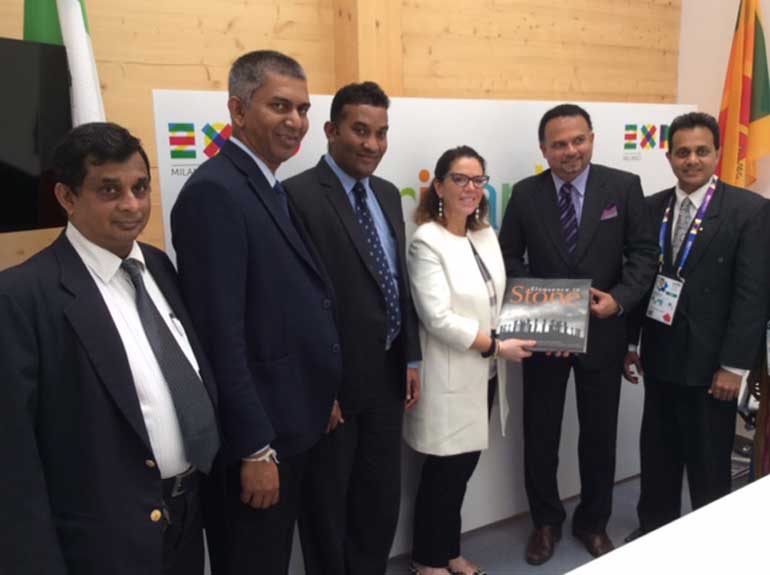 Former Tourism Minister Navin Dissanayake presenting a Sri Lanka Tourism book to mark the partnership between Alpi Tours and Aitken Spence with Bravo Club members. Also present are Lalith Peiris, Country Manager SriLankan Airlines, and Dr. Athukorala​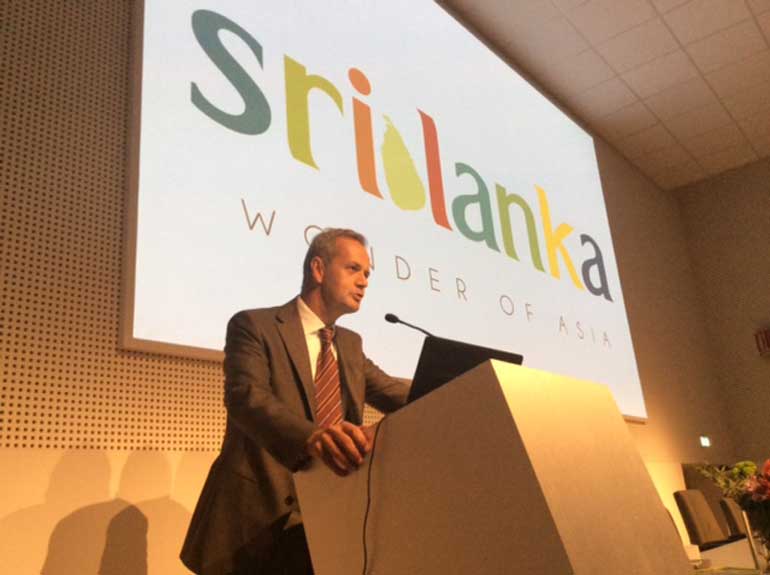 Managing Director of Calzedonia Marco Carletto addressing the Sri Lanka Business Forum at World Expo 2015 in Milan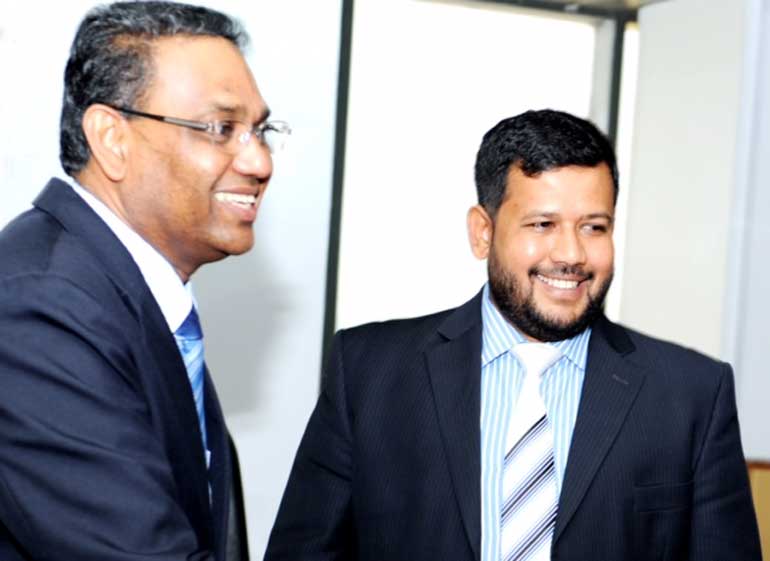 Industry and Commerce Minister Rishad Bathiudeen at the launch of Expo 2015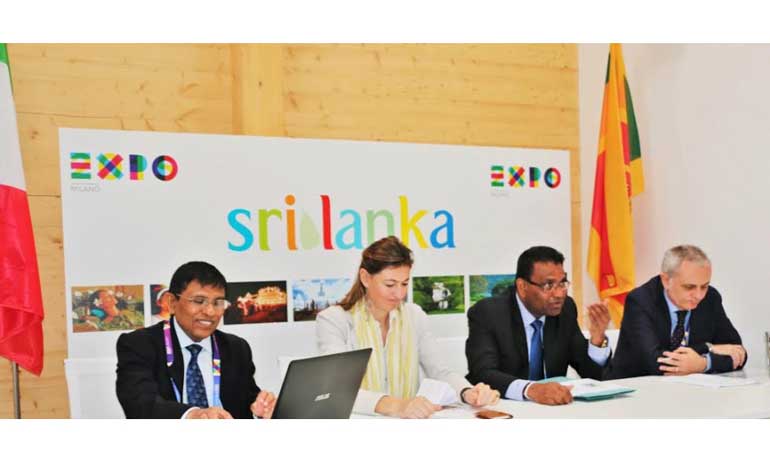 The Sri Lanka Export Development Board launched the 'Sri Lanka, ethical sourcing destination' tagline at the Sri Lanka tourism pavilion in the presence of Ludovica Ghizzoni – Advisor ITC Geneva and Dr. David Doninetti – Secretary General Association of Italian Trade Association (AICE)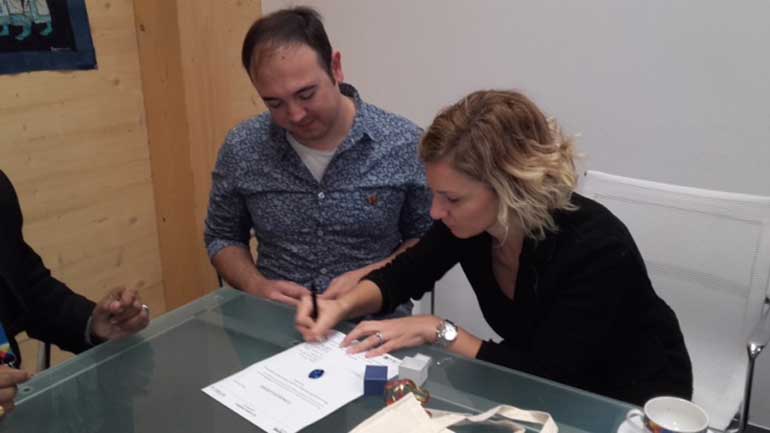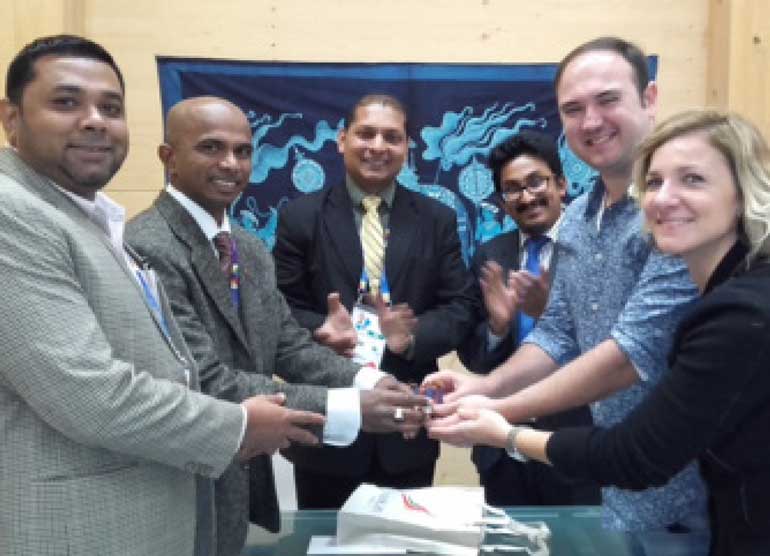 Expo Milano is organised under the theme 'Feeding the Planet – Energy for Life'. Sri Lanka as an ethical sourcing destination is well aligned to the global theme. The team that put together the program for Sri Lanka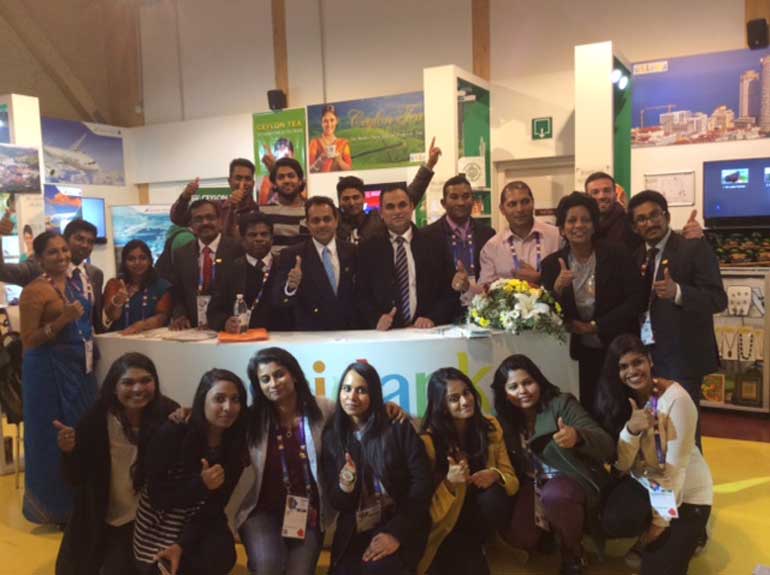 The core team: Commissioner General Expo 2015 Sri Lanka pavilion Dr. Rohantha Athukorala, Chairman EDB Bandula Egodage, Charge De Affair Milan Pradeepa De Seram, Rome - Poshita Perera, Minister Commercial Jinasena, Deputy DG Department of Commerce Mr. Raheem, Deputy DG EDB Jeevani Siriwardena, Director BOI Nilupul De Silva, Deputy Director NJGA Ayoma Dias, Assistant Director Sri Lanka Tourism Shirani Herath and Sri Lanka Pavilion Manager Darshana Perera and Pavilion Manager Malindu Perera. Absent: Director Tea Board: Ms. Priyanka, Director DOC Mr. Somasena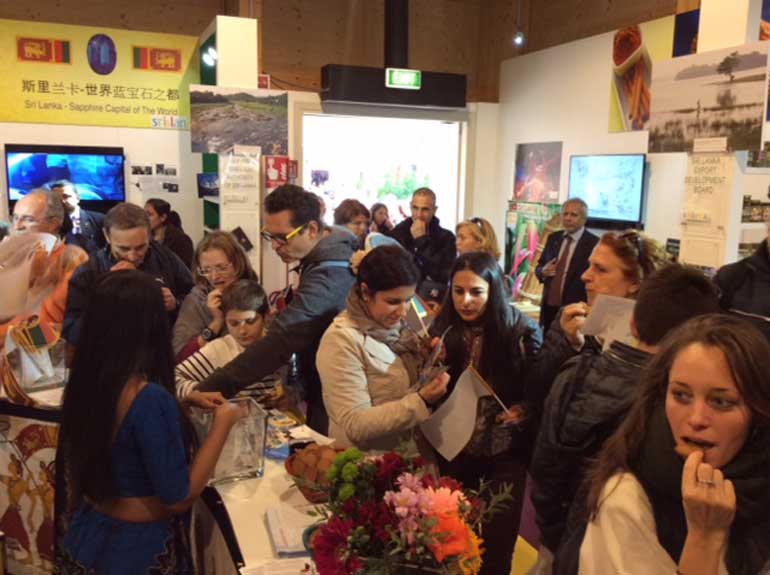 There were 800,000 visitors to the Sri Lanka pavilion, most of them Italians. The number for average tourist arrivals from Italy is around 21,000 with Sri Lanka targeting 30,000 in 2015
A World Expo happens every four years so a country has the opportunity during this period to plan how it hopes to engage with the rest of the world. Sri Lanka, for the first time in eleven years, set up a cross functional team featuring key Government line agencies – the EDB, BOI, Tea Board, Sri Lanka Tourism, NGJA, Handicraft Board, SriLankan Airlines and the Department of Commerce - together with the Italian Embassy, under the direction of the Ministry of Industry and Commerce.

The duration for setting up a pavilion at the World Expo was six weeks and the location for the Sri Lanka pavilion was amongst the fruit and legume cluster, which was given on gratis by the Government of Italy, said the Sri Lanka Expo Secretariat.

The Commissioner General for Sri Lanka at Expo 2015, Dr, Athukorala, outlined the overall strategy and objectives behind Sri Lanka's promotional drive at Expo 2015, which was hosted by Italy. These consist:

1. To differentiate and promote Sri Lanka as a nation that is transforming positively with a multitude of treasures that provides the space for other economies to engage and trade

2. To bolster Sri Lanka's global impact, helping to promote trade, investment and tourism.

3. Position the country on its rich culture and heritage as an island in Asia for its diversity, compactness and authenticity.


Sri Lanka – 'Positively Transforming'

Head of the delegation, Tourism Minister John Amaratunga, explained the positive transformation that had taken place in the country since the arrival of the new Government which promised good governance, financial responsibility, equality of development, religion harmony, respect for human rights and inclusive development.

He went on to say that the Government had already started delivering on this promise. "We now want to understand the thinking of the private sector better and thereby aggressively develop the tourism promotional agenda in key markets," he said.

"The Sri Lanka Expo 2015 team is breathing new life into the 'Positively Transforming' concept. The main objective of the strategy was to position Sri Lanka as an exciting place to visit, a positive place for business and an excellent place to study or work," said Dr. Athukorala.

Dr. Athukorala went on to state that the primary target audience of the campaign consisted of four main categories:

1. Tourism – People who come to Sri Lanka to experience its heritage, sea, sand, culture, wildlife and hospitality. The idea is that people will share their experiences with many others through social media and word of mouth communication. Sri Lanka Tourism announced a proposed partnership between a blue chip company in Sri Lanka and a leading tour operator, Alpi Tours, which will attract business worth $ 1.3 million.

2. Investment/Business – Targeting mainly mediators, entrepreneurs, investors or importers who directly and indirectly help create jobs, increasing the country's wealth. The strongest endorsement that Sri Lanka received was when the Managing Director for the Calzedonia Group, Marco Carletto, shared the success story of his company, Omega, Line, in Sri Lanka. It has five factories employing 12,000 people and has operated even during the most difficult of times, such as during the civil conflict.

3. Exports: EDB Chairman Bandula Egodage launched the 'Sri Lanka, ethical sourcing destination' tagline at the Sri Lanka pavilion of Expo Milano 2015 on 22 May in the presence of Ludovica Ghizzoni – Advisor ITC Geneva and Dr. David Doninetti – Secretary General Association of Italian Trade Association (AICE). Other key signatories at the media conference were the Commissioners General and Pavilion Directors of Japan, Thailand, Malaysia and Slovakia. Furthermore, he stressed that Sri Lanka's export manufacture was built on solid factors such as the absence of child labour, forced labour and labour exploitation, the maintenance of environmental sustainability focusing on the green factory concept, waste and affluent recycling, water and fertiliser usage optimisation under the Green House concept, ozone friendly manufacturing and ongoing renewable energy efforts.

4. Lifestyle: Sri Lanka, which boasts of being the sapphire capital of the world with the 'Ceylon Blue Sapphire' was offered as a raffle to the 800,000 applicants who took part in a competition, which is essentially about keeping a record of the visitors to the Sri Lanka pavilion during the last six months, said Pavilion Director Darshana Perera.

"Nation brand building is a process that takes 3-5 years where success can ultimately be judged by the way the country lives up to the promises it advocates rather than just glossy advertising which many countries fall victim to. Another research insight from nation brand building was that 'destination marketing' was the most effective approach to the first step to nation brand building than the holistic approach," Dr. Athukorala explained.

He also quoted Simon Anholt, the expert on a nation branding, saying: "If a country doesn't like its image – and most countries don't – then the only way to change that image is through the things the country does, not by the things it says which is what a country needs to pay attention to."