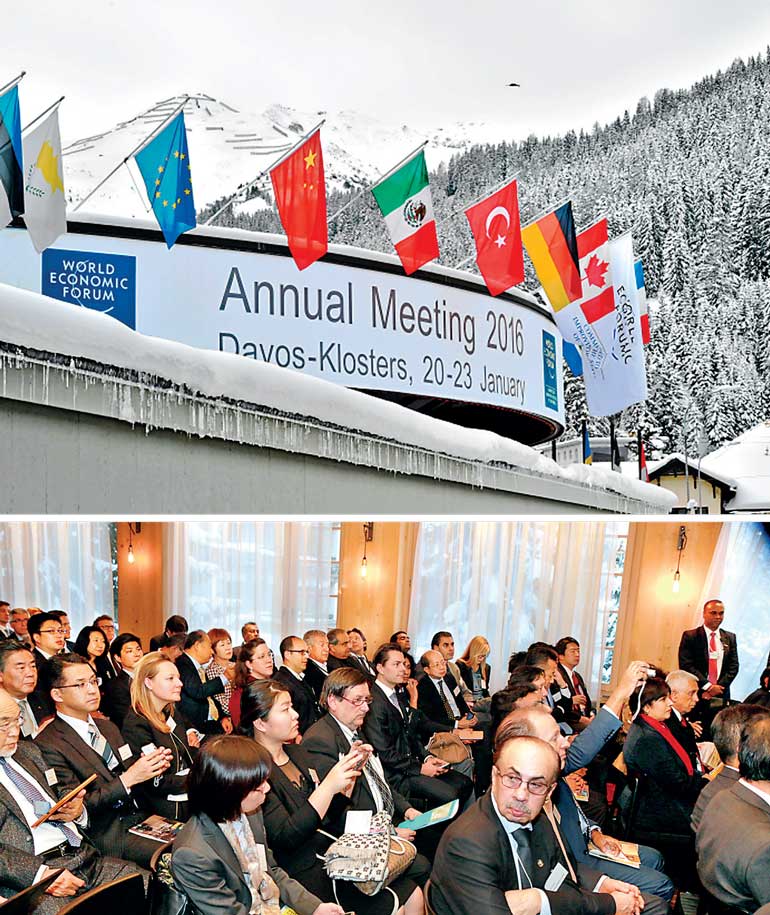 By Nisthar Cassim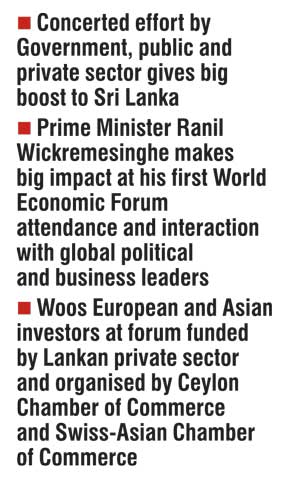 Davos, the picturesque ski resort located in Switzerland, perhaps had some special warmth this year in late January. This is because for the first time a large contingent of Sri Lankan officials, led by Prime Minister Ranil Wickremesinghe, attended the influential World Economic Forum (WEF) 2016 and its many side events.

The visit by Wickremesinghe was unique as it was the first by a Lankan premier. Previously only President Chandrika Bandaranaike Kumaratunga had attended, way back in 1999.

The presence of Premier Wickremesinghe in Davos was strengthened further by a mega team of business leaders who flew in especially to promote Sri Lanka in Switzerland. Officials accompanying the Premier were ministers Malik Samarawickrama and Ravi Karunanayake and Central Bank Governor Arjuna Mahendran among others.

Lankan business leaders present in Davos included John Keells Holdings Chairman Susantha Ratnayake, Brandix CEO Ashroff Omar, Carson Cumberbatch Director Hari Selvanathan, John Keells Holdings Deputy Chairman Ajit Gunewardene, former Ceylon Chamber of Commerce Chairman Suresh Shah, Colombo Stock Exchange Chairman Vajira Kulatilake, Ceylon Biscuits Group Managing Director Sheamali Wickramasinghe, MTD Walkers Chairman Jehan Amaratunga, TW Corp. Chairman Thilan Wijesinghe, Virtusa Chief Operating Officer Keith Modder and Ceylon Chamber of Commerce CEO Mangala Yapa are among the Ceylon Chamber delegation along with two foreign investors Pierre Pringiers (Camso Loadstar) and Philip Richart (Lafarge Holcim), Advisor to Prime Minister Dinesh Weerakkody, CSE Director Anton Godfrey, business leader Suresh Subramaniam and top professional Dr. Kapila Ranasinghe.

If Kumaratunga had a greater challenge of promoting Sri Lanka and global investments at a time when the country was still embroiled in a war in 1999, the task before Premier Wickremesinghe and his delegation was equally herculean. Despite no war in Sri Lanka, the country saw bearish growth in 2015 and faces a gloomy outlook for the global economy in 2016.

Nevertheless, given the strong mandate received from the people via the Presidential and General Elections in 2015, and by virtue of political stability and better democracy under a unity Government, and an economic roadmap, Sri Lanka, increasingly becoming a case study of peaceful transition, internationally, had a better story to tell.

Indeed, the Sri Lankan contingent did just that and as per most analysts Davos 2016 was a good start.

"It is a small yet positive step but given the profile of the World Economic Forum and the fact that every nation is trying to seek attention, Sri Lanka needs to do put up a bigger effort in the future," was the remark of one of the visiting Sri Lankan business leaders.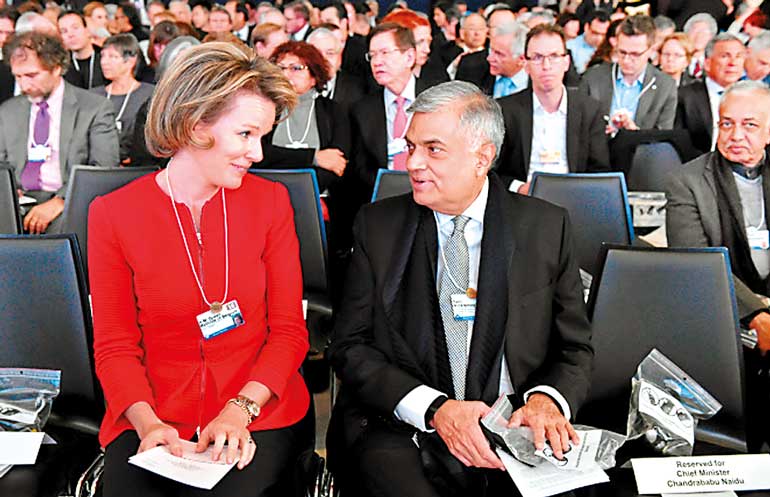 H.M. Mathilde (L), Queen of the Belgium speaks to Ranil Wickremesinghe (R), Prime Minister of Sri Lanka in the audience before the Welcome Message by the Executive Chairman of the World Economic Forum at the Annual Meeting 2016 in Davos, Switzerland - WORLD ECONOMIC FORUM/swiss-image.ch/Photo Michael Buholzer


With over 2,500 global political, government, business and civil society leaders converging and several countries hosting well organised and lavish Country Nights and other promotions, Sri Lanka's maiden concerted effort may look like a drop in the ocean but it was an important germination that can be nurtured to become an annual exercise with proper and advanced planning plus investment.

The 43rd WEF in Davos this year focused on the theme 'Mastering the Fourth Industrial Revolution' and comprised over 300 sessions.

The Prime Minister, in Davos after attending the plenary session with WEF Founder and Executive Chairman Prof. Klaus Schwab, participated in the 22nd Annual Crystal Awards of WEF recognising important contributions on improving the state of the world and best representing the "spirit of Davos."

He served as a panelist in the interactive session entitled 'Regions in Transformation: South Asia' and was a special guest at the roundtable discussion titled 'Economic growth and social inclusion' and at a session titled 'Zero Gap: Financing the SDGs'.

He also held a press conference at the WEF Media Village and attended the informal gathering of World Economic Leaders focusing on imperatives for 2016.

Some of the bilateral political and economic meetings he held saw him meet with Swiss Confederation President Schneider Ammann, Prime Minister of Sweden Stefan Lofven, Netherlands Prime Minister Mark Rutte, Turkey Prime Minister Ahmet Davutoglu and Bahrain Prime Minister and Honorary Chairman of the Bahrain Petroleum Company Salman bin Khalifa Al Khalifa. Separately, he held a private meeting with Prof. Schwab.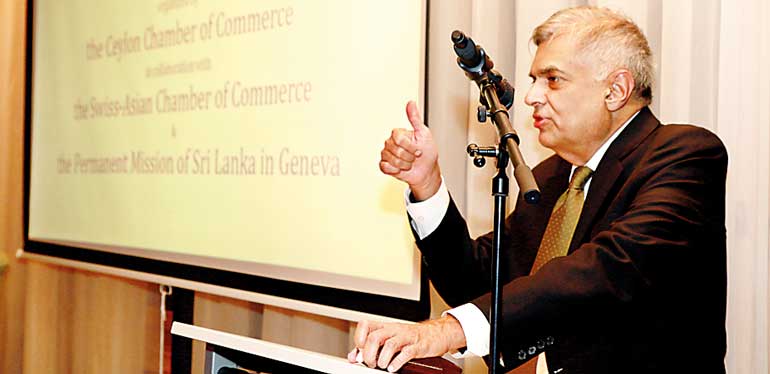 Premier Ranil Wickremesinghe addresses the Investor Forum in Davos
​

Some of the other meetings he had were with IMF Managing Director Christine Lagarde, ADB President Takehiko Nakao, Virgin Group CEO Sir Richard Branson, Virgin Unite CEO Jean Oelwang, Microsoft International President Jean-Philippe Courtois, Standard Chartered Bank Group CEO Bill Winters, TPG Co-Founder and Managing Partner David Bonderman, GE Hong Kong Vice Chairman John Rice and Hinduja Group Co Chair Gopichand P. Hinduja. Separately, Wickremesinghe met a delegation from the Confederation of Indian Industry (CII) and a group of Japanese and Swiss investors over breakfast.

The Prime Minister also found time to accommodate interviews with international media outlets at the WEF. Among them were the New York Times, Dutsche Welle, Swiss newspaper Tagesanzeiger and NDTV CEO and Executive Director Vikram Chandra.

A highlight of Wickremesinghe's presence in Davos was his participation at the private sector-funded Sri Lanka Investor Forum organised by the Ceylon Chamber of Commerce in partnership with the Swiss-Asian Chamber of Commerce.

Contd on Page 10

Sri Lanka....

Held at the Morosani Posthotel in Davos Switzerland, the forum saw over 100 participants including investors from Switzerland and Asia.

Initially Central Bank Governor Arjuna Mahendran spoke on 'Policy Outlook for Sri Lanka: Economic Overview and Investment Opportunities'. Additionally, Belgium Camso-Loadstar Chairman Pierre Pringiers shared a testimonial and investor perspective of Foreign Direct Investment in Sri Lanka.

Development Strategies and International Trade Minister Malik Samarawickrama, Finance Minister Ravi Karunanayake and Sri Lanka's Ambassador to UN in Geneva, Switzerland Ravinatha Ariyasinha were also present.

Realistic yet impressive pitch by PM

In his speech, Wickremasinghe made a realistic yet impressive pitch for investors attending the forum. Following are excerpts from his speech.

For thousands of years we have been the centre and most attractive place in Indian Ocean and friendly with everyone.

We want to ensure Sri Lanka becomes again the centre of economic activity in the Indian Ocean. How are we achieving it? Firstly, politically we have formed a national government with two major parties and many others have come to together to resolve the main political and economic issues of the country. This means we are putting together a foundation and a policy framework which will stay in place long after the national government experiment is over.

What investors want is certainty and we are offering that. We are pursuing reconciliation. Unless there is political stability we cannot go for economic restructuring. Secondly, we are strengthening democratic institutions in Sri Lanka.

The economic framework is we want Sri Lanka to be a centre for the global value chain, nothing less. Today economics has been changed by the global value chain with new systems of production; we are discussing the 4th industrial revolution. We have to look at it differently from any other era where no longer manufacturing only goods in Sri Lanka to be sent out or services. The fragmentation of tasks has already started. We want to be the economy which caters to the new globalisation and new economic framework within which global companies operate.

How do we get there? It is by ensuring ease of business, removing legislations, rules and mindsets that stand in their way. I have brought together the BOI and EDB to create an Agency for Development that will empower special provisions to cut through regulations in the next three years. The focus is to improve the Ease of Doing Business and look at issues and aspire to be in the 50s of the index and thereafter in the 20s of the rankings. So the whole Government focus will be ease of doing business, coming here and starting business with the least amount of issues with the Government. Time is money.

In politics also time matters. The Government is here for five years and it has to start delivering results by the fourth. So this is the major step we are taking. Earlier we looked in terms of tax incentives, tax holidays to attract investments and do business. However, today the focus is on ease of doing business, changing or reducing the regulations.

The other is the International Trade Agency looking at trade, both exports and imports, and the development of an international trade. These two (the Agency for Development and International Trade Agency) form Development Strategy and International Trade.

Once we have the new economic framework in place we will promote manufacture, global value chain, new niche market producers, and infrastructure - industrial estates in many parts of the country.

The large Megapolis of 8 million will be the most liveable city. Hitherto there had been unplanned urbanisation without infrastructure. Once developed it will be a large city between Singapore and Dubai.

The Port City will have its own special financial and business district. We will bring in laws which will apply only to the Port City, mainly the UK and other commercial laws with a special tribunal to resolve disputes and arbitrate. That will be the other incentive to come to Sri Lanka and make it a base for business in South Asia or any other part in the Indian Ocean.

Sri Lanka has the potential to become a high income country. As the Indian Ocean develops we will be a centre to cater to three billion. The private sector has a greater role to make this a reality after the Government provides the initial thrust.
Related articles:
Opportune time to invest in SL, CSE Chief tells Swiss forum
PM steps up efforts to woo global political and business support for SL
Sri Lanka's presence and engagement in Davos a major step forward: Mark Dangel
Prime Minister responds to questions from investors at Davos forum