Expert panel of billionaire George Soros, Nobel Laureate Joseph Stiglitz and Harvard academic Ricardo Hausmann give their insights into development

From left Nobel Laureate Joseph Stiglitz, Prime Minister Ranil Wickremesinghe, President Maithripala Sirsena, Billionaire George Soros and Prof. Ricardo Hausmann at the forum yesterday
By Uditha Jayasinghe

Billionaire George Soros warned Sri Lanka that a precarious global situation, which in his view echoes the 2008 world financial crisis, would challenge aspirations for export-led growth but stressed the country enjoys positives it can build upon.

He addressed a packed forum yesterday under the theme 'Steering Sri Lanka towards Sustainable and Inclusive Development,' which was held under the patronage of President Maithripala Sirisena, and Prime Minister Ranil Wickremesinghe, organised by the George Soros Foundation.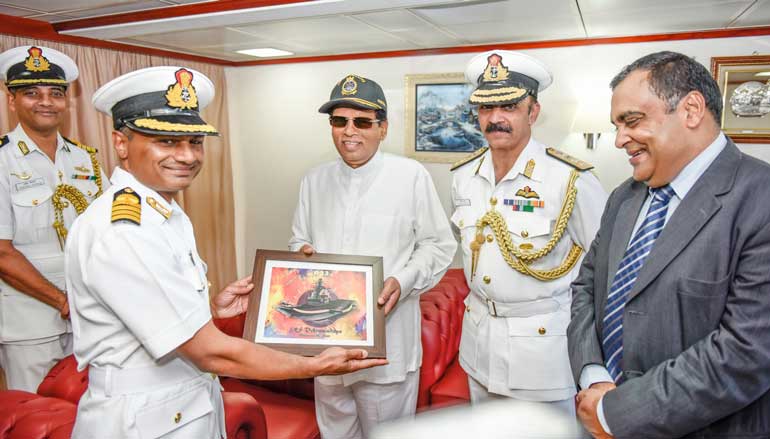 The findings of a preliminary study on Sri Lanka carried out by The Harvard University's Centre for International Development was addressed at the sessions. The study identified four key areas of risk and opportunity that are believed to be strategic in supporting sustained and an inclusive long-term economic growth for Sri Lanka.

Despite recording significant growth even during the war factors underlying Sri Lanka's economic growth reveals several important and interrelated risks to the economy overall and to the inclusiveness of the development process, the Centre for International Development found it its study.

These were outlined as macroeconomic and fiscal stability, structural transformation and competitiveness, urbanisation and development and regional development and social inclusion.

Soros, whose hedge-fund firm gained about 20% a year on average from 1969 to 2011, has a net worth of about $27.3 billion, according to the Bloomberg Billionaires Index. He began his career in New York City in the 1950s and gained a reputation for his investing prowess in 1992 by netting $1 billion with a bet that the UK would be forced to devalue the pound.


Impressed by Sri Lanka

Giving his initial impressions at the forum, Soros spoke extensively of the global economic environment, though he insisted he did not want to put "a damper" on the enthusiasm he observed from the heads of Government who attended the event.

"I am very pleased to be attending this conference because I am very impressed by what this Government has achieved in a very short period of time. It has moved towards a more open society and this is the cause my Foundation supports. I am pleased to be of assistance to the extent that we can be and I have people here looking at investment opportunities. I am glad I don't have to talk about Sri Lanka, which I don't know but I can talk about the outside world and the constraints that Sri Lanka will have to face. There I have to be the messenger who delivers bad news because you are facing very hostile external environment not only in China but an overall tendency towards slower growth and that is more serious now than in previous years," he said.

Soros pointed out the imbalances in the world recalling the last period of deflation in the 1930s that taught the world lessons from the Great Depression that taught officials what to avoid to some extent and motivated Central Banks around the world to exercise preventive measures for allowing deflation to turn into recession.

"The US was the first country that used those lessons along with Britain and so they took the right measures and they are the closest to getting their economies to grow and correct excesses.They are ready to adjust interest rates and return to positive rates but this creates a big problem for the developing world because they were benefiting from high demand for raw materials, especially from the growth boom in China, which now has a big problem in planning a new growth model.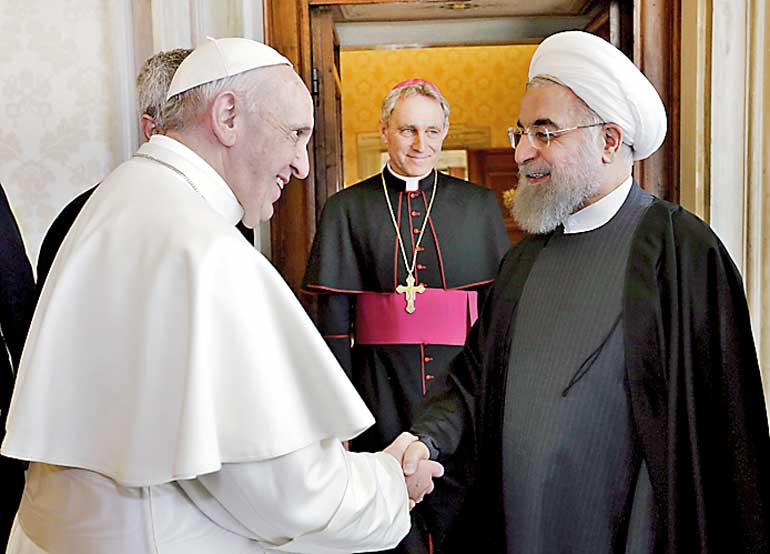 "China has grown tremendously but now has to adjust to a lower rate of growth that has a negative effect on commodity prices and unfortunately China has a major adjustment problem and has a lot of tough choices to make. China is also transferring to the rest of the world its own problems. This has been happening in the last few months and we are facing a very serious transitional problem."


Fresh funding and lower expectations

Summing up his evaluation on the external sector, Soros termed it as a "crisis," calling on the Sri Lankan Government to beware of the pitfalls of high expectations.

"I would say it amounts to crisis; when I look at the financial markets there, I see a serious challenge, which reminds me of the crisis we had in 2008 and in my guidance to my investment people I have told them to be very, very cautious because when you have deflation then households receive a benefit because they have more disposable income but instead to spending it they will save it and that is undesirable for capital markets."

Banks are reducing lending and for better or worse Sri Lanka belongs to countries that need funding, he observed, adding: "I think Sri Lanka is a bright spot because of the achievements of its National Unity Government so it has the capacity to distinguish itself and avoid the fate that is facing most of the other countries and it can attract investment. I think there is a great opportunity in tourism because other attractive countries have lost their competitiveness because of internal issues. It is possible to navigate this situation but it is necessary to confront the harsh reality and think that just because you are moving in the right direction and an exception to the rest of the world money will be pouring in here because generally the banks are pulling money out."

He advocated Sri Lanka would have to find "other sources of investment," though alternative sources of funding will require a lot of effort.

"The hopes I feel awakened by this conference have to be reduced and you have to lower your expectations. On the other hand, instead of resting on your laurels you have to understand this is just the beginning and do more because this is only the beginning of the decline of financial markets and this is just the beginning of Sri Lanka being an exception. It is a balancing act, reduce expectations and improve performance. This is my contribution and I'm sorry about it being a bit of a damper."


PM's vision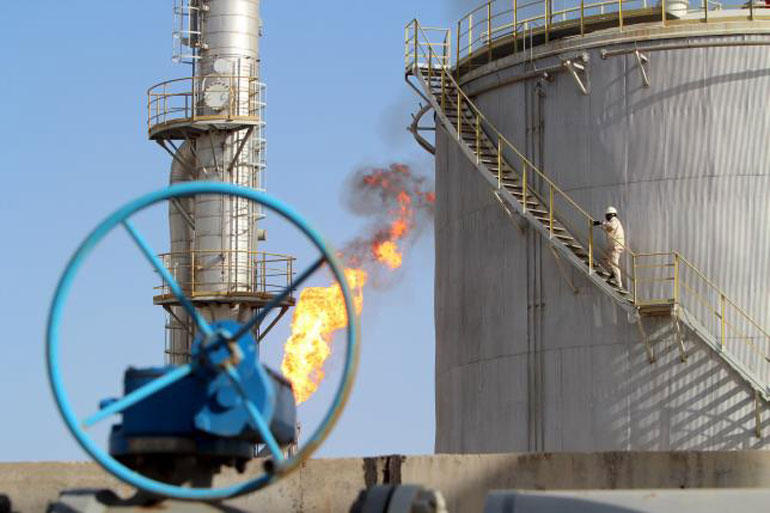 Prime MinisterRanilWickremesinghe was optimistic of Sri Lanka's prospects, telling the audience that "politics is done" and the rest of his term would be focused on fixing the economy. The crowd received the announcement with applause and Wickremesinghe went onto give details of his plans to boost growth.

"This is unique moment for Sri Lanka. A year ago the people of Sri Lanka gave a mandate to President Maithripala Sirisena, which was to consolidate democracy in Sri Lanka. President Sirisena had to charter a difficult few months and I had to be the Prime Minister of a minority government but we went on and the President voluntarily gave up some executive powers. We held on and the general election gave us a chance to form a National Government. This is a unique situation. We have a Cabinet, a bit large I must say, and we bring together decades of experience and we have the collective wisdom to bring together to ensure a better future for people because the mandate was for abetter life."

"After many years of war, how can we get together? How do we deal with the past? How do we deal with the international pledges we have made? How do we deal with it as different groups that want to get along together? As I said before, cricket is a game that has united Sri Lanka. I am confident we can glue together as we move towards the future. On Saturday when Parliament sits together we will start delivering on political and economic reforms. The political part is over. We are the nation that for thousands of years has lived on our wits. As the first nation to enjoy universal franchise, and the first nation in South Asia to have an open economy, as the first country that committed to universal education,how do we adapt to a global marketplace and global product chains?"


Every citizen a stakeholder

The Prime Minister was adamant every voter who did or did not give the Government a mandate should "have a good life withaccess to health, education and housing".

He insisted all Sri Lankans were stakeholders who stand to benefit from the development planned by the Government. As one of the measures officials have discussed the President will give freehold titles to 1.5 million people so they have a stake in society and economic growth, he noted.

"But first we have to get through the vulnerabilities of our economy and fiscal uncertainties. Despite vulnerabilities of the global economy we have to step up. How can we become the most competitive economy, socially inclusive and a global city for the region? There is no major megapolis between Singapore and Dubai. How do we plan this? I must thank Soros who had confidence in us to come here and organise this forum. Economist Joseph Stiglitz is followed by many politics on both sides of the House. All of us members of the Cabinet and Parliament have put our necks out to believe this can be done in South Asia."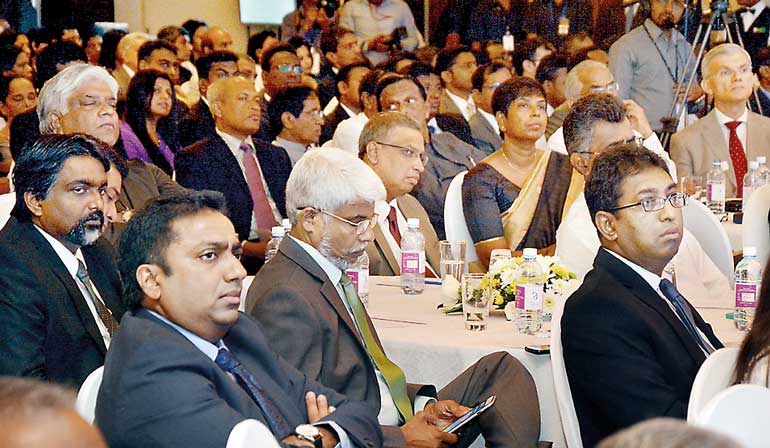 Five challenges

Director of the Center for International Development and a Professor of the Practice of Economic Development at the John F. Kennedy School of Government at Harvard UniversityProf. Ricardo Hausmanndissecting the avenues of growth for Sri Lanka and the challenges impeding it gave a balanced view of the country's prospects.

"Coming from Latin America I can only see Sri Lanka with a large dose envy for your achievements and your possibilities in the future. When I see for example your growth rates, which are higher than most of the countries I have worked with, when I see your human development index is very impressive and I think it's time to stop comparing yourself with South Asia."

"Sri Lanka has outgrown some benchmarks and has to set new targets. Had it not been this way you would have had a long list of excuses to justify a much poorer performance but in spite of this there has been progress. So I am very humbled to be here and will suggest that there are five challengesahead for Sri Lanka. There are probably others that I have not addressed. There is the political and reconciliation front that I'm fully aware that have taken the energies of the Government in the first year."

"On the economic front the first challenge is the limitation on exports and the balance of payment vulnerabilities. Secondly,tax revenue too low to support development, does the country need to rethink the finance of its foreign debt?Does Sri Lanka need to think about how it needs to transition?Is organisational capacity too low to be a country that aspires to be a knowledge hub or technology hub? How challenging will it be for Sri Lanka to include all its regions and groups in the development process? How challenging will sustainable development be for Sri Lanka?

Hausmann analysed the cycle of boom and bust growth typical seen in Sri Lanka over the past two decades that are accompanied by widening of external deficit and then tightening results in growth decline and the cycle repeating itself over and over again. For the economy to sustain growth more exports are needed.

"It wouldn't be such a huge problem if Sri Lanka had lots of access to foreign finance but that is not the case because the country is already significantly in debt. Sri Lanka revenue is significantly lower than I expected it to be, at only about 12%, though some countries have it easy where they can tax natural resources but my question is how we have a public sector that can muster resources to do its bit to accompany the growth of the economy. This is also a country where the Government is having negative savings so it cannot make any contribution to investment and the Budget deficit is substantial. So this is the second challenge I see going forward."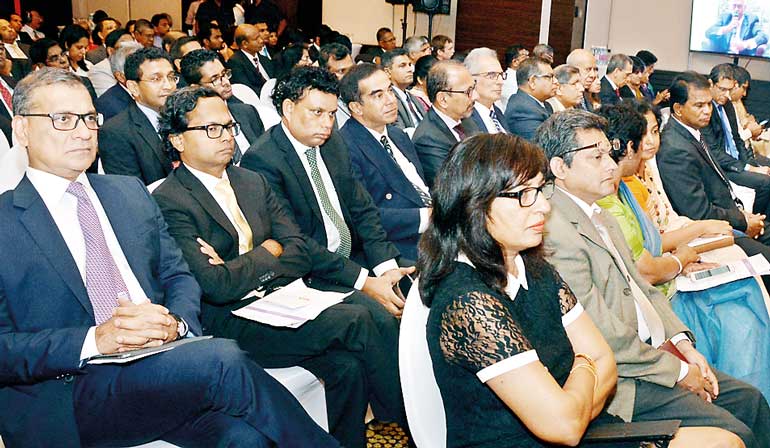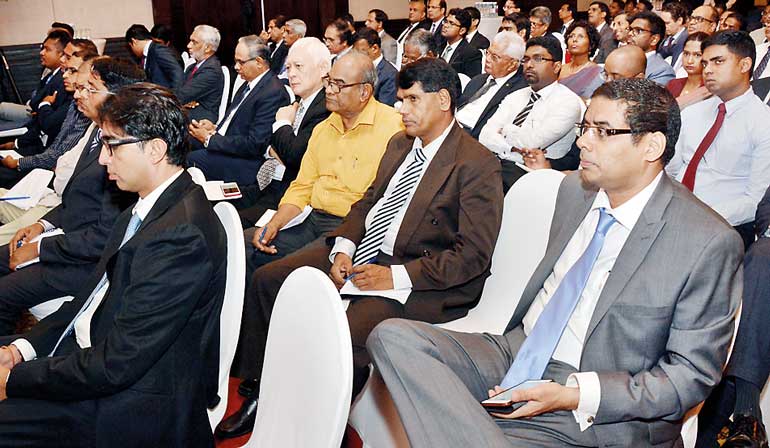 Structural transformation

He saw the third challenge as structural transformation. Most developing countries have larger labour in agriculture, in Sri Lanka the expected level of agriculture exists but the surprise for Hausmannis that agricultural employment is double what it is expected to be, especially since productivity is very low. It is about 30% of the work force instead of about 15% so job dynamism will have to come from elsewhere in the economy, he noted.

"This is a measure of how much more productive industries and services than agriculture. Industry is six times more productive than agriculture and services segment is five times more productive than agriculture so if more people are employed in these two sectors they would be far more efficient. Why has this transformation not happened already? What are the impediments to this change? Sri Lanka's exports have not changed significantly over the last 20 years, with more focus on apparel."

Thailand in 1991 looked much like the current Sri Lanka, subsequently technology exports developed significantly with year 2010 being more about cars, electrical goods and huge expansion in machinery. The same happened in Turkey and Costa Rica. So it's not about removing what Sri Lanka is doing now but adding "a bunch of new stuff".

Another disadvantage for Sri Lanka is that most of the country's competitors are poorer and can pay lower salaries and being the richest puts Sri Lanka in a difficult position as it makes the country uncompetitive. Even in apparel countries such as China, Bangladesh and India, which can all pay lower salaries. This is not the case for everything though because when it comes to rubber products Sri Lanka'scompetitors are Belgium and Germany and therefore Sri Lanka can be competitive.

"Given how beautiful Sri Lanka is, I was surprised to find tourist arrivals were below where I would have expected it to be. Tourism is an industry where richer countries get more money so it's an industry that can grow and take higher wages as you grow. Remittances are an interesting topic but it is unlikely to continue growth in the long term because most of the workers are going to the Gulf and it is a region seeing slower growth. Long term there should not be dynamism because we do not want brain drain and local people should have well paying jobs that keep them here."

Growth means Sri Lanka needs to diversify and evolve their comparative advantage and move into things that are more complex where Sri Lanka can be competitive while supporting higher wages. This capacity is within agriculture, industry and services. This evolution usually involves a chicken and egg situation because countries struggle to do what they do not know how to do so Governments usually facilitate this diversification process. There is a tendency to use tax holidays and incentives to encourage people to move into new areas.

"The problem here is when your tax base is already small there are limits to that strategy and there has to be other ways to stimulate growth."

Another topic is urbanisation, which can be both a good or bad thing, noted Hausmann. But the process of development usually involves getting people closer to their jobs. Urbanisation in Sri Lanka is surprisingly low, at less than 20%, according to World Bank statistics.

"At the level of per capita income I would have imagined it to be higher. Another reason for low urbanisation would be the fact that 34% of the labour force is employed in agriculture. Of course this means we have to plan cities well and make sure they are transformed to facilitate the next level of growth. I understand the Government has already looked at this and it has to be done carefully."

As all countries, Sri Lanka is growing at different rates in different sectors. There has been huge growth in hotels and restaurants but as the economy transforms there will be different changes in demographics around the country. How can Sri Lanka include all of society in the growth process? Is urbanisation too slow? How can Sri Lanka make the growth inclusive?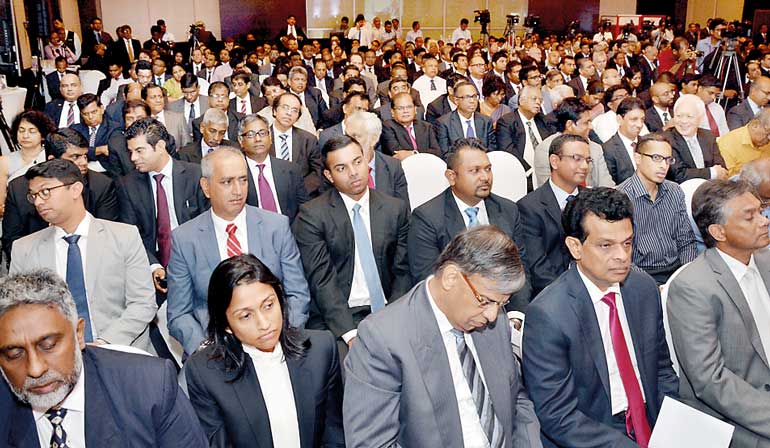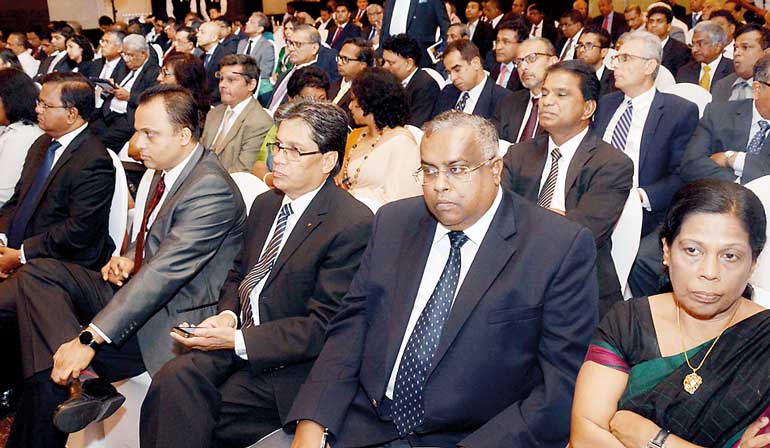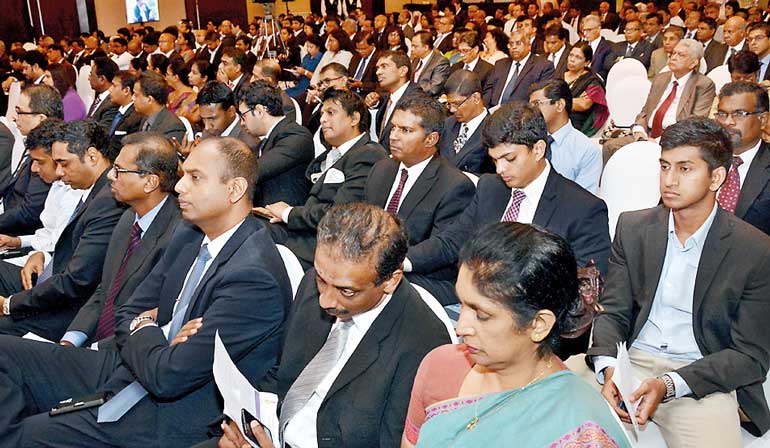 Pix by Upul Abayasekara and Lasantha Kumara
---
Panel discussion
Good

neighbours

are an advantage to growth:

Stiglitz
Nobel Laureate Joseph Stiglitz believes Sri Lanka can link with India to foster growth and tap into green economic ventures and carbon taxes to bolster revenue.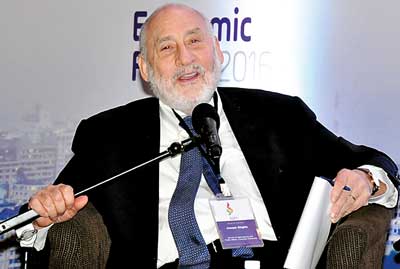 Sri Lanka is located in Asia and that is one part of the world that is not moderately well. Growth, even China, is about 6% and has remained enviable and Sri Lanka's immediate neighbour India is very different from the stagnation in the rest of the world, Stiglitz stated.

"In this global environment you have done reasonably well in picking good neighbours. It's very natural to focus on the very short term but a medium term perspective has positive aspects, the first is the fact that your major source of power is the Sun and not oil and that will be a major advantage. The world is moving to a carbon free globe and countries dependent on coal are at a disadvantage and having potential solar energy puts Sri Lanka at an advantage and needs to be thought about as a positive aspect. The second thing is that as a region grows they will consume, perhaps not manufacture, but as the prime minister has pointed out there will be more people to feed and if you get agriculture productivity up it can result in high wage growth."

"The US and other countries in Europe have high levels of agriculture exports and tax them significantly. One of the most egalitarian taxes is land tax that would be the source of significant revenue. Basically it would be a tax on rent that would also increase productivity of land. The analogy to Singapore is interesting because it began from very, very poor beginnings. One has to ask what the basis of their success is and that is called a development state. The government played a huge role in directing the economy and used markets well. It provided a competitive environment but did not leave the private sector to its own interests. One of the lessons from Singapore is that it promoted inclusive growth, which is very relevant given the history of Sri Lanka."

One has to think of dynamic comparative advantage, movement within sectors where there is more value addition and higher productivity so while some sectors need to be encouraged others need to be looked into so that it does not create discrepancies, the eminent Economist said.

He also observed significant advantages for Sri Lanka and noted the question is how dynamically Sri Lanka can take advantage of these assets in the world that will not be "a very friendly world, which you will have to negotiate."


India's growth impact

Sorosweighing in noted he would like to explore how Sri Lanka can be an exception and would be "very interested in how people react to it" and very interested in how India's closeness can impact on growth.

"It seems to me that in addition to tourism, which is an obvious growth area, there could be leapfrogging from growth in productivity of the land and move into the knowledge economy that actually is better if it is not urbanised. People in the U.S. move out of city centres into areas where they can commute.Sri Lanka has the opportunity to leapfrog from agriculture to knowledge economy."


Diaspora opportunities

Prime Minister Ranil Wickremesinghe confessed he was looking forward to kick-starting investment as soon as possible.

"Now we have to make changes, we can no longer be a low wage economy. I think we have correctly identified what needs to be done, we need to get into the manufacturing sector, and we need to invest in our people. More land will be released as urbanisation increases and we can make agriculture more competitive but as a modernised sector with better productivity. If we increase productivity in paddy we can even export it, when I came into politics the discussion was whether we can be self sufficient but this year we have a bumper harvest and we don't know what to do with it."

Sri Lanka's diaspora is mainly in Western Europe, North America and Australia and the Government is hopefulof some level of investment, especially to invest the north and east.

"A large number of them are professionals so we are hoping they improve education. They also have the capacity to improve investment and bring in capital. Sri Lanka and India have a strong link and if we can be connected between the higher growth States of India it would be beneficial. We are already negotiating an agreement with India and we are working to regain GSP+ so there is a competitive base. China is talking with us to improve investment as they have put a lot on infrastructure into Sri Lanka. We are also having discussions with Japan to improve development."

Stiglitz was impressed with the motivation shown by the Sri Lankan Government and commented on the areas available for engagement between experts and policy makers. He also pointed out that technology transference would come from engaging with developed countries as well as developing nations.

"When one thinks about what one can do there is a wide opportunity of consultation and facilitation. In the US we don't think ourselves as a funding State but we do think of ourselves as a entrepreneurial State. What we once thought separated developed and developing countries was resources but now markets are moving resources far better than institutions. So even in advanced countries the government can help close the knowledge gap to bridge developed and developing countries. There is a huge need to have planned cities and that is even more important in a world of climate change, which has an important effect on carbon footprints."

"When you have the manufacturing economy you have to separate factories from the rest of the city but in a services economy it may make sense to have closer concentration. France has an active policy of decentralising their population and so there has to be a lot of thought into cities. While high density is desirable there has to be areas of low density as well. The cities today are very very different from a hundred years ago."

Sri Lanka's low revenue is a"very unusual" situationthat creates a negative environment to finance the ambitionsof the Sri Lankan Government. Commitments to free education, public health and housing are important, he insisted, but the question is how will Sri Lanka finance them?

"The other question is, whatis the best way to improve tax revenue?And there is a set of principles that can form the basis of raising revenue. Countries around the world are thinking about carbon tax and it would a good way to increase revenue for Sri Lanka. You really need a progressive land tax. One method might be to encourage owners to declare the value of their land and for the government to purchase the land at market price when necessary. You have the capacity to leapfrog by availing yourself of new technologies."
​