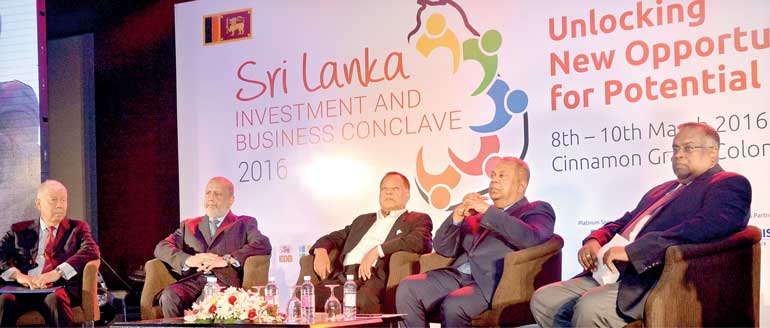 Dialog Axiata in Malaysia Chairman Datuk Azzat, CCC Vice Chairman Rajendra Theagarajah, Special Assignments Minister Dr. Sarath Amunugama, Foreign Minister Mangala Samaraweera and Ceylon Chamber of Commerce Chairman Samantha Ranatunga at the head table
By Uditha Jayasinghe

Putting the country's most attractive features under the spotlight, the 'Sri Lanka Investment and Business Conclave 2016,' organised by the Ceylon Chamber of Commerce with the participation of 125 plus potential investors from 27 countries and over 130 local business representatives, kicked off last evening.

The inauguration was given a confidence boost with a keynote address by an individual who believes in leading by example. When it comes to doing business, the devil is in the details, believes Dialog Axiata in Malaysia Chairman Datuk Azzat, who called on international investors to grab the opportunity offered by Sri Lanka and grow their ventures along with the country.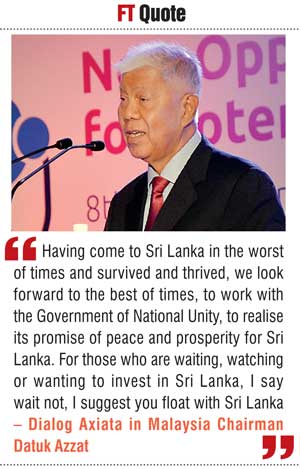 Float with Sri Lanka

Recalling the challenges faced by Dialog Axiata when it was first begun in 1995 during the war and the remarkable development it has seen over the past 20 years to become one of the top companies in the world for innovation and low-cost products, the Chairman was eloquent about the opportunities offered by Sri Lanka.

Not only did the company manage to weather multiple years of war, it also managed to employ talented local professionals but also enrich the lives of millions of Sri Lankans through its products and improve public revenue through billions of tax payments.

"The company provides employment to 300 people and indirectly supports 100,000 families in the value chains. So what you may ask is our experience investing in a foreign country. First I believe while one must be concerned of the policies and stability of the country, the business opportunities as reflected in the size, growth potential of the market, the investment climate, and incentives provided to invest, the investor has to accept conditions cannot be exactly as he wants it to be."

"You may recall that when I recounted the chronology of the investment I said it began in 1993; that was during what I have been given to understand was 'Eelam War II'. When Dialog began its commercial operations in 1995, what became known as Eelam War III began and when Dialog was listed in 2005, I understand it was during what is described as Eelam War IV. Any other foreign investor would have shied away or waited till the war was over but we did not."

Azzat acknowledged that when he questioned his predecessors on the decision to invest and remain in Sri Lanka, they enjoyed the full support of the Government and regulators helped them.

"I believe in the response of a rational and responsible Government to investors. That is what investors want above all. That industry polices are clear and predictable as much as possible and fairly applied. Changes to policies, taxes and rules and regulations are changed with perspective and not retrospectively. It is said that between authority and anarchy there is only argument. So long as there is room for argument, I believe an investor will remain invested."

"When a foreign party invests, it is necessarily long term and we have to be engaged with different political parties or people in power. The recognition of such realities by both investor and investee induces long-term investment."

As Dialog is a licensed entity, it had to work with several governments during its existence in Sri Lanka and it has had to manage the needs of different stakeholders. But an advantage was the high level of human capital available in Sri Lanka, Azzat remarked.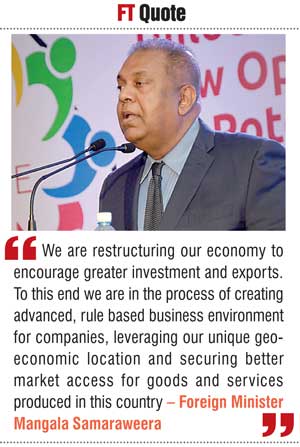 Reconciliation and democracy for development

Foreign Minister Mangala Samaraweera in his turn spoke of the fresh start Sri Lanka has received in the eyes of the world and how it could be leveraged on to get economic benefits for both the country and investors.

"There can be no sustainable development without democracy and reconciliation and vice versa. Today the people have chosen democracy, good governance and rule of law. The new Constitution must ensure the non-recurrence of tragedies our country has endured," he stressed.

Last year the Government passed a Constitutional Amendment, which established term limits for the presidency and restored the independence of the public service and Judiciary. The results of economic development must be felt by the average Sri Lankan, where students must be given jobs, housewives better living standards and farmers higher prices and access to markets, and more schools for children.

"As a result we are restructuring our economy to encourage greater investment and exports. To this end we are in the process of creating an advanced, rule-based business environment for companies, leveraging our unique geo-economic location and securing better market access for goods and services produced in this country."

The foreign policy has been reset to focus on Sri Lanka's national interest and wants the best the world can offer to the country, he emphasised. Trade agreements and concessionary facilities such as GSP+ will be speedily attained by the Government, Samaraweera said, laying out expectations and support from the Government.


Safe haven for investment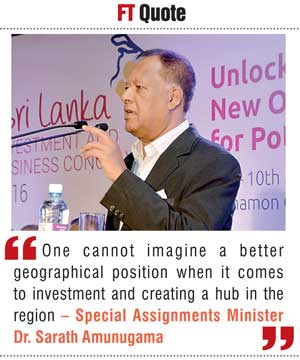 In the face of sweeping economic and political changes around the world, Sri Lanka offers a safe and attractive haven for investment, opined Special Assignments Minister Dr. Sarath Amunugama.

Addressing the conclave's inauguration, he highlighted the location, human capital and natural resources at the disposal of investors as an incentive to bring their money to Sri Lanka.

"Many of the assumptions that we had regarding growth, the future of investments, are undergoing a change. During the last few years many of our projections of the global economy have been scaled down so in that context what makes Sri Lanka so attractive, even though we are well aware we are not the 'only girl on the beach?'"

Vibrant democracy of the country was the first reason trotted out by him, which he insisted set Sri Lanka apart from its contemporaries. The coalition Government also provided the right background for reforms that would be beneficial for the economy. The quality of human capital, which has been bolstered by decades of social welfare programmes, is ready to be tapped by new investors and Dr. Amunugama guaranteed was capable of absorbing technology-related business ventures.

The proximity of India and other large economies including East Asian countries also provides opportunity for investors. "One cannot imagine a better geographical position when it comes to investment and creating a hub in the region. Look at the other political and social problems that are visible in the world. The Middle East, which once had huge assets, has today become an unstable area. They were the best of Sri Lanka's friends. Many of our people found employment in the Middle East. We look forward to resuming those links but today it is in turmoil. The economies of India and China have had to be changed, their growth target downgraded."

In such a background, the welcoming atmosphere of Sri Lanka makes it a truly positive investment attraction, noted Dr.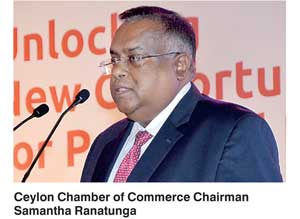 Amunugama. Access of land is plentiful in Sri Lanka, the Minister emphasised, where the Government has the authority to assign land to large business ventures. In giving approvals "Sri Lanka is faster off the track," he said, particularly for the emerging areas in Sri Lanka's economy where opportunities for tourism are abundant. Unlike Thailand or even countries like Myanmar and Laos, Sri Lanka's tourist numbers are comparatively low and the industry has plenty of space to diversify and offer different products to tourists.

"This is a land where we are blessed with everything. Whether its sea and sand, culture and wildlife, anything you can name or can't name, you can find it in Sri Lanka," he quipped. "We have also not thought much about natural resources, especially those underground. Outside of the traditional gems, we have lots of limonite and other rare minerals in addition to graphite and mica. There is a lot of possibility in Sri Lanka for exploration and use of our untapped resources that have not figured in our development programmes so far."

The "blue economy," or marine-linked business including oil and gas exploration also presents an attractive opportunity, he said.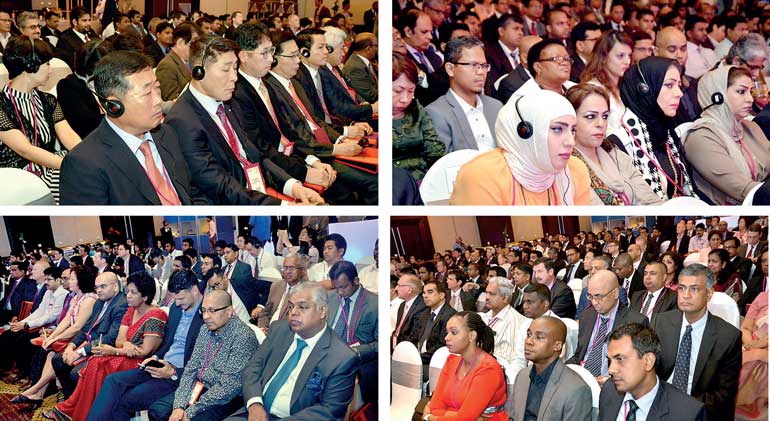 Rebalancing for growth

Prime Minister Ranil Wickremesinghe pointed out the conclave came at an opportune time when the Government was committed to taking the country to an era of democracy, good governance and prosperity for all. He insisted the Government was in the midst of putting in place reforms that would improve governance and social aspects.

"After many years of isolation in the international community, we are winning back our standing and respect overseas. Sri Lanka participated in the World Economic Forum for the first time in January where the first investment summit was held, giving us unprecedented global exposure. We are rebalancing our foreign relations with our traditional friends and important trading parties around the world."

Sri Lanka is now truly open for business with the world and offers plenty of new sectors, including tourism, niche IT services, value added agriculture and ports and maritime services as well as urban services as part of the flagship Megapolis project, the Prime Minister noted.

"We are taking the necessary steps to guard against adverse global conditions, strengthen our domestic economy and improve the fundamental conditions that will make our economy resilient. There is a lot of rebalancing that needs to be done given the excesses and mismanagement of the past. As part of the new economic agenda of our Government, we are creating the right business climate for enterprises to enter global value chains, small farmers and entrepreneurs to participate in the global economy, to encourage competitive international businesses to invest in Sri Lanka and to enhance the digitalisation of our economy," he added.

Wickremesinghe congratulated the CCC and other stakeholders for taking the initiative to organise the first-ever business and investment conclave and described it as an encouragement to see representatives from over two dozen countries expressing confidence in the efforts of the Government and showing a real interest in Sri Lanka's prospects. "My Government will do whatever is needed to facilitate your business ventures here. I hope you develop great partnerships with our competent companies."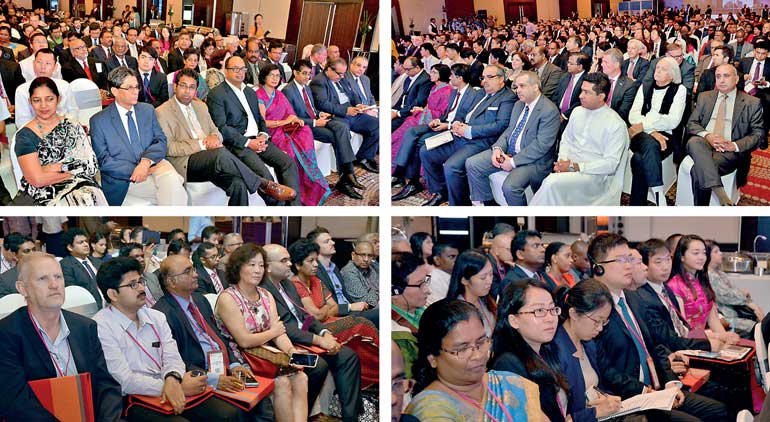 Helping hand

Sri Lanka is ideally located for SMEs in IT that could benefit from the correlations of local business and the proximity of India, asserted Ceylon Chamber of Commerce Chairman Samantha Ranatunga, delivering the welcome address.

Given the diversity of nature in Sri Lanka, tourism also presents a major opportunity, especially in the areas of infrastructure and training. Sri Lanka is also increasingly becoming a location to base an international enterprise interested in entering the regional market due to its geographical location.

"We have FTAs with two of the largest regional markets, India and Pakistan, and these are likely to be expanded to cover services very soon. There is also development in the areas of new FTAs with China, Japan, Turkey and USA. Very soon Sri Lanka will have access to a market of 2.7 billion people, two of the largest growing markets, India and China. Unlike locating an investment in India, investors from around the world would find Sri Lanka to be a more manageable point in the region. Our relatively small size, location and flexibility in the way we do business would give any investor an ideas springboard," he said.

Local companies are also big on sustainability, he pointed out, remarking on the interest in developed markets for sustainably-sourced goods, where Sri Lanka has the capacity to lead the world, and in fact has stepped up to the forefront in several sectors already. "We consider the planet we live on to be as important as the profits that we make in business."

The CCC is exceptionally competent to provide investors with knowledge, expertise and services to take new ventures to the varied business community of Sri Lanka where they can be nurtured and grown. The conclave is designed as a first connection with the CCC committed to guiding investors "every step of the way," he assured.
Pix by Upul Abayasekara
---
High praise for Hans!
Extending lavish praise to the top team at Dialog headed by Dialog Axiata Group Chief Executive Dr. Hans Wijayasuriya, Dialog Axiata in Malaysia Chairman Datuk Azzat Kamaludin yesterday insisted that the biggest gain for the company was attracting such high quality human capital.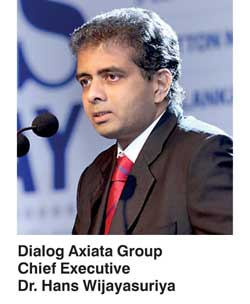 For a foreign company the quality of human resource is imperative to success, he noted acknowledging that Dialog was "fortunate" when it began operations in 1995 to have Dr. Wijayasuriya as the then General Manager. He brought in a number of talented and technology-savvy Sri Lankans who developed the company to become one of the best in the country.

"As a team they took the customer share of Dialog from number four to number one, where it has remained ever since. Many of them have remained with the company and it is a testimony of the ability and talent within the Axiata Group and indeed the continued success of Dialog is attributable to Dr. Hans Wijayasuriya and the staff who are almost all Sri Lankans. He has gathered around him talented and technology-savvy human resources.

"Capital and resources without the people to use it wisely will be capital squandered. Sri Lanka has a wealth of human resource here and abroad and a company that harnesses such human resource well is bound to do well. Having come to Sri Lanka in the worst of times and survived and thrived, we look forward to the best of times, to work with the Government of National Unity, to realise its promise of peace and prosperity for Sri Lanka. For those who are waiting, watching or wanting to invest in Sri Lanka, I say wait not, I suggest you float with Sri Lanka."
---
Top Bahraini delegation in town for Investment and Business Conclave
Shaikh Salman bin Khalifa Al Khalifa, Member of the Royal family, Principal Advisor to the Prime Minister of the Kingdom of Bahrain and Chairman of Bahrain Petroleum Company, will be attending the Investment and Business Conclave – 2016 from 8 to 10 March in Colombo along with Shaikh Abdulrahman bin Mubarak Al Khalifa, Advisor and brother of Minister of Foreign Affairs of the Kingdom of Bahrain and an influential and leading business and corporate delegation from the key chambers of the Kingdom of Bahrain.

The Investment and Business Conclave – 2016 was organised and coordinated by the Ceylon Chamber of Commerce along with the Ministry of Foreign Affairs of Sri Lanka and other relevant Ministries and Institutions in order to project, profile and promote economic, commercial, investment, trade, touristic and industrial utility of the country.

The contingent from the Kingdom of Bahrain consists of over 15 leading corporate captains and entrepreneurs of industry for the Conclave. They would be having B2B meetings and discussions with counterpart companies and business personalities in Sri Lanka in order to expand the commercial and economic interests, regionally and globally.

Shaikh Salman bin Khalifa Al Khalifa, Principal Advisor to the Prime Minister, was invited by the Government of Sri Lanka as a Guest of the Government and will be attending the Conclave. Less than two months ago, he had a meeting on the margins of the World Economic Forum in Davos with the Prime Minister and delegation of Sri Lanka.

According to Ambassador Dr. A. Saj U. Mendis, Shaikh Salman bin Khalifa Al Khalifa is particularly interested and eager to promote, boost and augment economic, trade and commercial interests between Sri Lanka and the Kingdom of Bahrain, thus benefiting both the countries. During this visit, he is scheduled to meet a number political dignitaries and senior most officials as well as corporate leaders of Sri Lanka.

Mendis stated that it was strongly envisaged that this first-ever by Shaikh Salman bin Khalifa Al Khalifa visit would open up a new era, new chapter and new page in Sri Lanka-Bahrain commercial and economic relations, thus deepening and elevating the relations, particularly in the sphere of business and investments.