Sri Lanka's recent efforts in Davos, Switzerland to grab attention of global investors on the sidelines of World Economic Forum 2016 included a showcase of entrepreneurs and their success in the country.

This was done with a luncheon forum titled "How to Invest in Sri Lanka" on 21 January at the charming Swiss chalet "Fuxägufer". Several European and Asian investors were present.

The purpose of this session was to illustrate the direct investment climate of Sri Lanka and discuss in more depth actual investment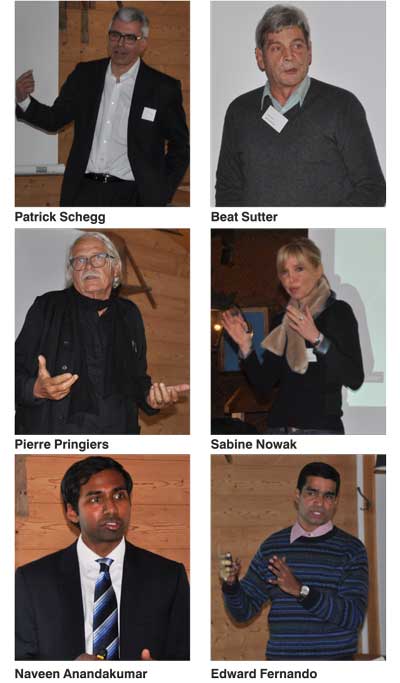 opportunities, to facilitate a dialogue with actual players, stakeholders and project owners, and hear testimonials of people who have been investing in Sri Lanka over the years.

Speakers at this event were CSE Chairman Vajira Kulatilaka on the subject of 'Portfolio Investments – The Easiest Way Investments Sri Lanka's Public Debt and Equity Market,' whilst an active private investor in the Colombo stock market, Schegg Investments' Patrick Schegg highlighted prospects for private equity and venture capital. Greenkeepers Ltd CEO Edward Fernando, on Textile Recycling Venture Sri Lanka highlighted 'A Local Entrepreneur's Approach to Combine Business and Resource Efficiency,' and Beat Sutter and Andre Weber – Swiss-owned beach properties and sustainable tourism and Naveen Anandakumar BDP, London based real estate developer in City of Colombo spoke on 'Importance of Early Stage Capital; Real Estate Developments – The Safe Way.' 'Sri Lanka Manufacturing Hub: Private Sector FDI – The Corporate Way' was shared by Philippe Richart – CEO of Holcim Sri Lanka and Pierre Pringiers, Chairman of Camso Loadstar Ltd., Belgium.

Schegg Investments' Patrick Schegg said they have invested in listed Lankan equities since 2009. He noted due to low liquidity levels, investments in Colombo stock market was more for value in the long term than trading. He expressed satisfaction over the performance of their portfolio. "Though illiquid, the Colombo Stock Exchange provides diversity of sectors and valuations are fairly attractive," Partick said.

He also noted that elections in 2015 were watershed for good governance in Sri Lanka hence prospects look better. However he emphasised the need for greater liquidity and listings to make CSE more attractive.

Greenkeepers Ltd CEO Edward Fernando, the textile recycling venture, highlighted the vast scope for his enterprise given booming apparel industry in Sri Lanka. Given his business case, and presenting future scope and developments of his enterprise, Fernando's presentation sparked lot of interest from participants at the luncheon forum in Davos. Several products made out of recycled textile waste such as yarn, fabric, socks, gloves, carpets, geotextiles were also showcased. Fernando said to date the company has exported 25 million kilos of textile waste to Asian and European markets. It was pointed out that expansion of textile recycling and by products can save valuable foreign exchange for Sri Lanka. The company is looking for $ 10 million in funding over the medium term to expand.

Swiss firm Amoros Ltd's Beat Sutter highlighted some of the challenges faced in getting his first hotel project in Sri Lanka off the ground but emphasised there was vast scope for tourism. He pointed out that speedier facilitation and a more conducive environment will encourage more foreign investments in to the leisure sector. Sutter expressed hope for such a future under the new Government.

Naveen Anandakumar BDP, London based real estate developer in City of Colombo, showcased four upcoming major projects in Sri Lanka. They included luxury hotels in the city and east coast as well as mixed developments.