István Papp, Vice President of Sales, Marketing, Services, IT and Operations Group (SMSG) for Microsoft Asia Pacific, is currently in Sri Lanka, engaging with local partners, customers and industry representatives in order to gain insights into the Sri Lankan economy and technological landscape.Even amidst a tight schedule, István shared few thoughts with Daily FT on the company's transformation under Satya Nadella, creating impact through different initiatives and Microsoft's future plans for Sri Lanka."This is my first time for me in Sri Lanka. I am very impressed with the quality of the partners and the feedback I got from customers in terms of how fast they want to move with new technologies and embrace the cloud. I guess that is very exciting for Microsoft," said István. Following are excerpts of the interview: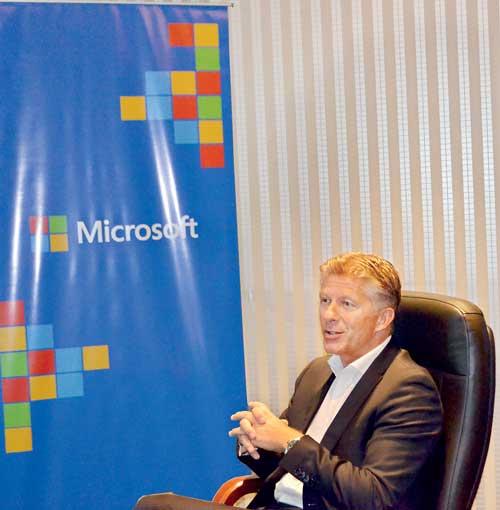 By Hiyal Biyagamage

Q: Microsoft as an organisation has transformed a lot under the new leadership of Satya Nadella. How do you view this transformation as a key Microsoft executive in the Asia Pacific region?

A: I think this whole transformation is our ability to serve our customers in an even better way and a meaningful way. If you think about the essence of this transformation, that can be summarised in three key value propositions.

First is reinventing productivity. It is all about helping individuals whether they are business users or consumers to simplify the complexity of modern technologies. If you look at the number of devices we have, how many gadgets we use, how many applications we run every day; it is very complex. Microsoft's job is to simplify this complex world and let the technology work for the consumer, the other way around. We want to provide productivity solutions not only for consumers but for large enterprises as well so that we can simplify the organisational models and internal processes by having latest technologies.

Secondly, we want to create more personal computing. It is not only about a diversified product portfolio but more importantly the connectivity between these devices, which is Windows 10. With the opportunities coming from Windows 10, you can create interoperability between these devices using universal applications which you never had before.

Thirdly, building the intelligence cloud. It is about how we build cloud services for all kind of devices which will make our customers more productive and how we build a robust IT infrastructure (datacentre infrastructure) for customers to take advantages out of infrastructure services, platform services and software services.

These are the three pillars of the Microsoft transformation and I think it is very, very relevant for the customers across the globe. At our core, Microsoft is the productivity and platform company for the mobile-first and cloud-first world. We have the unique ability to harmonise the world's devices, apps, docs, data and social networks in digital work and life experiences so that people are at the center and are empowered to do more and achieve more.



Q: Why is it important to create impact for societies? How does this benefit Microsoft as a business?

A: The purpose of innovation is to create value in the society. We are not innovating for the sake of innovating technologies but to empower every single individual and organisation in the world to achieve more. We can only do that through modern technologies and innovations, which by the way are affordable. Something we often talk about is how technology democratises our world which means that we truly enable people to raise their voice to get access to information and to achieve high quality services.

What is important to understand here is that technology has long been a catalyst for progress on key societal challenges around the world. The advent of cloud computing and the proliferation of new devices, social media and digital data creates vast new opportunities to accelerate that progress, empowering new innovators, unleashing local economic competitiveness, and extending opportunity around the world.

Microsoft and its partners work closely with governments, organisations and citizens to serve communities and help them fully harness these new innovations with flexible solutions, programs and partnerships to meet local needs. With a business model that puts people first, our objective isn't innovation for innovation sake, but rather innovation that empowers people to drive impact and change in their communities, countries, and around the world.


Q: When you say Microsoft empowers local IT ecosystems and therefore accelerates economic growth and creates impact for societies; can you share some concrete examples of how Microsoft does this?

A: As I mentioned before, Microsoft and its partners engage closely with governments, organisations and citizens and we serve number of communities and assist them to connect with the globe using innovations with flexible solutions, programs and partnerships and make sure that all their local needs are met.

Today, Microsoft has over 14,000 cloud partners in the Asia Pacific alone, and has invested US$ 225 million to enable the transformation of the IT ecosystem in the region through training, incentives and business enablement. Programs like Imagine Cup, BizSpark and YouthSpark also allow us to help the next generation of technologists have the tools to develop the next applications and products that will help change how business is done around them. If you look at an initiative like the Microsoft BizSpark programme, it has helped 7,400 start-up companies in Asia Pacific alone.

Programs like Imagine Cup and YouthSpark also allow us to help the next generation of technologists have the tools to develop the next applications and products that will help change how business is done around them. We are also talking about specific participation in development of smart cities. In many countries, Microsoft is supporting local initiatives to build smarter cities and improve public services such as education, transportation and healthcare. These are all enabled by technologies.

As an organisation, we are committed to provide the right platforms for students, competent IT professionals, developers and partners in order to encourage collaboration on innovative development, technology and software solutions. By that, Microsoft is positively looking ahead to bring about a significant change in local IT ecosystems.


Q: What are your observations on the IT market trends in Asia Pacific and how do they differ across countries?

A: The digital era, defined by cloud and mobility, in Asia Pacific is accelerating. Disruptive technologies such as BYOD (bring your own device) or consumerisation of IT, big data, Internet of Things (IoT), mobility and enterprise social are changing enterprise computing requirements. In addition to grappling with these IT megatrends, CIOs are constantly pressured to create a more agile IT infrastructure where IT services can be delivered optimally and cost-effectively in a dynamic marketplace filled with ups and downs.

Enterprises and organisations across Asia Pacific are adopting cloud technologies and services as they enable agility, cost-efficiency and ability to deploy next-generation IT services in meeting with business opportunities and challenges. The adoption of cloud is happening on their terms and are balancing on-premise infrastructure versus the versatility of the cloud based on their business needs. This massive migration to the cloud requires new capabilities in order for IT players to succeed.

I believe Asia Pacific is in a unique position to lead in this cloud revolution as this region contains many diverse markets with dynamic growth, where IT takes centre stage in transforming economies and societies. The level of innovation in the region and the level of optimism of customers in terms of what the impact is going to be for their business with new technologies is very great. It is greater than some other regions I have seen.


Q: What is Microsoft's strategy for partnerships with device companies?

A:Our OEM partners continue to innovate and launch new form factors with Windows 10, and the breadth of devices continue to excite our consumers, as well as to cater to the varying needs of our users. At the end of the day, it's about providing choices for our customers, and along with our OEM partners, we are thrilled to be delivering new and exciting Windows devices for the ever-changing needs of today's highly mobile and connected consumers.


Q: Can you tell us about Microsoft's plans to launch new devices that compete with brands such as Apple, Samsung and Nexus in the market as well as low end devices to capture the cheaper Android market?

A: First of all, the real value of these devices come from the applications and other software solutions running on those. We focus a lot on creativity and create services that can be accessed in every single device. We are becoming a device and platform agnostic company. Think about Office 365 available on iOS and services available on Android platform. Obviously, we want to differentiate by providing unique user experience through Windows 10.

On devices particularly, we have our first party portfolio which is not competing with our OEM portfolio. It is to create fans and to set new standards and also to create brand-new form factors so that our OEM partners could follow. They are so innovative and competitive that we can also make a good business. That is absolutely strategic.


Q: Microsoft has been a victim of software piracy for many years. Even though different stakeholders try to minimise it; it is not an easy effort. How do you view the issues in software piracy and what are the measures Microsoft has taken to resolve them over the years?

A: You need to respect the fact that innovation requires the respect of intellectual property. We believe that our products are relevant for our customers. We have a high penetration of Microsoft products in all segments across APAC. We need to make sure that customers value these products in a way that they actually for them and buy genuine software. This is super important, not only for us but also for the economy. It is very important for the economy that we create an environment in which intellectual property is respected just by reducing software piracy and generate significant growth in the economy.

This is what the regulators should look at and of course, companies like us need to make sure that products are not only relevant but affordable as well. We are considering the Asia Pacific region as a specific part of the world from that perspective.


Q: What are your thoughts on the Sri Lanka Government's digital economy strategy?

A: Microsoft has been committed to partnering Sri Lanka for over 11 years and looks forward to working with all stakeholders, including the Government, to help build economic and social success for the country in line with our vision to 'Make 20 Million Lives Better'.

Our job is to share the best practices, support the initiatives and make sure our technologies can apply in many areas as possible. This is what we are trying to achieve by having a national plan, developed by Microsoft which is local strategy of our company to perfectly align with the Government's vision.

Microsoft stands ready to support Sri Lanka wherever we are in a position to make real impact. Microsoft regards technology as an enabler that can make a positive contribution to people, businesses and society given the right policy environment and cooperative partnerships between all stakeholders.


Q: What are Microsoft's future plans for Sri Lanka?

A: Microsoft Sri Lanka has been a proud contributor to the local economy and the progression of Sri Lanka for over 12 years. Our over 200 partner organisations and our local and global investments remain committed to Sri Lanka. Our local strategy is aligned to our global strategy – to help every person and organisation in Sri Lanka to achieve more.

We are committed to Asia Pacific as well as emerging markets, specifically to Sri Lanka. We are going to continue our investments here and we extend our support as much as our business is expanding in Sri Lanka. We need to make sure that customers in Sri Lanka get access to all of our latest and hottest technologies and continue the great relationship with our customers and partners, including the Government. We believe that this country having the economic prosperity as well as the focus on innovation and technology adoption, will have a bright future and we would like to see that happening. We would like to be a partner of Sri Lanka in the long run.