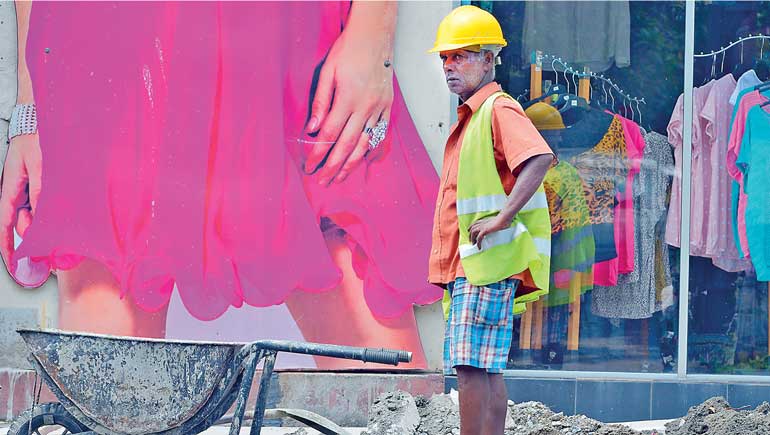 The program of action identified under the National Quality Plan are fostering the national quality movement, building institutional infrastructure, involvement of the public sector and educational training as key areas to improve – Pic by Shehan Gunasekara
By Dr. Srilal de Silva

World Standards Day (WSD) is today, 14 October, and the industry and other interested parties celebrate this day globally. In keeping with the tradition, the Director General of ISO/ Director General of IEC and Secretary General of ITU, in their message for 2016, had stressed the role of standards in the in all individual, national and international transactions and encourage the use of 'Standards Build Trust' and this message carries a vital message for current global situation and has a considerable importance to emerging countries such as Sri Lanka.

Following is the World Standards Day Message by IEC President Dr. Junji Nomura, ISO President Zhang Xiaogang and ITU Secretary General Houline Zhao: "Standards connect us with reliable models of communication, codes of practice and trusted frameworks for corporation. Introducing common interpretations on reciprocal sides of a communications or transaction, standards are essential in mutually beneficial trade and resource efficient international commerce.

"Social interaction relies on common respect for fundamental sets of norms, concepts or meanings – international standards codify these norms to ensure that they are accessible to all. A product or service conforming to an international standard is imbued with a trusted symbol of quality, safety and compatibility. Standards speak to the diversity of our interconnected word, introducing uniformity at the interfaces where we need to be certain that we are speaking on the same terms."

In drawing attention to ISO declaration, many countries including Sri Lanka, celebrate National Quality Week from 10 to 16 October. During this week all quality processionals and the industry celebrate the occasion with presentations, seminars, etc.

It is important to utilise the ISO message to stimulate national progress, review the current situation with reference to standards and develop a national plan to fall in line with this declaration.

In Sri Lanka the formulation of national standards is one of the 'core responsibilities' of the Sri Lanka Standards Institution (SLSI), with the assistance of technocrats in the country. However the degree of downstream flow is somewhat questionable. The upstream mechanism of establishing Association Standards and moving to Regional Standards e.g. SARRC Regions Standards is not yet initiated.

Also the lack of recognition of national standards by the State sector especially in awarding of Government tenders is seen as a major deviation from the ISO declaration. It is vital that SAARC establish units to initiate regional quality activities, perhaps with the initiative of Sri Lanka.

Other regional bodies, especially the European Union, have developed very strong mechanisms to use standards to monitor national and international trade. The EU had issued many standards on hygiene and safety, environment, social responsibilities, etc. On occasions the EU has used international standards issued by many European Standards (Euro Norms) based on international standards issued ISO, FAO/WHO Codex Alimentarius standards for food and standards of electrical and related standards on Electro Technical Commission for promoting and harmonising national and international trade.

The EU had established a National Food Safety Authority (NFSA) to regulate and promote food safety and this should serve as a model for other countries to follow. A good example is the EU Directive on fisheries and the industry must be grateful to SLSI for salvaging the industry at the time these regulations came into force in 1993.

Now it is time to take stock of meeting the challenges of using standards for national and international trade. Unfortunately the national quality movement activated in early the '90s for developing national infrastructure had now ceased to operate. Using the ISO message as a reawakening of this movement, now it is time to bring it back to national focus and this will be the turning point in Sri Lanka's history of development.

At the initial stages of launching this program, Sri Lanka Accreditation National Accreditation Board (SLAB), Fisheries and Aquatic Resources Act No. 2 of 1996 was issued and a unit in the Department of Fisheries was developed to take over monitoring of the fishery industry from SLSI and the National Aquaculture Development Authority (NAQDA) of Sri Lanka was established. Many officers were trained by Swedish International Development Agency (SIDA) to take over accreditation and fish inspection services.

Unfortunately the National Quality Policy (NQP) and the National Plan for Quality Management (NPQM) was only restricted to only paper with only the NQP receiving the approval from then President Chandrika Bandaranaike Kumaratunga in 2005,

As this is a national program, it is more appropriate that the Ministry of Science, Technology and Research (MSTR) establishes a unit with a competent professional heading the project. This unit could be strengthened with a few experienced officers to support the project.

The program of action identified under the NQP are fostering the national quality movement, building institutional infrastructure, involvement of the public sector and educational training as key areas to improve.

Fostering the national quality movement includes:

1.Development of a quality culture in all sections of the economy to be encouraged;

2. Encourage the incorporation of quality and productivity training as an essential component in human resource development;

3. Basic elements of quality and productivity education to be introduced into the school education system;

4. Strengthen consumer protection and consumer education;

Other key areas in building institutional infrastructure are:

1. NQP to be given the highest priority by the President

2. A National Quality Council (NQC) to be formed at ministerial level

3. Ministry of Science and Technology and Research (MSTR) to be Secretariat of this NQC

4. Four agencies to be set up to administer the NQP. These include a). National Accreditation Board to accredit i) laboratories, ii) calibration and metrology, iii) product and system certification, iv). Inspection agencies, v) bodies operating certification of personnel, vi). Training programs

5. Restructuring of SLSI to be responsible for standardisation and other core activities identified under the SLSI Act

6. Measurement Units Standards and Services Department (MSSD) to be responsible for national measurement systems

7. Regulatory authorities for existing control on technical regulations and standards related to health, safety and environment

8. Organisation to be set up for providing testing, calibration, and metrology, product and system certification and inspection services

9. Organisation to be set up for providing education, training, promotion and technological services related to quality and productivity

Of these activities only accreditation of laboratories is carried out. SLAB needs to be supported to expedite the accreditation of other areas and timeframe to be identified.

Restructuring of SLSI has not been initiated up to now and this must be taken up as a priority. Calibration, metrology, system certification and inspection activities to be taken over by new organisation to be set up.

At this point serious consideration must be focused on the food safety and environmental issues faced by the country. Lack of hygiene in food handling, deliberate adulteration, supply of organic foods, availability of food subjected to radioactive treatment and also research activities on impacts of regulations, etc. should be undertaken.

The post-harvest handling of food amounts to around 40% for fruits and vegetables and 25% for fisheries products, which is another area to be addressed to improve productivity and reduce wastage.

In this situation the National Food Safety Authority (NFSA) of the EU model for Sri Lanka is an urgent priority.

The weak environment protection regulations are frequently noted with industrial discharges into inland water ways, polluting the beaches with commercial operations close to the beach and sand mining of rivers which has gone out of control. This must be brought under the administration of a special unit under the Environment Authority and amend the CEA Act or even establishing separate authority will be vital for control of floods, global impacts, and many other related issues.

Education, training and technological services to be set up or encourage the private sector to participate more actively.

Private sector involvement includes:

1. Increased participation of chambers, industry associations and commerce and trade to be actively participate in policy making and advisory and consultative activities

2. Establishment of consumer infrastructure service centres by the private sector to be encouraged

3. Initiatives of NGO participation in quality education and training

4. Incentives to be provided to encourage for investing in quality related activities through incentives, tax

5. Trade unions to be encouraged to play a positive and active role in promoting quality

6. Encouraging the mass media to highlight quality, productivity and create a national impact;

Education and training activities:

1. To be restructured to deal with and contribute to the ever changing demands for the future;

2. Principles and technology of quality and productivity to be introduced into the school education system at primary and secondary education levels;

3. Standardisation and quality management will be introduced into the entirety of the tertiary education, system comprising universities, technical colleges and vocational training institutes

4. All State electronic media to be utilised to disseminate the message of quality for the development of quality culture in the country

This national quality movement will completely change the outlook of the country and as the National Quality Policy needs to be approved by Parliament and the Action Plan coordinated by the National Quality Council comprising of a few Cabinet Ministers. All decision making will be based on the action plan and in conformity with the National Quality Policy.

Any decision taken could be subjected to a national debate which will establish the transparency of all actions and decisions taken at the highest level.
[The writer was a Deputy Director General of SLSI and winner of the Harrington/Ishikawa Medal of Asia Pacific Organization for Quality (APQO). This medal was awarded to the author for his outstanding contribution to the promotion of quality in the Asia and the Pacific Region. He can be contacted through email srilaldesilva@smconsultants.biz or on 0772817181.]