Moderator Savithri Rodrigo, Seedstars, South Africa, Regional Manager (Africa) Marcello Schermer, Entrepreneur and Group Board Director of Hela Clothing Dominic Mcvey and Entrepreneur, International Best Selling Author and Renowned Public Speaker Peter Sage at the Panel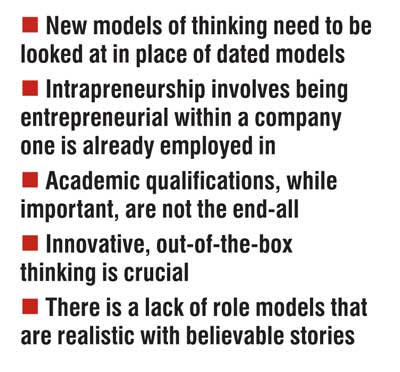 A panel of international entrepreneurs yesterday discussing the intricacies of entrepreneurship in the modern age said that young people looking to start a business or grow their existing businesses shouldn't be held back by old models of thinking and those already employed in organisations should seek ways to be entrepreneurial in their approach to work within said organisations.

The discussion took place at the 37th National Conference of Chartered Accountants organised by the Institute of Chartered Accountants of Sri Lanka for the benefit of a 1,500-strong audience at the Bandaranaike Memorial International Conference Hall (BMICH).

Opening the panel, responding to a question about the courage needed by a would-be entrepreneur to take the plunge, so to speak, Seedstars South Africa Regional Manager (Africa) Marcello Schermer said that there is a difference in how one approaches entrepreneurship and intrapreneurship in the corporate world. When it comes to intrapreneurship, a relatively novel concept to this region that is loosely defined as the act of behaving like an entrepreneur while working within a large organisation, said Schermer, it's a more gradual process.

"I think in the corporate world the intrapreneur's path is probably more about a step-by-step induction into the process of growing a business rather than a 'I'm quitting my job today' or 'jump off the cliff' type of thing, whereas in the entrepreneurial world it's more a case of the latter," he said.

Entrepreneur and Group Board Director of Hela Clothing Dominic Mcvey say that companies shouldn't shy away from tapping existing human resources to engage with them.

"There are lots of disciplines people can lean on, depending on the size of your organisation. Say you're one of the bigger companies in Sri Lanka. You have multiple teams of varying disciplines. You're going to have lots of people in different areas you can pull from," said Mcvey.

With the right support from top management, engaging with the entrepreneurs in the organisations can yield unexpected results.

"People understand that they have to engage with the entrepreneurs in the organisation, and when you do, you create a very interesting environment. That resource pool of talent is readily available at no extra cost to the company. You just have to make sure people are willing to engage with the company," said Mcvey.

Entrepreneurial in the workplace

Entrepreneur, international best-selling author and renowned public speaker Peter Sage responding to the same question said that one way to ensure job security is by being entrepreneurial in the company you work for.

"The nature of the question itself really comes from fear. There is no certainty in life. The very nature of job security these days is found in the essence of entrepreneurship. In the global economy it's an illusion. If you're employed, the greatest job security you can have is really your ability to be entrepreneurial within that company or start your own business. If not, the only job security you can have is the ability of your managing director to run his or her business," said Sage.

"If I'm pulling somebody up, the first person who is going to lose their job is the person who adds the least value to the company," he added.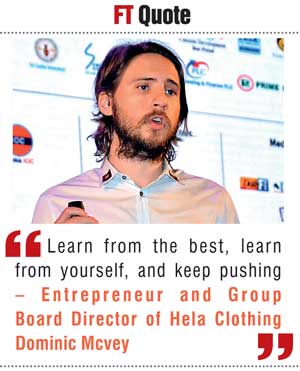 Fear can be used as a tool to push oneself forward. This, said Sage, usually starts with the CEO.

"The CEO's vision shouldn't just be about making profits. Employees need to know that the CEO actually cares. That should be his vision. If they can see that it becomes easier for them to let go of their fears," he said.

A lot of corporates are risk averse, as they have a responsibility to their shareholders. Achieving the right balance between going and doing something outrageous and making money can be tough for most entrepreneurs. To paraphrase moderator Savithri Rodrigo's question, where is the responsibility to share your shareholders? How do you balance the books and your dreams?

According to Sage, the biggest responsibility an entrepreneur has to his or her shareholders is to ensure that the business continues to move forward. He wouldn't, however, recommend jumping the gun and risking everything. The trick, he said, is to incrementally say that you have the intention to continually innovate.

"You have the ability to not turn into a Kodak or BlackBerry," he said.

Citing the success story of Amazon as an example of keeping shareholders happy while continuing to explore new possibilities, Schermer said that an entrepreneur should not hesitate to tell shareholders that they're in it for the long haul.

"When Amazon went public they never really had a profit. If you look at their charts, there was high revenue, but profits were basically zero. They designed the company on purpose to reinvest all of their money back into growing the business and they have done a very good job," said Schermer.

From the beginning, the company told its shareholders that they should only invest if they were ready for the commitment. An investment is a journey.

"If you're with me on that journey, perfect. If not, go invest somewhere else," said Schermer.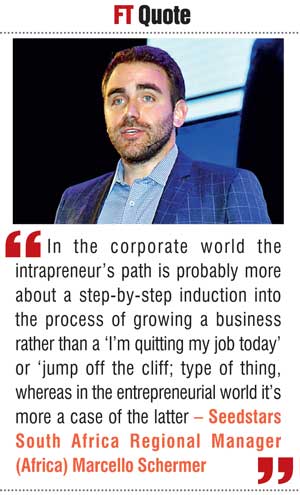 Mcvey, meanwhile, who had earlier spoken about the element of luck involved said that even if luck is hard to come by, an entrepreneur should strive to learn from the best.

"Learn from the best, learn from yourself, and keep pushing," he said.

Luck vs. drive

While luck is a useful thing to have, a more important trait is the drive to keep pushing forward, he added.

In countries like Sri Lanka where there is a heavy emphasis on academic success and its correlation to financial success, there are times when the ability to think beyond that, or to think out of the box is diminished. Teachers and parents too are guilty of this. How does one go about getting young people to think?

According to Sage, times are changing and it's imperative that young people as well as parents appreciate the reality that academic qualifications don't necessarily always translate to success in the real world.

"For me, the world is changing. The old model that you have to have a good education to get a good job is gone. There are more people today coming out of the university qualified to be a barista but can't get a job as a barista," he said.

The barrier is so low compared to what it used to be, said Sage, adding that parents have their own paradigm just as their parents did before.

Mcvey concurred.

"I tend to agree. Mark Zuckerberg dropped out of Harvard. However, he realised that he was in an environment [conducive to his plans. He used the resources available in his university," he said.

Needless to say, this doesn't apply to every career or skill development.

"For some professions, formal education is compulsory. If I'm going to see a doctor, I really hope that doctor went to university. The guy flying my plane, I want to make sure he's got a few hours under his belt. But not every job requires it. It's not the end all be all."

Referring to the parents in the audience, Mcvey said that they probably have an idea of what their children are going to grow up to be. But if they realise that the ones that aren't not going to be what they wanted them to be, that's not necessarily bad for those kids.

"It's a journey, it's exciting. Who knows what might happen?" said Mcvey.

Parents must be able to see that there may be a future for kids who don't go to university.

According to Schermer, the power of role models plays an important role in this regard. However, there is a distinct dearth of realistic role models that young people can relate to and look up to at the same time – successful individuals who at the start of their careers did not necessarily inspire a lot of confidence.

"What needs to change in our lifetime is that there needs to be more role models that people can look up to. They should be able to look at them and say, look this is not the cookie cutter person who has gone into university, etc.; it's someone who dropped out at 16 and started a business and has now made it in a certain way. The power of role models – especially those who have already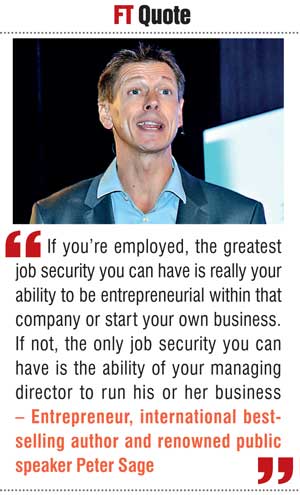 done something that might look impossible to you – is very powerful," said Schermer.

It's also great for parents to put things into perspective, he added.

Referring to the so called Curse of the White Rabbit, which is incidentally also a title of a blog post written by him, Sage alluded to the idea of enjoying the journey rather than focusing on the final destination.

Elusive success

To illustrate, the Curse of the White Rabbit refers to a metaphor of a dog track, where a group of highly skilled hounds chase an electric rabbit, as humans in the audience place bets on the outcome of the race. The race is designed in such a way that the dogs chase after the electric rabbit, but will never succeed in catching it. This, according to Sage, can be a metaphor for the ever so elusive "success."

"It is because the game itself is designed specifically so that the dog will never catch the rabbit. And the closer he gets, the faster the rabbit goes."

"By design, you're not allowed to catch the rabbit. The rabbit you're chasing is the target, by running on a track of achievements," said Sage.

There are two kinds of people: those who are perfectly content with a 9 to 5 job and entrepreneurs. According to Schermer, both types are important.

"It needs to be something where you build the structure and encourage people who want to do it to do it. But it shouldn't become a thing that forces people to do it. Some people are just happy to come in at 9 and leave at 5. Some people get fulfilment out of building something. The world needs both of them," he said.

Ultimately we've all got jobs to do and goals to achieve, said Mcvey, commenting on the importance of separating networth from self-worth.

"I can't remember the last time I looked at my bank balance, so I'm really not focusing on money when it comes to myself. I'm married to my business. My business is life. Some might see that as sad, but I love it," he said.

Speaking about the fear of the unknown, Sage, dwelt a little on the amount of information a potential entrepreneur should have before he finally jumps off the plane.

"The reality is that there's a difference between fearless and intelligent. There is a market. And you're projecting your own ideals into what you think the market wants. There's got to be a certain amount of data points you need to rely on to guide you," said Sage.

Fear doesn't stop you from jumping off a plane. Intelligence does. Fear is useful in that fear will stop you from doing something potentially dangerous. You shouldn't go through walking through the jungle at night. That's not fear, that's smarts.

Speaking of what Sri Lanka can learn from the African experience of intrapreneurship, Schermer spoke of a mobile cash service developed in Kenya by a group of employees in a telco.

"It's a mobile payment service that came out of Kenya. The idea was that people in a telco company realised that people don't have bank accounts or ATM cards but they need to make transactions. So they went and put a bank on people's phones," he said.

"There is a huge potential for people who understand the local environment to come up with solutions to local problems that can be exported to the rest of the world," said Schermer, adding that people in emerging markets have that advantage.

Instead of replicating what the western world was doing (such as bank cards and ATMs), the innovative thinkers at the Kenyan telco introduced a revolutionary new model of accessing money that is now being replicated in other countries, he said.


Pix by Upul Abayasekara