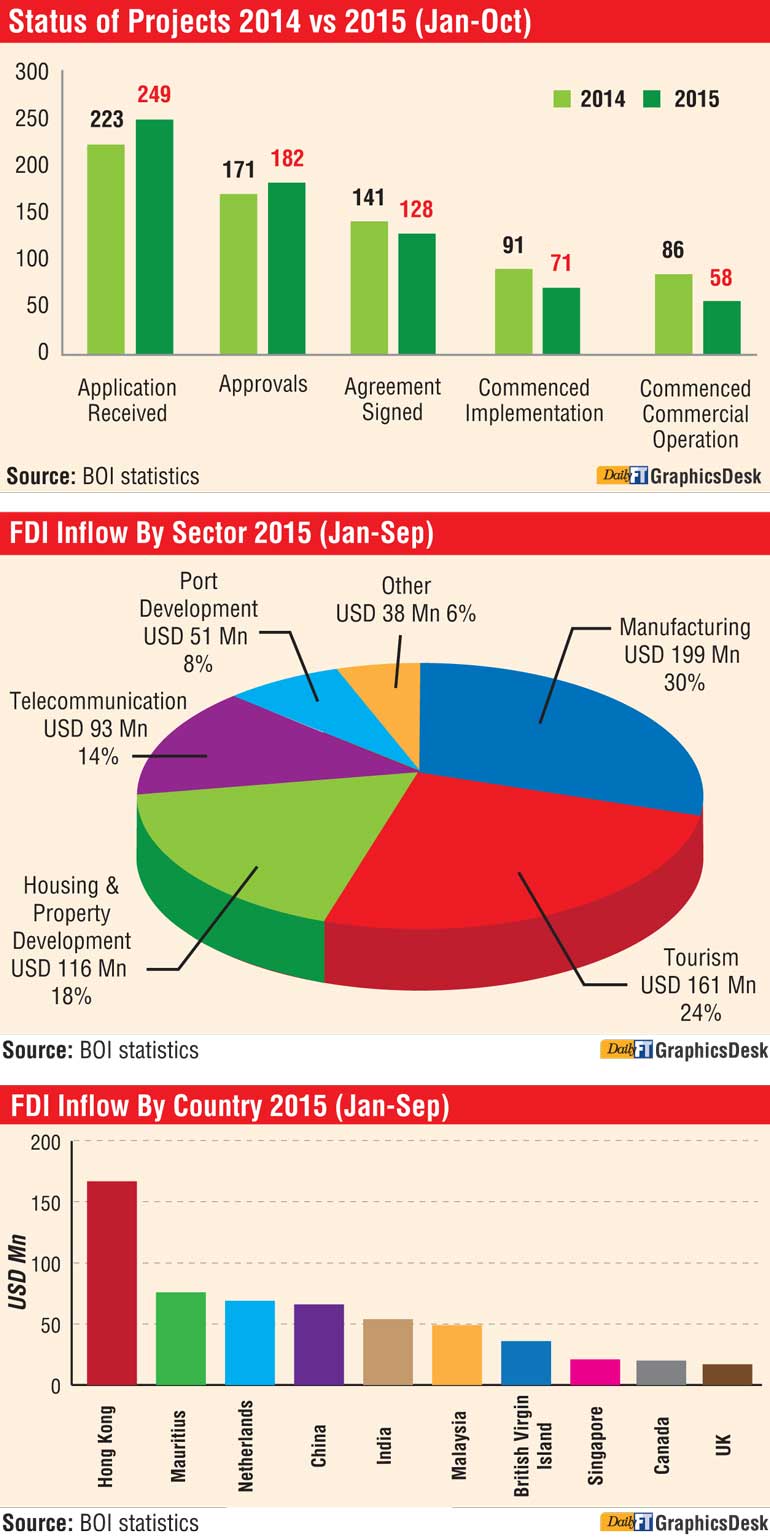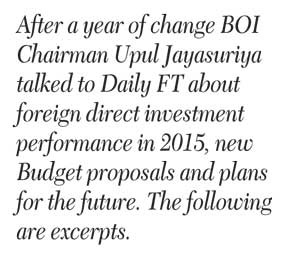 By Uditha Jayasinghe

Q: How was the investment climate in 2015?

A: This year is the result of what happened in 2014. This year we had to iron out a lot of impediments that were imposed by the previous Government, which have also been cleared by the Budget and by the BOI itself.

Over the last few years the Treasury was trying to block foreigners from making investments in property, either through lease or on outright purchase. These restrictions were placed by circulars issued by the Treasury. This was a totally arbitrary act by the Treasury. Then later they brought an amendment to the law and did it legally from November 2014. So a large number of investors were discouraged and even when agreements were signed they failed to take off due to this reason. In the meantime many proposals were awaiting consideration and approval process at the BOI. We have now opened the gates to facilitate all those investments.

Q: What is the status of BOI projects currently?

A: Although uncertainty prevailed in 2015, mostly due to political changes, the BOI was able to attract 249 investment applications while approving 182 projects during the first ten months of the year. This was a 12% increase of applications and 6% rise in approvals.

In terms of estimated investment values this shows an increase of 50%. However, the BOI was facing a serious challenge due to the removal of tax incentives in 2014 and early 2015 and sent signals of policy uncertainty to the investment community.

Q: How much was the total FDI for 2015?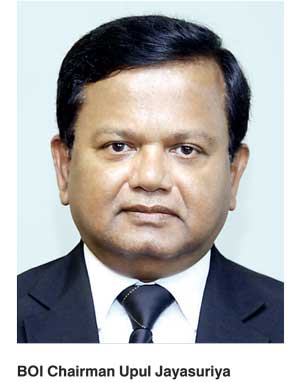 A: The total FDI figure is about $ 1.6 billion. The FDI figure as at the third quarter of 2015 stands at $ 658 million, whereas the corresponding figure in 2014 was higher at $ 853 million. The major sectors that received FDI in 2015 were manufacturing at $ 199 million, followed by tourism at $ 161 m, housing and property development with $ 116 million, telecommunications at $ 93 million and port development activities with $ 51 million. The major FDI sourcing countries include Hong Kong $ 167 million, Mauritius $ 76 million, Netherlands $ 69 million, China $ 66 million, Malaysia $ 49 million, British Virgin Islands $ 36 million, Singapore $ 21 million and Canada $ 20 million.

Q: Could you elaborate on the impact of the removal of tax incentives?

A: Due to imposition of cut-off dates limiting the time period to bring the minimum investments and period to commence commercial operations by the Inland Revenue (Amendment) Act No.8 of 2014, activities of nearly 200 projects were adversely affected and the implementation process of some of these projects were held up.

In this regard the BOI made several representations to the Finance Ministry and as a result in the Interim Budget 2015 an extension was granted for flexible time limits to the affected projects by the Inland Revenue (Amendment) Act No. 9 of 2015. With this amendment the affected projects can recommence their project process by bringing investment. From August 2015 the BOI has been following the BOI regulation No.2 of 2006 when granting approvals until a new policy on investment law and incentives are formulated.

Q: What are the specific bottlenecks that have been cleared? What new measures have been put in place to improve ease of doing business?



A: Firstly, we are now evaluating investor proposals faster, now approvals are given in one week. Availability of land was scarce but allocation was not transparent. Now all land under the BOI are on the web. Anyone can look at the list and make a proposal. Existing investors also have a fair amount of issues that we take up from time to time.

I will be available for any investor with all my officers every Monday from 8.00 a.m.-7.00 p.m. by prior appointment. We are also setting up a call centre that will be operational from 6.00 a.m.-10.00 p.m. to advice foreign investors calling from overseas and provide follow-up guidance as well.
Q: What are the new ideas the National Government has to improve FDI?

A: The Government is working to establish an apex body not only to facilitate investments but also tourism and exports. That is what the economic agency will be about because the Government has identified bottlenecks in many areas that are procedural or legal. The new agency will be vested with the authority to look into both these areas and find redress.

What they are trying to do is smooth out bottlenecks with external bodies. Take for example the BOI; there is the Registrar of Companies, Inland Revenue, Customs, Immigration and Emigration Department, Central Environment Authority (CEA), and Electricity Board all have problems that hinder investment. We don't have the statutory power to overcome these issues that is why Sri Lanka has not fared well in the Ease of Doing Business rankings done by the World Bank.

The idea is to make an effort to bring our rating to about 50 - at least - within six months. There are things that can be done on a fast-tracked basis and also others that will take time. Legal impediments are time consuming but what can be addressed procedurally can be done fast. However, specific details have not been finalised. An experts committee has been appointed comprising private sector giants and heads of respective institutions, the Central Bank is in the driving seat, with Customs, Inland Revenue, legal experts, World Bank advisors, BOI and ICTA so different angles are being looked at to improve investment.

Q: What is the status of the Krrish project?

A: To date about 75% of the investment has been completed. We have not stopped it but we are monitoring it closely. We are very concerned but we want to encourage them rather than be an obstacle. But if they are unable to continue then we will have to make a decision.

Q: Budget 2016 has proposals to reduce restrictions on foreigners owning land. How will this impact investment?

A: Nobody wants to make an investment on somebody else's land. The Budget has rightly identified this and put a threshold of above Rs. 2 billion to be eligible for possible ownership of land. This makes real sense.

As for lease, it will be the same as a local will have to pay. We have to look at these issues with a wider spectrum. Foreigners are not coming here to rob the land. We have to look at regional trends; India, Malaysia, Pakistan and others are also vying for the same investment we are. Malaysia has a scheme, which enables purchase of a house for just Rs.5 million, in an effort to encourage investments. Why can't similar policies be implemented in Sri Lanka?

Q: The Budget has also proposed handing over management of economic zones to private companies from the BOI. How do you view such a change?

A: The Government is targeting 45 economic zones so we need the private sector to participate in the development of these zones. These have to be developed as Public Private Partnerships (PPPs). The BOI will provide the land and the investors have to build infrastructure facilities. We will introduce a special joint venture project vehicle to attract investment.

Q: Any specific plans to push Sri Lanka as an investment destination in 2016?

A: The Prime Minister will head a delegation to the World Economic Forum in Davos. In the meantime a large group of chief executives handpicked by Indian Prime Minister Narendra Modi will be in Sri Lanka during February, then Standard Chartered Bank is organising an investment forum in Singapore in March and the President will also be doing several state visits during the first quarter.

So a lot of things are happening. Our leaders have taken up this task to build investor confidence. The Prime Minister's office set up a study group in June 2015 to report to him on how to fast-track investment in Sri Lanka. The BOI participated in the study and the final report of the group, including 10 recommendations, was submitted. Hopefully these will also be implemented in 2016.

Q: What do you see as the key challenges?

A: On the issue of lands there is political interference, especially at the rural level. Encroachment is an issue because getting the squatters to leave though a court process is a massively time consuming task.

In the Ease of Doing Business Index Sri Lanka takes an average 1,500 days for the enforcement of a legal contract, registration of legal documents takes nearly six months. These are the practical problems we have. We need practical answers to these issues. Foreigners buy property and leave and if encroachment happens simply because the owners are not in the country then it sends the wrong message out into the world.

In one particular instance 98 acres of land owned by a Swiss national was encroached upon by villagers. How can we justify this? Local authorities and CEA approvals take a long time and this reduces business confidence. Maximum they should clear things in three weeks if that land is not suitable then the investor can go to another property. But they must be liberal in their decision-making because we need the investment.

Rathupaswala is one extreme, more than the problem it was how the police and army handled the situation. The villagers had a problem and it should have been addressed in an amicable manner. Villagers also want jobs but they want their day-to-day lives to continue unhampered.


Q: Are you concerned about lapses in arbitration law in Sri Lanka?

A: Arbitration is a total failure in Sri Lanka. It is much easier to go to courts and get solutions because arbitration in Sri Lanka cannot give interim relief so they have to go to a normal court to get injunctive relief and come back to the arbitration proceedings. There are no timeframes imposed on arbitration, sometimes what could have been settled with preliminary objections, can go on for three years, then come back to the beginning and say this arbitration cannot continue because of preliminary issues.

Arbitration is also not cheap; it can be more expensive than the legal proceedings. Despite the length of legal proceedings they can be more affirmative and can provide immediate injunctive relief.

Admittedly, there is room for improvement. The Arbitration Act was introduced in 1995 and there has to be regulations released under the Act and no regulations have been issued to date. A mediation process would have been more efficient, again with timeframes imposed. It also paves the way for young lawyers to get involved in the mediation process. Whilst the mediation process is on a necessary statutory backup must exist. Attitudes of the public sector must also change. Mostly they ask the question 'why' whereas they should be asking the question 'why not?' if we don't step out of the routine way of thinking we will never get to the stage of being an efficient investment processing country and convince investors.


Q: Plans are being laid for new investment zones but there are significant labour shortages in existing ones. How does the BOI propose to address this?

A: It has to be done nationally. There is a miscommunication because rural youth do not know about the large number of vacancies in the zones. We will accumulate a list of all the vacancies and the companies and advertise them to the rural youth. We intend to conduct public awareness programs on TV and newspapers and have weekly programs in different factories to show the public the benefits of working in the zones. We have one of the best workforces regionally and if they have grievances they must be looked into. We will encourage more youth to work in the zones.
Ongoing key FDI projects
Shangri-la Hotels has already invested 45% of its $ 350 m investment, which kicked off in 2012. The project of a 420-room hotel is expected to generate employment for 430 people.
Shangri-la Hambantota, with a $ 101 m investment, is nearing completion and will employ about 500 people to run the 400-room hotel.
Waterfront properties of local blue chip John Keells Holdings which is to build a $ 650 m mixed development project with an 800-room hotel is expected to generate an estimated 2,500 employment opportunities.
India's ITC Limited started a 300-room hotel with an investment of $ 140 m.
Aitken Spence Hotels to invest $ 100 m in Ahungalla Resorts.
Tokyo Eastern Cement Company to invest $ 50 m in cement grinding plant in Trincomalee.
Large projects in pipeline
Sampur coal power plant.
Petroleum refinery and renewable energy project in Hambantota by Fluor Corporation from US which has shown an interest in the project. Global Energy Ltd. is to be the project implementation company. BOI has allocated 600 acres on the banks of the Hambantota Habour with approval from the Sri Lanka Ports Authority (SLPA).
BOI has signed an agreement with M.G. Sugars Lanka Ltd. to revive and restructure the Kantale sugar factory with an investment of $ 110 million. Shri Prabulingeshwar Sugars and Chemicals Ltd. Bangalore will be the technical partner for the project. Total investment for the project will be borne by SLI Development of Singapore. The venture is estimated to provide 1,220 jobs.
Dialog has signed up to invest an additional sum of $ 175 million to improve Sri Lanka's ICT infrastructure. The investment agreement span a broad scope of ICT infrastructure development by the Dialog Axiata Group encompassing the expansion of 3G and 4G high-speed broadband services alongside further development of the group's fibre optic transmission network, international telecommunications network and digital satellite television infrastructure. The additional investment pushes Dialog Axiata's investment to $ 1.96 billion, which is the largest under the BOI.