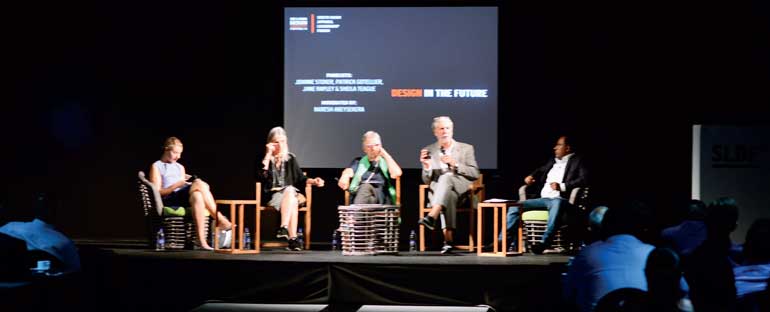 Industry veterans discuss 'Design in the Future' from right: Naresh Abeysekera, Patrick Gottelier, Jane Rapley, Sheila Teague and Joanne Stoker
Industry professionals emphasise the need for drastic, inventive and sustainable change at the eighth South Asian Apparel Leadership Forum, held in collaboration with the Sri Lanka Design Festival 2016. The forum, which brings together top industry personnel from South Asia and overseas, provides an insightful and well-informed body of knowledge that will help shape the future of the fashion industry. In this report, Daily FT captures the highlights of the South Asian Apparel Leaders Forum 2016 that yet again delivered on its promise of a power-packed session
By Dilrukshi Fernando

Goodbye retail. Hello robotics, analytics and 3D printing.



You, reading this today, are an individual who has shopped online. It is likely that you have purchased clothing or accessories online either from an off shore retailer or local brand. At the least, you have browsed online (virtual window shopping). Rewind ten years. You would be faced with a very limited choice of brands and styles and you would be at a department store or shopping mall. More importantly, you didn't have the luxury of customising your purchase to the preferred colour, design add-ons and to have it delivered within 48 hours to the comfort of your home. All done with a few clicks on your smartphone or a wearable mobile device. You would pay online for items you order from a country across three continents. It may well be that your selection is… 3D printed!

Welcome to customer behaviours of the new age where time and technology has overtaken the apparel and design industry to an unprecedented level. On the flip side of this revolutionary consumerism are industry personnel, faced with a challenging yet intensely exciting landscape where they are exploring new ground, not purely for creativity but because it is today a necessity.

This radicalisation of the apparel and design industry holds true from the top brands to the new age entrepreneurs who have taken their first steps in the world of fashion. For example the adidas Group which, today has outsourced most of its production and work with 1,000 independent factories from around world. According to a news release in August, 2016, the thought process behind the adidas speedfactory is to take on a more advance level of 'consumer-centric approach to product creation'. "This first-of-its-kind-model allows the brand to decentralise production and react faster to consumer needs. Equipped with cutting-edge manufacturing technologies, the US factory enables adidas to create products in increasingly high volumes with advanced complexity in colour, materials and sizes."

Time is not the only race which the industry has to run against, it is also the demanding customer who expects the turnaround to be speedy in production and sublime in quality


Moving away from mass to meaningful with radical agility and automation

"Fashion is the art of business and business of art," states Rob Cromb, Founder and Managing Director of 'Kookai', explaining how the automotive industry has a lesson for the apparel and design industry in terms of meeting the speed of delivery ad time-to-market. Cromb stressed on the importance of involving the consumers to drive the business as consumers of today, in this fast paced, ultra-connected world have access to everything a brand is doing.

Having depth of design has become a salient factor for the complex consumer of the present day. Sheila Teague from Wright & Teague (a creative partnership between Gary Wright and Sheila Teague who make and showcase jewellery in central London), is in the change-over phase for her business, choosing to move the retail model from the store to online selling. "There has to be more to what you make – a story, a reason. Move from a mass product to a more meaningful product. There is more of a person centred reason for why we have things. We don't need more stuff, but we do want more things that have meaning to us. So we create pieces that are meaningful and have a story."

So in this new and disruptive setting where the comfort zone of retail is broken, to whom can the industry turn to for answers? Amreen Ashraf (Timex and Fergasam Group) had a confident response: "Smaller multi-disciplinary teams. Radical agility is everything. It's not about fixing retail, it's about evolving and changing. Capitalistic consumerism and pushing brands to make sales year-on-year is no longer what should push companies. Bio mimicry is a huge trend with more urbanism taking life. Climate change is causing havoc, I saw a coat online that changes its temperature with the environment around you. That is what my generation is looking for."


Millennial mania: You can't beat them, you must include them

The generation referred to here are the present day citizens who are below 25 years of age, whom Chris Sanderson and Martin Raymond, co-founders of The Future Laboratory (a top consultancy firm for trend and market analysis), refer to as Children of the Millennials. Anderson and Raymond point out of how this group "disrupts how we do business and redefining our business brand and retail landscapes in ways that are challenging innovative counter-intuitive".

This new generation places less value on body image. Their post-body mindset makes them turn to bonding, communities and social groups. They place a great importance on fitness, health and well-being. They believe in making informed decisions and are up to date on the latest trends.

Millennial and their offspring are also keen on the brand of conservation. As the Future Laboratory co-founders point out that due to the Gen-Z focus on sustainability, creativity solutions have emerged from industries that have previously not been explored such growing fabrics outdoors, 3D printed buildings and recycled clothes helping to build earthquake-proof buildings in China. "Innovations and materials have pushed us to do what we need to do. Nothing is impossible, not even a sustainable world. The future is not a place we are going to. It's a place we can change, remodel and create."

While the Gen-Z are trendsetters, they are not brand loyal nor brand conscious as their predecessors, a point which many of the speakers and panellists at the forum observed. They are however 'Branstanding' and a group, more politically and morally motivated, as they seek to change the future. They are as Sanders and Raymond out it 'Data Designers' who are "happy to share data as long as they see a benefit from it and it is used creatively and collaboratively". Therefore they are a force to reckon with as the clothing industry moves into the challenging epochs ahead.


Collaborating for creativity

"Trust in young thinking," says Jane Rapley – world-renowned designer educator, Dean and Professor Emeritus of Central Saint Martin's University, UK – speaking on the topic of 'Design in the Future'; emphasising that taking risks is vital for creativity. "The most important designer is the person who can think beyond the product. The one who can feel the future, the element which is instinctive, comes from experience, exposure and innovation. The environment for the best designer is one where you do not isolate them. They need to be pushed and challenged… Look for places where people can work, collaborate, find music, drama, talk and create a lot of environments where people can begin a creative process to share and collaborate."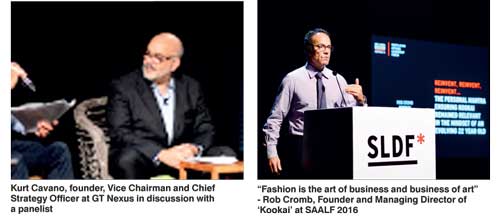 One such example is from China, where the industry is taking on a new look and feel. Patrick Gottelier, the Master of Apparel and Product Design at Shanghai DeTao Masters Academy, pointed out how China works with very clear 5 year plans. "The 2005 plan was to move from 'Made in China' to 'Created in China'. Today they have expanded that creative vision by initiating 'Design Parks' where designers, thinkers, manufacturers and producers can meet and work together towards new products." In addition the internet has mushroomed online communities, which form immediate design forums that help make and shape ideas. Such space for creativity helps to address current issues and to realise their potential and opportunity as a community and also a nation.

These sentiments of industry veterans are echoed by the younger participants from the industry who discussed the theme of 'Rethinking Talent, Culture and Business Models' which calls for more collaborative and multi-disciplinary approaches for the apparel industry in the new age. Aroon Hirdaramani (Hirdaramani Group) proposes more interaction across the global industry leaders. "I don't think we have all the answers. We do need the change in thinking. We need to encourage co-working spaces. Apparel one of the largest industries in the world. We need thought leaders from all over the world who will work and share their talents with us."

Often the fear of failure prevents individuals from taking risks in the creative process which the young panellists namely, Jehan Jayasuriya (MAS Intimates), Nissanga Warnapura (Hela Clothing) and Amreen Ashraf (Timex and Fergasam Group) say calls for the creating a culture where you can be open, allow for failure, rethink, rework – even use failure as a reiterative process. This in turn would foster entrepreneurial thinking.


Being soldiers of 'Social Conscience' with ethical and sustainable fashion

"Data will be the next wave in the 4th Industrial Revolution as Millennials drive digital with online shopping, IoT, wearables and e-commerce. However they will also be concerned about healthy living as well as ethical and sustainable fashion," remarked Warnapura, highlighting the importance of companies investing in data analytics to understand the consumers of today and also of the future.

"Data by itself means nothing, but data using analytics becomes everything. Understand and observe how consumers behave so that we can then move in unison with them. How do you acquire high end talent for the apparel industry? There is so much involved. Technology in fashion, sustainability and using raw materials. All these are factors that push products."

"The next thing is the autonomous supply chain and SL owning the IP where we make the profits we need to make, but in an ethical and sustainable way. Garments Without Guilt brought us all together, now we need collaborations, where we can share data and make it more open sourced."

Jayasuriya believes that a re-look and re-designing the scope of Sri Lanka in terms of value addition to fashion is a step taken in the right direction. "We looked at changing our value proposition into design. We brought innovation from the automation industry into the design industry. We have grown organically, but we have still grown. As an industry we have little or no real connection to the consumer. We need to disrupt our business models, understand the consumer's social behaviour and needs, see trends and also use data analytics to predict and use this for design and consumer chains."

Legislation and infrastructure changed to connect from the consumer back to the consumer, Jayasuriya pointed out, adding that in these dynamic market trends how it is essential for the industry to develop a competency in speed to react to consumer needs faster; right up to going the last mile – point of production to point of consumption.

Rob Cromb took on a more traditional perspective in this aspect, stressing on the importance of companies being grounded on a set of moral and ethical principles when moving into the future. "We logically minimise cost to increase profitability. However, there is so much competition. How can I differentiate from other brands and products? The reason why I think we (Kookai) are successful is because I cannot bring myself to sell a product that does not fit, that is not value for money, that is not recyclable. We have a responsibility to the global community and the planet that we live in."

According to Cromb, this moral compass helps make changes to improve your life and the life of those who work for you in a way that is ethical and provides value for all stakeholders. In short to help your business be successful, differently – leaving a legacy behind as a fashionable and ethical brand.

"Think differently and create disruptions, because if you don't, someone else will," advised Kurt Cavano, Founder, Vice Chairman and Chief Strategy Officer at GT Nexus, in his closing remarks. In a world dominated by platform and lean infrastructure from transportation (Uber) and accommodation (airbnb) to retail (Amazon), the only way to remain competitive is to automate. To achieve this level of productivity people are investing in machines. Robotics are becoming increasingly popular in the production cycle and is set to be a game changer in the near future. "The robots are coming."

The key take away for Sri Lanka from the sessions is by far the statement by Cavano: "Sri Lanka has a $ 5 billion ethical, consumer friendly, efficient apparel industry. So the challenge is how to sustain it and take it beyond the eight billion or maybe 10 billion mark."

"Don't be disrupted. Disrupt yourselves."
---
Change is here to stay – be ready; be open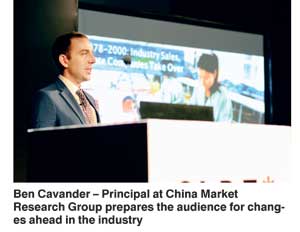 Technology is knocking down doors of convention for business. Which means the apparel and design industry has to compete in a changed ecosystem. Ben Cavander – Principal at China Market Research Group, shared some key pointers to industry leaders to face this transformation better

1. Be flexible and invest in new technology before it's too late (robotics, automotive, etc.)

2. Be willing to try new things – focus on clean supply chain, lean enterprise, smart factories

3. Build identities with consumers – collect data through analytics and use them to drive business

4. Invest in teams – technology is only half the battle, invest in teams. Minimise brain drain and protect local talent, foster new business models.

5. Develop initiatives for a long term sustainability strategy – engineer social change not just technological change
---
Staying relevant in the face of change – reinvent, reinvent, reinvent
Adrian Elliott, President, Global Apparel & Footwear at COATS PLC, addressed the forum with a thought provoking topic: A future without 'Joining Technology. Thought provoking because COATS is in the business of thread. Therefore a brand envisioning a world without its core functions is indeed transformative. According to Adrian, it is the acceptance of the world in which we live today – that is volatile, constantly changing and often with unclear parameters. The solution to move forward in such a setting is to be agile and open to new possibilities.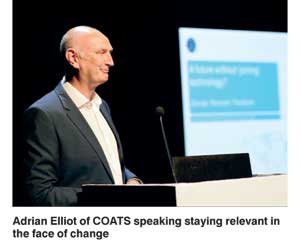 "COATS is at home in all the key countries across the world. It is a company with over 250 years of history. A lot of changes and innovations are happening globally in the world of fashion and design. So if you have 3D printing, what happens if you are the 'thread guy' and people are 3D printing their clothes?" asks Adrian optimistically, adding that "The future really does look rather bleak for thread. But there will be an evolution of thread. Thread is a word function, fashion and technology."

COATS decided to turn their focus to a different path and build on the brand's heritage asking the questions of 'How we change if we are thread makers? How do we stay relevant in the world?'

"We collect a lot of data as far as insights as to what people want from us. We are trying to reinvent ourselves for tomorrow. We are trying to add value through the supply chain. This is a disruptive way of thinking. This is a challenge that we have set for ourselves. Our market goal is to be the value added partner to the global apparel and footwear industry."

Adrian shared five industry imperatives which seek to reinvent COATS:

1. Speed

2. Productivity

3. Innovation

4. Quality

5. CR/Sustainability

"The more we go out of our comfort zone, the more failures there will be. The key thing is to ensure we don't lose the people centricity aspect of our industry," highlights Adrian and to do so he believes that the many stakeholders in the eco system will need to explore the possibilities of learning new skills and chartering their own paths ahead, more than before.