Association of Professional Bankers of Sri Lanka (APB) organised another evening presentation to bankers on the subject of 'Decision Making'. This time the speaker was Dr. Errol Wirasinghe, an author, speaker, consultant and trainer who is based in USA and now in Sri Lanka. He is an internationally recognised expert on decision-making hence his presentation content was more practical and relevant. The seminar was held on 12 May at the Bank of Ceylon Auditorium.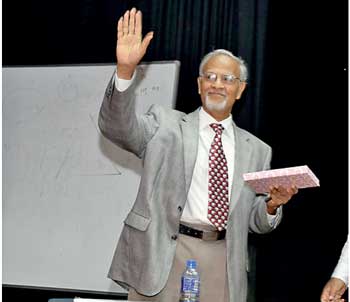 Dr. Wirasinghe told bankers that decision making is an integral part of a professional banker, without which banking business cannot be thought of. He mentioned that the quality of the decision cannot be measured by the outcome as it depends on the implementation as well but without making decisions no one can expect a change or an innovation which leads to success and satisfaction.

It was a well attended event and Dr. Wirasinghe got the audience fully involved making the presentation more interactive.

APB considers it as a privilege to host Dr. Wirasinghe for a seminar for bankers second year in a row. In 2014, Dr. Wirasinghe made a hugely successful seminar to bankers on the subject of 'Negotiation Skills'.

This is the second seminar organised by the present council elected in March this year under the presidency of Deepal Abeysekara. It is a key objective of APB to provide opportunity for young and professional bankers to listen to prominent speakers organised through its Research and Development Committee.