Sri Lanka has the potential to be a knowledge hub as well as a tourist hub and the latter is an area in which the concept of smart cities can thrive, Director, Cisco India & SAARC, Amit Malik, who oversees its operations in Sri Lanka, told the Daily FT, responding to a question about the company's aspirations for a digital Sri Lanka.

"One of the strongest points about Sri Lanka is its intellectual capital. The other is hospitality. In the hospitality sector, people like John Keells are thinking of building entire smart cities. All of the smart city infrastructure you saw today [in Jaipur] will be required for such an endeavour," he said.

Digitisation is high on the agenda of the Sri Lankan government, said Malik, adding that Cisco will always be there to provide the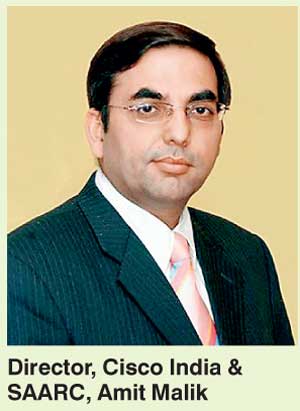 necessary expertise and hardware.

"Anything to do with digitisation and networking, Cisco will be there," he said.

Cisco has had an active presence in Sri Lanka for several years, with a strong focus on knowledge academies. Local academies affiliated with Cisco – such as SLIIT, for example – prudce Cisco certified network engineers.


"We work very closely with the Government. We're working together with them on various initiatives such as broadband internet. There is a separate project with ICTA, for example," explained Malik.

Over the last few years, Cisco has taken a special interest in the SAARC region in general and Sri Lanka and Bangladesh in particular, he added.
Q:How does Sri Lanka compare to India, in terms of digitisation?

"It's early days. The advantage for Sri Lanka is that over there, technology adoption is one of the highest. In fact, we've sold tech there even before we sold them in India – including servers and some of our more high-end hardware. The Sri Lanka market is very conducive to and very adaptive to new technology. A typical Sri Lankan customer is very aware. They're always wanting the latest in tech. That is an area in which we've done really well there," said Malik.

He further said that though things had slowed down a bit in the public sector with regard to digitisation due to the change in government last year, there is renewed interest what with a series of upcoming projects in hospitality and other industries.

"I think we will see a lot of projects coming up. Digitisation is going to be a priority," he said.
Q:What of the private sector?

"We're working with almost all of leading organisations – Brandix, MAS, John Keells, they're all our customers."

Malik expects that, over the next five months, Cisco Sri Lanka will see a lot of growth, in tandem with upcoming digitisation projects in the country.

"The trajectory grows at the same pace it has been. Overall, in Sri Lanka, our growth has been fairly high. We've grown at a target of 30% year-on-year for the last probably 7 to 8 years. It's one of the fastest growing territories for us. In the public sector we saw a little bit of a slow down earlier but I think it's all recovered now, and moving very fast," he explained.

Cisco is optimistic on a solid return on its investment. "People adopt tech faster. It's fairly good compared to the rest of the region. Bangladesh is probably a bigger territory, but Sri Lanka is catch up," he said.


2016, said Malik, is going to be a defining year for both Sri Lanka and Cisco.

"Firstly, we're seeing a lot of these tourist hubs which are coming up. So many projects: casinos, etc. I think 2016/17 will be when some of these projects will start seeing the light of day. Work on some of these projects has already started. But we expect completion by 2017/18. The kind of investment happening in these tourist hubs is really – some of them are going to be really cutting edge. The Port City, John Keells city, casino city, so many such projects coming up," he said.

Cisco is looking to bring in its hardware and some software components into this massive development drive, similar to what the company is doing in Jaipur with regard to digitisation in the form of smart parking, lighting, surveillance, Wi-Fi, etc.
Q:How hopeful is Cisco about the success of these programs?

"I'm very hopeful. I think we've turned the curve in Sri Lanka. We've seen a year of relatively slower growth, but I think over the last six months or so, things have picked up. We're very upbeat now. We're looking at even increasing man power in Sri Lanka," he said.