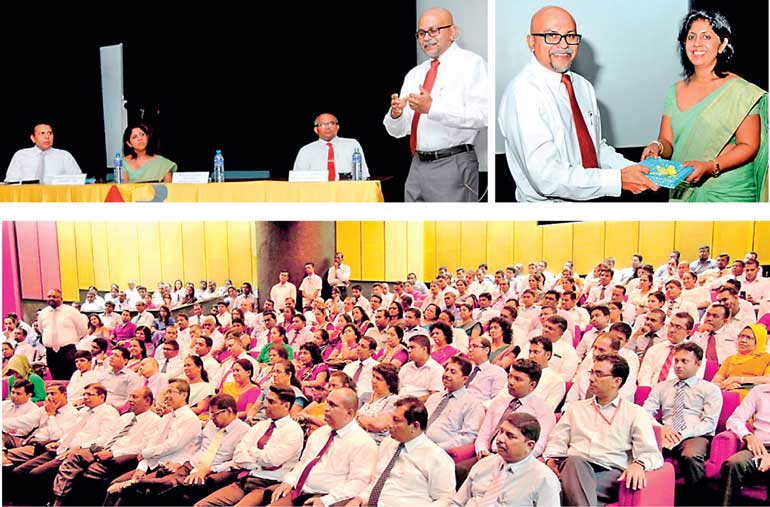 HELA clothing Chairman Dian Gomes delivered an inspiring lecture on leadership to an overflowing gathering of bankers on 11 May at the Bank of Ceylon auditorium. This lecture, the first such lecture for the current year is a part of a series of lectures to be organised by the Association of Professional Bankers of Sri Lanka (APB).

Welcoming the audience, APB President Shashi Kandambi Jassim explained that these lectures are organised as a part of continuous professional development of its members, to ensure that the highest professional standards are maintained by the membership of the APB. Dilshan Rodrigo of the Continuous Professional Development Committee (CPDC) of APB introduced Dian Gomes as someone who is passionate, charismatic and committed to achieve what is seemingly impossible.

Gomes having once managed one of the largest exporters in Sri Lanka, being the Group Director of MAS holdings, had a wealth of experience to share with the audience. However he chose to relate his experiences in boxing to illustrate the topic of leadership to the audience.

He stated that to any celebrated leadership example, the failures are the best illustrations and learning points. Having addressed the topic of leadership to many audiences globally, he said that this is his 490th lecture. Having lectured at Imperial College Business School London and Said Business School, University of Oxford, UK, Dian explained that you do not have to attend a great business school to learn humanity, humbleness and the book of leadership.

He shared his experiences in and out of the boxing ring, using multimedia to illustrate and build the concepts of leadership into the hearts of the audience. He connected with audience by stating that, "Every one of you is a leader, if you are a good parent then you are a good leader," and went on to explain the benefits of the work life balance to the bankers. Components of leadership such as, working under pressure, motivating people, persuasive techniques and inspiring a team to achieve the shared vision were explained with such subtleness and refinement, swinging the emotions of the audience.

Some members of the audience, when departing, thanked the organisers stating that the lecture was just like having watched an inspiring movie with a message, and expressed that they felt quite refreshed after a hard day's work.

There were around 350 bankers present in the audience and some of those who got late spent nearly two hours standing but listening attentively to the lecture. "We had to close the registrations much earlier than the anticipated date due to overwhelming response from the bankers, when the lecture was announced," said APB CPDC Chairman Dilashan Perera.

The CPDC lectures are conducted by the APB for the benefit of its members and as such the privilege of participation will first be offered to the members and then to the bankers nominated by the respective banks on a first come first served basis.