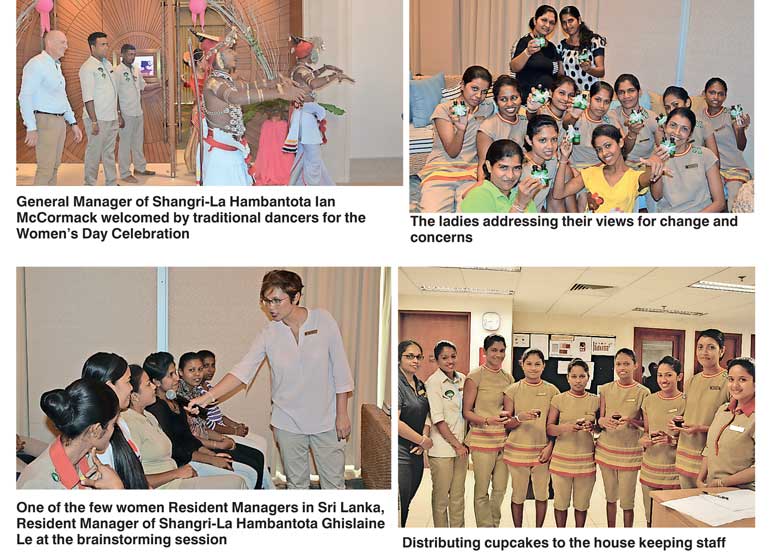 In an increasingly competitive global marketplace, attracting and retaining the right kind of talent is central to a company's ability to grow. Shangri-La Hotel and Resorts in Sri Lanka is committed to creating an environment that attracts and inspires a talent filled internal community, which in turns allows the hotel to provide an unmatched hospitality experience to its guests.

As part of its employee branding initiative, Shangri-La's Hambantota Resort and Spa commemorated International Women's Day by hosting a special event for all its female employees. The session was organised to appreciate the contribution of the resort's female employees and to motivate and inspire them to achieve their personal and professional goals.

Speaking at the event General Manager Iain McCormack said, "At Shangri-La we believe that our team is our best asset. As such it is important to us to appreciate and support our employees while ensuring that everyone feels welcome and valued. We think it is important that our team is able to identify with the company and its core brand values." "Women play a very important role in the growth of the organisation and I wish the same service and dedication continues in the coming days," he added. Participants were encouraged to discuss their perceptions on why women are important and how they contribute to the organisation and community as a whole. Speaking at the event employees stated that women are strong willed and courageous enough to make bold decision.

Resident Manager Ghislaine Le expressed her views stating that a mother inculcates same core values that Shangri-La's holds very highly.

A brainstorming session on how women in the organisation can be helped and foundation was formed to address issues of women under the leadership of Dinu and Sapna.

The evening ended with dance a session and special high tea for the participants.

Set beside the Indian Ocean and framed by swaying king coconut trees, Shangri-La's Hambantota Resort and Spa is located on Sri Lanka's ancient Spice Route, along the island's lush, unspoiled Southern coastline. With 145 acres of tropical gardens, there is ample space at this striking new property for guests to unwind within the spectacular surroundings, and make the most of the impressive facilities. Most notable include CHI, Ayurveda Spa which focuses on Ayurveda treatments, three swimming pools, an 18-hole golf course, a unique Artisan Village celebrating local arts and crafts and an array of al fresco dining options.

Hong Kong-based Shangri-La Hotels and Resorts currently owns and/or manages 98 hotels under the Shangri-La brand with a room inventory of over 40,000. Shangri-La hotels are five-star deluxe properties featuring extensive luxury facilities and services, and are located in Australia, Canada, mainland China, Fiji, France, Hong Kong, India, Indonesia, Japan, Malaysia, Maldives, Mauritius, Mongolia, Myanmar, Philippines, Qatar, Singapore, Sultanate of Oman, Taiwan, Thailand, Turkey, the United Arab Emirates and the United Kingdom. The group has a substantial development pipeline with upcoming projects in mainland China, Cambodia, Hong Kong, India, Malaysia, Myanmar, Saudi Arabia and Sri Lanka.