Exploring fresh perspective on how Sri Lanka can achieve growth from China's Belt and Road Initiative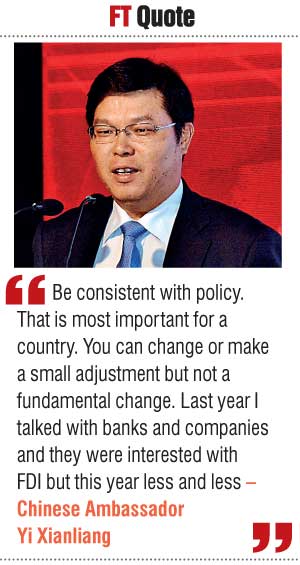 By Uditha Jayasinghe

China and India are the global growth engines of the future and for Sri Lanka the potential economic opportunities hold great promise, a plethora of experts agreed last week, seeking a way forward for the country to leverage its abundant advantages for growth.

Sri Lanka has the capacity to punch above its economic weight, observed State Minister of Finance Eran Wickramaratne, pointing out the country was already well integrated with regional giants China and India, but acknowledged reforming its bureaucracy to foster investment would be an uphill battle.

Delivering the keynote address at the Daily FT-Colombo University MBA Alumni Association organised full-day forum titled 'Growing with Giants,' on 14 June Wickramaratne noted that as Asia continues to grow, the Asian Development Bank (ADB) has predicted that in 2050 GDP trade and investment will be half the world's GDP. The forum, which had HSBC as its Strategic Partner, focused extensively on the advantages Sri Lanka could derive from China's Belt Road Initiative (BRI).

Accordingly, the per capita incomes of the region will grow at least six-fold. By year 2030 it is estimated that Asia will surpass North America and Europe combined in terms of global power based on GDP, population growth and technological advancement. Asia would be in the dominant economic position that it held more than 250 years ago, before the industrial resolution, he said.

"When we were growing up we had a fixation of how the world would be but in one generation the world is changing."
Trade data

In the context of the two major partners, India and China account for 42% of Sri Lanka's imports. China has become Sri Lanka's largest source of imports with nearly 22% and India is close with about 20%. China and India are also the largest two countries when it comes to tourism, with almost 45% of arrivals stemming from these two countries. China and India are among the top five FDI sources to Sri Lanka, accounting for about 20%, showing the strong connections between the three economies.

The State Minister also spoke extensively of the collective history Sri Lanka shares with India and China. "The Chinese Ambassador spoke about policy stability and consistency challenges. He spoke about the ease of doing business and lack of implementation on the ground. I think all these observations I would accept as valid, these are constructive criticisms we need to accept, we need to change.

"Our focus over the next few months will be to create stability and consistency in policy. The Doing Business Index will change over time because there are many different things that need to be done. Implementation is a big issue. The reform of the Sri Lankan bureaucracy is probably the biggest challenge that this country will face over the next few years.

"We probably have the largest bureaucracy in the world, per capita, compared with any other country. I was just told the other day that we have the largest investment agency in the whole world. Obviously we need to look at how we are going to reform our bureaucracy.

"This is not something only this Government or a few politicians can do; you all have to get together. The Ceylon Chamber paid a call on me and the Minister the other day and I told them please come up with practical suggestions as to how we might start this journey."
Great friends

Analysing trade statistics between the two countries, Wickramaratne noted China and India provided much-needed investment and intermediate goods to Sri Lanka and therefore limiting imports was not an option. But he went on to say that tourism on the other hand was a valuable source of foreign exchange to the country. He also called for increased exports to China and India.

"As much as 44% of Sri Lanka's total trade deficit is with India and China, which implies a big opportunity of two giant markets, but what is the way forward? Sri Lanka must become competitive to reach out to these markets."

He pointed out that Sri Lanka's exports, which accounted for 28% of GDP in the 1990s, had fallen to half of that. Sri Lanka is smaller and less open than it was three decades ago, insisted the Minister.

"Concentration in a few markets and lack of market diversification is obvious. Generous subsidies have been poured into agriculture since 2005, tax breaks, protection and infrastructure that have long gestation periods have all contributed to the erosion of our competitiveness. Furthermore cess has also contributed to the lack of competitiveness. Therefore the current Government has proposed to eliminate cess altogether but we have to do it gradually over time."

"FDI has to be the foundation. FDI to provide long-term balance of payments enhancement, sophistication of exports and technology transfer is essential. We need to learn about the new Chinese economy. We need to rebalance our external trade; we can certainly find regional resources to redistribute to minimise the gaps that exist. BRI would be a major element in this endeavour. The Ambassador said we are not a tiny island but I would like to mention that we are a noisy democracy and we are fiercely independent but we make great friends."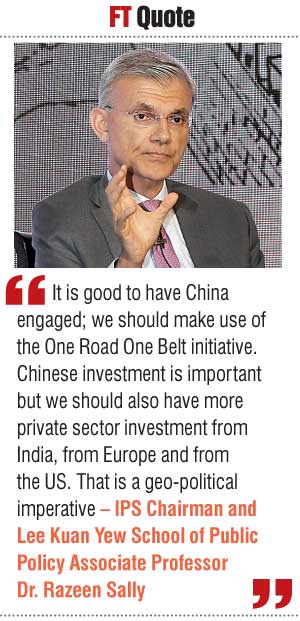 BRI and China

Chinese Ambassador Yi Xianliang backed Sri Lanka's involvement in the Belt and Road Initiative (BRI) but called on the Government to have stable and consistent policies to encourage investment and warned that if swift steps were not taken investor appetite may fade. Speaking at the 'Growing with Giants' forum, he encouraged Sri Lanka to change its vision as a "small country" and noted it has achieved significant growth as a middle income country.

"You are not a tiny island country. This is number one. Number two is you can produce more infrastructure. You would save so much foreign currency by producing what you would have to buy. This is why the Chinese President suggested that you set up your own industrial system. This is also my duty as Ambassador to Sri Lanka. So last year I spent a lot of time to set up an industrial zone in Hambantota. Things are progressing but there are still some problems," he said.

The Ambassador sent a clear message to the Sri Lankan Government, even giving specific examples of Chinese investment failing to materialise on the ground despite years of effort. He also focused on the fragmented Government institutions that made approvals a cumbersome process and called for clearer policy.

"Be consistent with policy. That is most important for a country. You can change or make a small adjustment but not a fundamental change. Last year I talked with banks and companies and they were interested with FDI but this year less and less. The land is Sri Lankan land, the site depends on investment. It could be a small investment. It could be an apartment or hospital. What you would like to do? If Sri Lanka does not have a basic infrastructure system, if it spends money on what it can produce, how can it develop?

"I have spoken with the Prime Minister many times on how to address this issue. We need help from the Government to address this issue. Chinese companies have set up investment zones around the world. I try my best as Ambassador but I am just the Ambassador. It is up to the Government. We need policies that are FDI friendly; have a long-time strategy and a board map of implementation. Right now we have so many issues to talk about. We say it is a good plan but who is the implementation team. What is the connection between talk and implementation? We need to know what the most efficient and best way is to carry out our tasks, not just for China but for other countries as well. They also have the same concern."
Opening hearts and minds to FDI

Ambassador Xi also called on the Sri Lankan people to "open their hearts and minds to welcome FDI", hinting that the public had mixed sentiments about foreign investment and their impact on the ground.

Making a presentation titled 'The China-Sri Lanka Economic Relationship,' the Ambassador gave a rundown of China's economic power in trade and innovation. He pointed out that China was working hard to reduce its carbon footprint and promote sustainable energy.

"How can a country maintain economic growth while becoming more sustainable? I believe it is possible. In 2015 Sri Lanka grew by 5.5% and last year it was less. So what is the problem? Innovation is most important for the world economy. On Tuesday the Chinese Government published its innovation paper for 2016. Over the last five years China was number one in the innovation field. Also R&D is not only the Government's task but also the job of the business community, universities and others. In the past five to 10 years the sum of new technology has created a new economy. This new economy already covers more than 1% of Chinese GDP. I just came back from Beijing and no one goes to the road anymore to sell food. They use WeChat. So this is not just for Alibaba but for everyone. So innovation is a major contribution to the Chinese economy."

The Ambassador, in an extensive speech which spanned nearly an hour, also spoke of the grant programs initiated by the Chinese Government and the assistance given during the recent floods.

"We have more than 60 million people who are below the poverty line, according to the UN. But we still try to help your Government without any conditions. First, from the end of the conflict the Government and the companies at the request of the Sri Lankan Government have worked to construct your basic infrastructure. Right now the coal power plant contributes more than half of Sri Lanka's energy. Ports, airports and roads are also there. Why did China do so much in this island? Because China has more than 1,600 years of relations with this island."

He also dismissed concerns that Sri Lanka could become diplomatically entangled in Chinese foreign policy, insisting that China maintained cordial relations with all countries including India and as such local governments would not need to be concerned about regional conflicts of interest.

"Perhaps people have doubts about China's involvement. In the past we did not, we do not today and absolutely we will not in the future, because it is not necessary. We consider every country, including India, as our good friend. We can cooperate with any country for Sri Lanka to get development. I do believe all politicians, diplomats and others should work for peace and cooperation. Sri Lanka is the land of Sri Lankan people. Any Chinese companies or even Chinese warships are for cooperation and friendship and I also wish and request people from other countries to do the same."
A view of the other side

For Institute of Policy Studies Chairman and Lee Kuan Yew School of Public Policy Associate Professor Dr. Razeen Sally, the picture was more mixed and in his typical forthright manner he called on the Government to be more balanced and pragmatic in its approach to dealing with China and the Belt-Road Initiative as it could have strong geopolitical consequences for Sri Lanka.

"Let me start with the very big picture. Everybody is talking about how China may be a substitute for America's role in the world where we might see the US disengaging from wider Asia and the question is whether China can actually substitute for the United States in providing a stable, open and liberal Asia. Now what we have seen over the past few years is a more assertive China, this was not the case earlier because China was in the business of joining the liberal world order that the US had established. But in the last decade the US has declined, as has the rest of the west, emerging power has been China. We have also seen more of an assertive role under President Xi Jingping. China has also been more active in the East China Sea and the South China Sea, establishing new tracks on the ground on very dubious claims of Chinese sovereignty, at least on the basis of international law. Secondly China is trying to change the rules of the game much more than before," he said.

Speaking as a panellist at the forum, Dr. Sally outlined the possible challenges for Sri Lanka as it attempts to deal with changing power dynamics on its doorstep as well as the wider region.

"We now see China engaging in some kind of trade deal with Asia. Notably because the United States exited from the rival Trans-Pacific Partnership (TPP). China's bilateral relations with countries also problematic with Chinese State owned companies making economic inroads to countries and more broadly the Chinese government and its proxies essentially trying to buy up local political and business elites. We have seen this in other East Asian countries such as Laos, Cambodia and Vietnam and we have more recently seen it in the Philippines. A lot of Chinese money going into Singapore, a lot of Chinese money going, over and under the table, to Malaysia now and they are also circling India."

Dr. Salley was also sceptical of continued economic success in China and warned that the Chinese government is aware that its earlier economic model of ploughing in labour and capital is unsuccessful because China is demographically aging very fast and it needs a much more productivity based model, which would require serious structural changes.

He warned that the reforms promised by President Xi are yet to materialise significantly on the ground and with only half of his presidency to go the prognosis for wide ranging reform was not positive. This could result in China's political system becoming more authoritarian that would stifle more mature public reform though he acknowledged that its results could be felt over the next few decades rather than the next few years.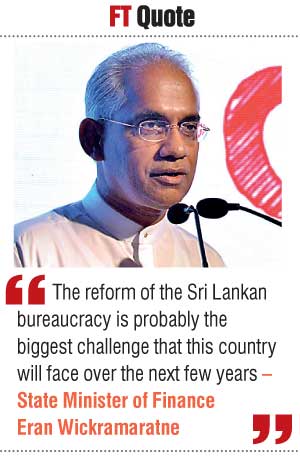 US and China

"The United States has been responsible for creating the platform for the kind of economic growth Asia has had for the past few decades. A US exit in my view is highly dangerous because we are more likely to see destability and disorder. In a geopolitical sense the US keeps a balance of power in Asia and keeps India and China from rubbing up too close to each other. This means there is a much lesser chance for conflict that would undermine growth."

He pointed out that US institutions that have been responsible for writing the rules for a reasonably liberal economy and public order, including economic freedom and a withdrawal would mean that Asia would have to grapple with a more Chinese form of capitalism that would be more State directed and only work with established political and other elites in countries. He called on people who believe in a liberal international order to work with progressive forces in the US.

"Please don't take my previous remarks to mean that I only believe in containing China and not engaging with China. The answer is both, which is another reason why we need the US in this part of the world. Under the Rajapaksas, Sri Lanka became far too dependent on China and to the credit of this Government and the former Foreign Minister, they rebalanced these relations with better relations with India and the West while still not alienating China. It is good to have China engaged; we should make use of the One Road One Belt initiative. Chinese investment is important but we should also have more private sector investment from India, from Europe and from the US. That is a geo-political imperative."

– Pix by Upul Abayasekara and Lasantha Kumara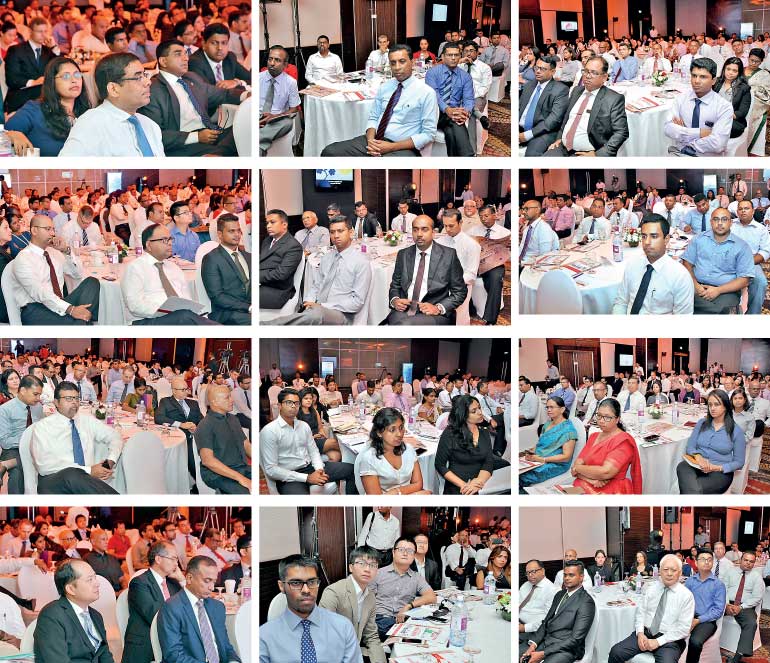 SL needs to iron out internal investment impediments
Panel of experts discuss challenges and way forward for Sri Lanka and BRI investment
Investment bottlenecks within Sri Lanka would need to be ironed out to attract Belt and Road Initiative (BRI) projects as well as reap benefits from the Free Trade Agreements (FTAs) under negotiation with China and Singapore, experts said.

HSBC Sri Lanka and Maldives CEO Mark Prothero, Hayleys Advantis Managing Director Ruwan Waidyaratne, Global Rubber Industries Managing Director Prabash Subasinghe, former Sri Lanka Ambassador to China Nihal Rodrigo, Institute of Policy Studies (IPS) Chairman Dr. Razeen Sally and HSBC Asia-Pacific Global head of RMB Internationalisation, Global Liquidity and Cash Management Vina Cheung. Both Waidyaratne and Subasinghe spoke of the need for Sri Lanka to improve its business environment to encourage investment agreeing that large scale investment projects such as the Port City were essential for the country's growth. They also called for stronger policies to create a one-stop shop for investment in Sri Lanka and encourage solutions to labour shortages. Sri Lanka, unlike other South Asian nations does not have a demographic dividend and runs the risk of decreasing economic growth because of an aging population.

"We are setting up a new factory and need 350 people and we only got about 50," noted Subasinghe. "There are foundational changes needed in the labour market and there has to be serious changes on policy adjustments. We need to lobby for these changes."

From left: Hayleys Adventist Managing Director Ruwan Waidyaratne, Global Rubber Industries Managing Director Prabhash Subasinghe, HSBC Sri Lanka and Maldives CEO Mark Prothero, Moderator Daily FT Editor Nisthar Cassim, IPS Chairman and Lee Kuan Yew School of Public Policy Associate Professor Dr. Razeen Sally, HSBC Singapore Regional Head of Belt and Road Initiative for Commercial Banking Director Sunil Hiranandani, Sri Lanka's Ambassador to China Nihal Rodrigo and HSBC global head of RMB Internationalization, Global Liquidity and Cash Management, Asia-Pacific Vina Cheung on the panel
Waidyaratne suggested that the Government should also have stronger negative lists in its FTA negotiations with China to protect local industries. However, Dr. Sally pointed out that such narrow trade policies would not assist Sri Lanka to make crucial structural reforms to foster growth.

He also insisted that the Government should not limit itself to "surface FTAs" with China and Singapore but seek trade deals with US and Europe that would push Sri Lanka to make serious reforms it would presently balk from to deliver genuine integration and openness to international markets.

"The BRI is not a complete solution but it can be a catalyst for development. It can fill in gaps to maintain growth in the next five years. When it comes to attracting investment the Indonesian government understood the need to have a short turnaround time, they now have 16 months for any new project to be implemented," he said.

He also advocated that Sri Lanka looks at projects from the perspective of commercial gain rather than government agenda. Panellists also agreed it was important to give more information to the private sector so that they can make more informed decisions on investment.

"We are extremely positive about BRI advantages," HSBC CEO Mark Prothero said, calling on the Government to "embrace and push forward" projects linked to the initiative. He also went onto say Sri Lanka's proximity to India and links with China gave it momentum to look at opportunities around existing trade partners as well as develop interconnected industries through infrastructure investment.
Defining BRI and its opportunities
HSBC believes BRI is both positive and ambitious, giving Sri Lanka a supercharged position with its geographic location
The Belt Road Initiative (BRI) would be a game changer in bridging infrastructure gaps in Asia and fostering the region's growing dominance in the global economy, believes HSBC Singapore Director and Regional Head Belt and Road Initiative and Commercial Banking Sunil Hiranandani.

According to the Asian Development Bank (ADB), the needs of developing Asian countries in terms of infrastructure investment over the next 15 years will be as much as $ 26 trillion, or $1.7 trillion a year, he told the 'Growing with Giants' forum.

"So the issue for developing Asian countries is that the region currently invests an estimated $881bn in infrastructure annually, about half of what's needed. The latest estimate is more than double the $ 750 b per annum required, forecast back in 2009. These are large numbers, highlighting the fact that the region requires far more infrastructure investment to sustain growth."

The infrastructure investment gap, the difference between investment needs and the current investment level, is equal to about 2.4% of projected GDP for 2016-20. The gap rises to 5% of projected GDP if China is excluded.

Many economies in developing Asia still do not have access to basic utilities: 400m people lack electricity, 300m do not have access to safe drinking water, and approximately 1.5 b lack basic sanitation

"Suffice to say, the region is a crucible, and there is gross gap between infrastructure needs and infrastructure spend."

He recalled that over the last four years, Beijing has unveiled the systematic framework to rediscover that heritage with the Belt Road Initiative, an incredibly ambitious plan for a new era of trade with the countries along the transport routes that stretch from China through Central Asia into Europe.

Fast forward to today, China's Government held its inaugural Belt and Road Forum in Mid-May, than 1,000 delegates from over 60 countries, including 29 heads of state, and international organisations attended, signifying the magnitude of the plan.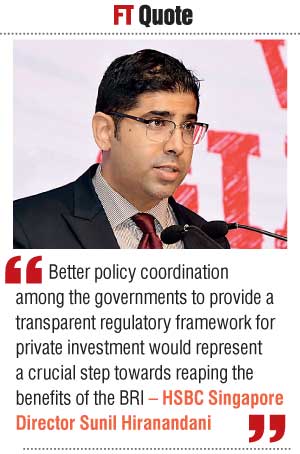 The case for BRI

The plan is called "yi dai yi lu" in Chinese, which in English translates to 'One Belt, One Road', shortened to the acronym OBOR. More recently, this has been re-branded as BRI.

The Belt is a land-based route leading from China to Europe via Central Asia. The official outlines of the route stretch from Xi'an to Rotterdam in Holland. And rather confusingly, the Road is its sea-based equivalent, passing through Southeast Asia, South Asia, Africa and the Middle East on its way to Venice in Italy.

"On the other hand, the BRI is much more than bridges and tunnels. If we look beyond the asphalt, BRI has unfolded at a very interesting time in the world's geopolitical landscape, a landscape of uncertainty. The new US administration is reversing past policies that were designed to increase global economic integration.

"Amidst this uncertainty, we are presented with a highly systematic, well-coordinated outbound vision that is deeply entrenched at economic policy coordination and regional connectivity. The timing for China to assume a leadership position as the flag-bearer of globalisation could not be better."

By investing in rail, ports and power plants along centuries-old silk routes, China is seeking to stimulate cross-border trade, and not just with neighbors, but with regions as far as Europe, Africa and the Middle East, which in turn, will contribute to growing demand for China's goods and services in those economies. Indeed, building access to new markets could well prove to be where the "real money" is to be made.

For example, ASEAN's consumer markets are much larger than those of Central Asia. Vietnam currently imports a range of products for further processing, including zippers and electronics, from Guangdong province in southern China. Most of that is done by ship and the BRI can improve the transport links between these markets. Similar connectivity projects are in place in Thailand and Indonesia. Many BRI projects are financed with the RMB, which will help improve the international profile of the currency.
Emerging markets

Today these projects require construction materials, heavy machinery and engineering services. Tomorrow, the completion of new infrastructure will simplify supply chains, accelerate physical trade and push down the cost of doing business. Companies will adapt their manufacturing and distribution strategies, with a net result that the volume of trade will grow.

As emerging markets continue to develop and become consumer-driven economies, their expanding middle classes will demand a greater choice of goods as well as services like healthcare, education and travel.

HSBC's forecast that about three billion people in today's emerging markets will join the middle classes by 2030, a social change that will pull the centre of gravity of human consumption towards Asia.

"As well as promising to make the movement of people faster and cheaper, this infrastructure will help businesses too. Perishable foods, from New Zealand lamb to Filipino fruit, will be able to reach markets in Central Asia, Europe and the Middle East by land through China, potentially shaving time off their journey. This directly translates into working capital savings. Once China Electric Power Equipment and Technology completes a new grid in Egypt, 16 million Egyptian homes will have access to the reliable power they need to be part of the digital economy," Hiranandani added.

Given the sheer size of the infrastructure demand, a market-oriented, multi-tier system of financing is the only feasible way to provide sustainable funding for cross-border infrastructure projects involved in the BRI. This multi-tier system should include public funding, development finance, and private financing through both domestic and international financial markets.
Project financing

The New Silk Road Fund, the China Development Bank, the Export and Import Bank of China, the Asia Infrastructure Investment Bank, the New Development Bank, and the ADB all focus on providing financing for investable projects with spin-off effects for economic and social development.

Commercial banks can also, through products and services, such as project financing and transactional banking, banks can help boost investment and trade flows along the Belt and Road economic corridors.

When it comes to capital markets the challenge is to develop an efficient structure to match projects with investors who have different requirements in terms of risk appetite and returns.

Whether through debt or equity financing, it's crucial to make infrastructure-related financial instruments part of mainstream asset allocation. This would attract a broader range of private investors, including pension and insurance fund managers. Greater involvement by the private sector should also help improve the efficiency of infrastructure investment.

"As such, better policy coordination among the governments to provide a transparent regulatory framework for private investment would represent a crucial step towards reaping the benefits of the BRI."

So far, the public sector has provided the majority of infrastructure investment, particularly in Asia, where the government contribution is over 90%. This implies that there is limited room for further scaling up of public investment, so new channels are needed.

"However, motivating the private sector to finance infrastructure projects is easier said than done. The experience of some developed countries offers some encouragement. For example, in the UK, the private sector contributed to between more than 60% of the country's total infrastructure investment before the financial crisis, and this number is around 50%."

The main obstacle to developing infrastructure is not a lack of available financing. The problem is that global pension funds, insurance companies and other long-term institutional investors, which have a large pool of capital, have found it difficult to identify investable projects.

Hiranandani also pointed out that at the BRF last month, Beijing announced plans to scale up funding by contributing an additional RMB 100 b to the State-owned Silk Road Fund, encouraging overseas RMB fund business, and setting aside a total of RMB 380 b for a special lending scheme for two key development financial institutions: the China Development Bank (CDB) and the Export and Import Bank of China (EXIM).

In addition, China has called for better financial integration and enhanced policy cooperation to offer long-term, sustainable financial support to facilitate BRI projects.

Sri Lanka's significance to Belt and Road is supercharged by its location close to one of the world's busiest shipping lanes and its strategic position between East Asia, the Middle East and Africa.
Risk mitigation

A large number of countries have contributed to project funding needs through membership in the AIIB. However, the imperative to securing long-term sustainable development is to attract private capital involvement.

"This could be done through properly formulated public-private partnerships. Private capital involvement could also act as a filter of good and bad projects from a commercial perspective. Private capital could get involved in multiple levels: equity, debt or mezzanine finance. So far Government entities or Government-owned entities appear to be the main financiers for projects in the Belt and Road Initiative."
Project execution

Project execution risks or delays could be a result of different reasons. Some of the common causes to project delays include land procurement, environmental assessment and lack of skilled labourers locally.

Working capital management is also important during the project execution phase. While some of the investment projects could be contracted in USD or RMB, most of the construction costs incurred could be in local currency and will be difficult to hedge.
Small market size

Some of the economies along the Belt and Road Initiative can be quite small in size compared to China.

According to Silk Road Associates estimates, the ten largest economies along the Belt and Road region would have an equivalent size in terms of GDP to five of the largest Chinese provinces (namely Guangdong, Jiangsu, Zhejiang, Shandong and Henan). There could be significant costs of setting up operations in a new market with a small population and consumption power.
Lack of transparency for project information

Information transparency could be made available for approved projects under the BRI during the project tender process, so more companies could participate. This would strengthen public confidence in BRI projects.

"In promoting the Belt and Road Forum, the Chinese government has stated that it "will facilitate a number of major project and cooperation agreements" but that "China does not intend to monopolise all the benefits, or even take the lion's share of the benefits". The goal is to "work with partner countries to make the pie bigger and divide it equitably," he said.

"As a statement of intent, the BRI is ambitious and positive. It says that by boosting investment in infrastructure, we can boost trade, because this in turn will boost GDP. Given the uncertainties we face today, the BRI serves as a catalyst for greater international cooperation, and that is something we can no doubt celebrate."