Newly elected APB President Senerath Bandara during his tenure of presidency plans to organise an array of activities fulfilling the core objectives of APB. The activities include evening lectures, e-journals, publishing articles useful to the general public and event details and news of APB in the Daily FT, Annual Convention on a theme important to bankers followed by a full day of technical sessions, members get together, felicitations of senior bankers and some social events. Following are excerpts from an interview with Bandara:

Q: Can you briefly describe your banking career?

A: After my graduation I briefly served at University of Kelaniya as a Temporary Assistant Lecturer, teaching Mathematics and Statistics for Commerce stream students. Then I joined the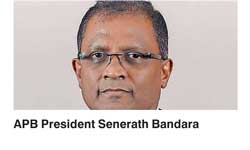 Mahaweli Authority as a Statistician where I served for three years gaining invaluable experience especially during the visits frequently made to farmer settlements in downstream irrigation areas, though I was stationed at the Head Office, Darley Road, Colombo.

My banking career was started as a Management Trainee at Bank of Ceylon 27 years ago. At the start I served at divisions such as MIS, Investments and Treasury until I was assigned to Bank of Ceylon London branch as an Assistant Dealer in year 2000. On my return, I joined the Corporate Credit Division and served there as a Relationship Officer and as a Relationship Manager later on. With the promotion to the grade of Assistant General Manager (AGM), I was made in charge of overseas branches overseeing the operations of branches in Male, Chennai and London while assigning the special task of converting the London branch of BOC to a subsidiary bank. Post completion of London Branch subsidiarisation, I was posted as the AGM International and later on as the AGM Corporate Relations until I was posted to London as the Chief Executive Officer/Executive Director of Bank of Ceylon (UK) Ltd. in 2011.

I returned to Sri Lanka in early 2013 and took over the responsibilities of managing Development Banking, Product Management, Credit Card Operations and Electronic Banking Divisions as a Deputy General Manager. During this period, I served as the Project Owner of the Core Banking system upgrade and later headed the Banks' transformation project with consultation of Boston Consulting Group. I am presently responsible for Sales, Channel Management, and Branch Operations. Additionally I am serving on the boards of Merchant Bank of Sri Lanka and MBSL Insurance and as a Governing Board member of Institute of Bankers of Sri Lanka.

Q: What are the main learning points that you have acquired from your overseas experience?

A: I gained overseas experience first as a dealer and later on as the Head of Overseas Branches and finally as the CEO of our subsidiary bank in London. I believe, my first overseas assignment as an Assistant Dealer was a stepping stone for me to do an effective job at a later stage as the Assistant General Manager – Overseas Branches where I had to deal with regulators of various countries. Another aspect is understanding and empathising with staff of an overseas branch and diverse cultures.

The toughest task and the best learning I ever had was when we were converting the London branch of BOC to a separate bank where we had do satisfy the Financial Services Authority (FSA) of UK of our ability to run the bank as a viable entity while demonstrating our competency in complying with their new regulatory measures such as ICAAP, ILAAP, etc. which were introduced as a result of 2008/09 financial crisis including other regulations matters such as Money Laundering, Bribery and Corruption, Good Governance Practices. These measures were later incorporated into the Banking Regulations in Sri Lanka. This exposure helped me immensely later, when I took over the position of CEO of Bank of Ceylon (UK) Ltd.

The most important learning point I made while serving as the CEO of Bank of Ceylon (UK) Ltd. was how we could provide leadership to a business organisation and manage it. In this case a bank which operates in one of the best regulatory environments in the world. Achieving business goals whilst managing all stakeholders including a diverse staff, FSA, non-executive independent directors, parent bank were challenging. Ensuring regulatory compliance alone was a big challenge, as many of the regulations were new to us that time. However, we had the opportunity to learn the art of mastering use of available resources to achieve business goals while complying with regulations requirements. We managed to practice good governance to the satisfaction and the comfort of the independent non-executive Directors, who were British nationals. During this period, we implemented a new Core Banking System which was a tough task due to limited Human Resources but we managed to cross over the line successfully by implementing it.

Q: Can you tell us about your affiliation with APB over the years?

A: Our seniors and mentors at Bank of Ceylon played a key role in upbringing the APB over the years hence we had the opportunity to associate with many of the activities organised by APB in early days of our career, especially the events took place at BOC Auditorium. I remember, I used to attend most of the evening lectures organised by APB those days. I actively got involved with APB in the year 2010/11 being elected as a council member. Then I had a break for two years as I was posted overseas and joined the council again in 2013. I served in the council as the Secretary General in the 'Silver Jubilee' year and later two terms as a Vice President, the Senior Vice President before I was elected as the President in 2017/18.

Q: What activities and contributions have you envisioned as the President of the APB, to be delivered to the membership during your tenure?

A: Association of Professional Bankers is the premier body professional bankers in Sri Lanka and has been in existence since 1988 sharing knowledge and providing networking opportunities to the banking community. APB advocates high standard of professionalism, ethics and governance with integrity as declared in its mission statement.

During the tenure under my presidency, we are planning to organise an array of activities fulfilling the core objectives of APB. The activities planned are evening lectures, e-journals, publishing articles useful to the general public and event details and news of APB in the Daily FT, Annual Convention on a theme important to bankers followed by a full day of technical sessions, members get together, felicitations of senior bankers and some social events. Some of the evening lectures would be held in outstations giving the opportunity for young bankers serving in those areas to listen to industry experts.

Similar to past years we will be appointing 'Bank Coordinators' previously known as Bank Representatives from all banks to work with the council in all APB activities giving the opportunity for them to taste the flavour of 'Work Ethics and DNA' of the APB council. This process enables us to identify young bankers for future councils and to get all banks involved in APB activities.

Members in the council are working very closely supporting each other in discharging their responsibilities though they represent different banks and compete in business in the market. I would like to see that sprit is being continued by the membership and keeping the members working together as a 'Great Performing Unit' in fulfilling APB objectives.

Q: Tell us a bit about your family and especially how you maintain work-life balance?

A: I have a lovely family with four members. We lead a simple life without making things complicated that gives us the biggest relief in our lives. My wife is a teacher. She is a great strength to me in maintaining my work-life balance, meaning she has sacrificed a lot in her career and carries a bigger share of responsibilities at the home front relieving me to a greater extent to engage in my professional activities. We have two children, a son and a daughter. Both are grown up. Son is employed and the daughter is in the university.

Q: What is the message that you would like to leave for the young and upcoming bankers?

A: Banking is a dynamic and vibrant profession though general public may perceive otherwise. Nevertheless, it's a much sought after profession. Many youngsters want to pursue a career in banking due to perks on offer, stable employment and the recognition, but the banking profession is much more worthy than those. Banking is the driving force behind an economy and it immensely contributes to a society uplifting wellbeing of people. Thus it is a noble profession everybody should aspire to pursue on. However, the challenge for young bankers is to progress in their careers to managerial levels early enabling them to serve to a wider society and progress from there on.

At the early stage of the career, one needs to acquire banking knowledge and develop operational skills. Some tend to prioritise one path over the other; either acquiring qualifications aiming for promotions or working without pursuing studies at all. Neither is good. You need to progress with a balance approach; studying banking and applying the knowledge so acquires at the workplace in whatever the way it is possible. Job rotations within the work place and assignments to different stations are excellent opportunities to improve your overall competencies. You should never turn back to those opportunities which may come occasionally. Working at different places with different managers and colleagues help you to improve your soft skills, which are very important in a service industry like banking.

If you stay focused and develop your competencies as mentioned above and progress along with the evolving industry comprehending such developments, a great career lies before you. However, you need to keep in mind that you have a greater fiduciary responsibility especially as you are working in the financial industry managing and making decisions on public funds. Therefore you need to discharge your duties upholding values and principles respected by everybody in a just and fair society with high level of integrity and honesty. I believe that is the road to success in a career of banking and I would like to see all young bankers follow that route.