From left: Women's Bureau of Sri Lanka Director Champa Upasena, Uber Eats Sri Lanka Lead Bhavna Dadlani, Uber Eats APAC Communication Lead Jen Yap and Pivs Kodikara from Uber Eats Sri Lanka
---
Scales up Diviyata Diriya initiative for women and members of other marginalised

communities
To mark International Women's Day, Uber Eats today pledged to scale up the number of Sri Lankan women entrepreneurs on its platform from 100 to over 1,000, by the end of 2020 as part of its Diviyata Diriya initiative, which enables equal access to flexible economic opportunities for women and other marginalised communities.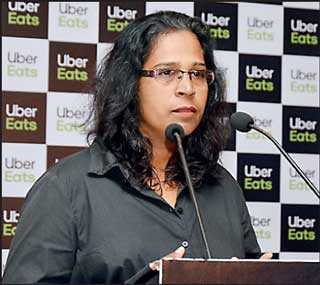 Uber Eats Courier Partner Dilhani Sooriyage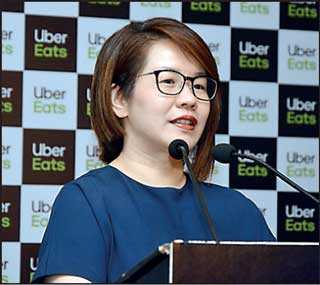 Uber Eats APAC Communication

Lead Jen Yap


Since the launch of Diviyata Diriya in October 2018, Uber Eats has leveraged the power of the platform to secure greater financial independence for more than 100 women couriers partners. Uber Eats is committed to the idea and ethos of inclusive growth and to provide women from all walks of life a chance to be financially independent through benefits like free insurance, a designated hotline, sanitation solutions, geo-blocking unsafe areas and martial arts for self-defence.

"This is an opportune week to celebrate these women and their outstanding achievements. Initiated in 2018 with two ambitious women, Diviyata Diriya now has over 100 women taking their first step towards greater economic inclusion," said Uber Eats Sri Lanka Lead Bhavna Dadlani. "Listening to these women and understanding their difficulties has informed us of the benefits they need. From martial arts lessons to sanitation facilities on the road, we are constantly innovating on how to improve their well-being, on and off the platform," she added. In line with the United Nations Sustainable Development Goal of creating gender equality, Diviyata Diriya aims to provide women with flexible economic opportunities that uplifts their lives and that of the wider community.

Since its inception in October 2018, Uber Eats has grown across the country, delivering unparalleled service and customer satisfaction. Striving in a predominantly call-based food delivery market, Uber Eats has succeeded in dominating the market and making Sri Lanka one of its fastest-growing markets.