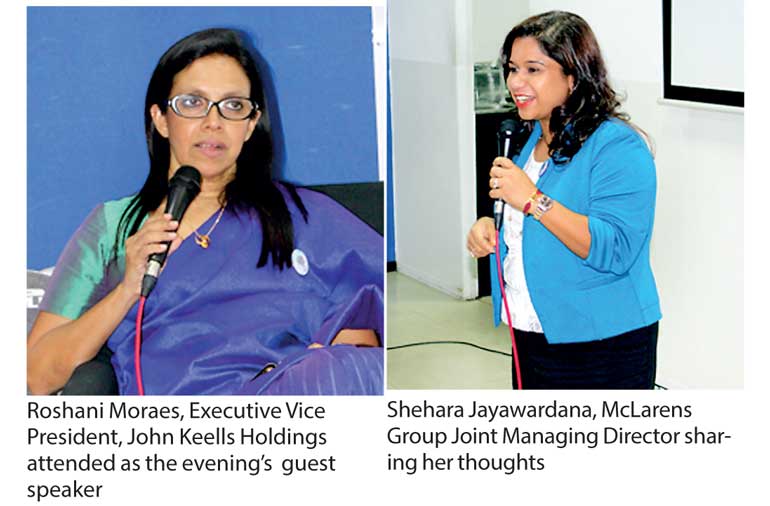 Everywhere, every day and every hour, progress in relation to gender disparity is made by women, for women. Women who know that they are no different and who believe in their ability irrespective of their gender, deserve to be celebrated and act as an inspiration to all the other women around the world.

The McLarens Group, one of the country's leading diversified conglomerates, joined in the global celebration of the International Women's Day on 8 March by bringing together all the women across the Group for an inspirational and fun filled evening. John Keells Holdings Executive Vice President Roshani Moraes attended the event as the evening's guest speaker and enlightened the women on her professional life, despite the cutthroat competitive world. "You're going to fail, how you climb back up shows how strong you are. We need to understand that each one of us has a unique style and personality, so being yourself is the one thing you can do to stand out," she added. The evening was filled with energy and enthusiasm from all the women who actively participated in games, the sing-a-long session and the raffle draw.

Shehara Jayawardana, Group Joint Managing Director, Founding President of WISTA Sri Lanka, Treasurer of the Ceylon Association of Shipping Agents (CASA) and a passionate and talented race car driver is one of the most influential women in the shipping industry. Her ambitions and her determination stand as a pillar of inspiration for men and women across the Group.

"Stressing on the importance of competence in the relative areas of work in order to have confidence in everything you do is vital. Building women up by pushing them to be ambitious, fearless and relentless gives them the confidence to rise up," said Jayawardana.

The McLarens Group accepts, acknowledges and encourages unity by appreciating the vast differences that make us who we are. Pushing women to believe in themselves, to build confidence through their competencies and to be proud of their imperfections helps them remove self-doubt and be self-aware. The diverse talents that make a woman spread across a wide and colourful spectrum that women are generally unaware of. Fighting fear and insecurity, and confidence in communication can help us see this spectrum much more clearly.