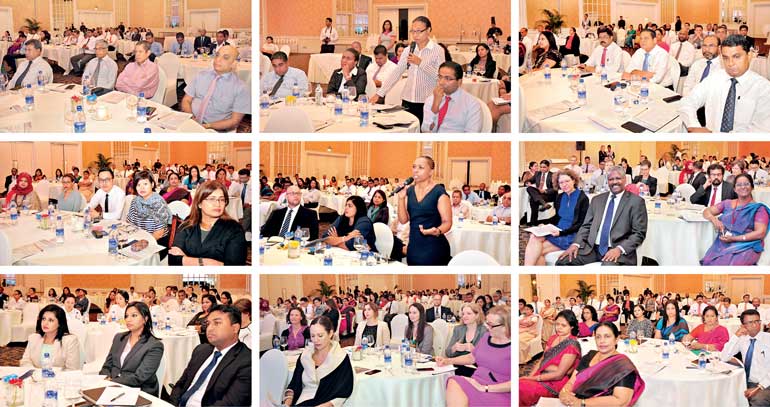 By Shannon Jayawardena

The IFC-Central Bank Policy Forum themed 'Exploring the Women's Market in Sri Lanka and Beyond' recently discussed and unveiled the many opportunities available for women in the business sector while highlighting the importance of female participation for financial inclusion.

The forum invited several regulators and financial institutions from across the world to explore strategies that have moved the needle on women's economic empowerment globally. Likewise these officials shared their insights on the challenges and solutions on women's financial inclusions, how to reach the 'missing middle' and the value of female participation in the economy.
Fostering the financial inclusion of all women
Keynote Speaker, Central Bank of Sri Lanka Deputy Governor K.D. Ranasinghe said: "The female labour force contributes greatly towards our economy but is not at its fullest potential. Our main focus is fostering the financial inclusion of all women. Many women currently lack access to basic financial services. Finance is the most powerful tool that promotes link among economic agents."

He stated that financial inclusion is the process of nurturing habits of using financial services available from the formal financial sector institutions. However among countries such as Sri Lanka, the financial inclusion of women is relatively low. At present financial inclusion is considered as a key link between economic opportunity and economic outcome which leads to improving all living standards.

Speaking on women's financial inclusion and the Sri Lankan Policy Framework, Central Bank Additional Director Dr. Roshan Perera said: "According to the labour force survey conducted by the Department of Census and Statistics 54.3% of the working population above the age of 15 are women, however only 35.5% of these women are engaged in the labour force. That's a very small percentage compared to men. Therefore the unemployment rate is relatively low as well."

She noted that the main reason for the lack of women participation in the labour force was 77.3% being heavily engaged in family work but only 23% households are headed by females. Likewise in banks 12.6% of board directors are women while only 18.5% of the key management staff are women. Thereby, Dr. Perera emphasised on the fact that women participation in all sectors was extremely low.
Financial access for women and lessons from the region
A panel discussion moderated by IFC Sri Lanka and Maldives Country Manager Amena Arif invited Dr. Perera, Bangladesh Bank Executive Director Abdur Rahim, GBA Chief Executive Inez Murray and Prime Minister's Office Economist Dr. Nandaka H. Molagoda to share their perspectives on financial access for women and the lessons to be learned from the region.

Rahim, emphasising on what the regulators can do to promote finance for women, said: "GDP in Bangladesh has a growth rate of 7.1% and is the number one country in the South Asia region. The Bangladesh bank undertakes policy initiatives that promote the SME sectors while prioritising access to finance to women."

He also highlighted the fact that women's empowerment is no longer an aspiration but is a mere possibility. In Bangladesh access to finance for women and reducing gender inequality are highly prioritised.

"It is important to learn about policies, to support women to be fully economically empowered and to share and learn about the commercialised strategies to target the women's market. We know that the way to succeed is to have access to financial education and recognition and to make women know of these things," noted Murray.

Many of the GBA members are deeply involved in Government regulations and work towards financial inclusion and support women as a voice of the private sector. Partnership and collaboration are crucial when it comes to changing the lives of women by empowering them to do more, she stressed.
National Women's Policy
Molagoda stated: "We are currently working on something called the National Women's Policy, which is all about the framework that includes financial inclusion of women. We hope this will be implemented and brought forward in mid-August this year. An issue when it comes to women getting to a workplace is the culture. Women in Asia are looked upon as caretakers so we want to support all women to be whoever they want to be."

He said that the Government was working towards building day-care centres so that mothers know that their children are in a safe environment when they go to work, training women for vocational centres and so forth in Kurunegala, Gampaha, Galle, Kandy, Matara, Hambantota and many more. They are also looking at initiatives on safety for women in public transportation.
Financial inclusion of women in organisations
The forum also invited SANASA Development Bank Chairperson M.S. Kiriwandeniya, European Union Delegation in Sri Lanka International Development Manager Fabrizio Senesi, Australian High Commission ‎Head of Development Cooperation Victoria Coakley and HNB Grameen Finance Director Hasitha Wijesundara to share their perspectives and viewpoints on financial inclusion of women within their organisations.

"At SANASA Development Bank, the journey of women's empowerment began before the bank. The bank began in 1978 when 60% of the population was considered to be poor and dependent on State subsidies. SANASA began with an education process initiated to encourage people to organise themselves around villages to transform the conditions that they live in by working together," noted Kiriwandeniya.

She went on to say that SANASA Development Bank had introduced leadership programs and gold loan schemes in order to get women engaged in the finance sector. "Assistance should not be for charity but for change and development should be focused on what people have and not on what they do not have."
Gender equality
Senesi said: "The private sector is a very important engine for the economic growth and any other growth of the country. Gender has been a high priority at the European Union and we are focused at ensuring proper addressing of gender inequality."

He stressed on the fact that most of the union's projects here in Sri Lanka were focused on gender sensitive topics and issues.

Coakley stated: "We are working towards providing direct support to women in the market and helping them rise up amidst the many barriers that they have to face. We are trying to achieve 80% of women participation in the workforce having gender programs as a key component in Australia. Australia is committed towards women leadership, economic empowerment and towards addressing violence against women and girls."

She believes that if you empower a woman, you empower her family, her community and ultimately her nation. Gender equality across the world is very important when it comes to the success of a country's economy and values as a whole. "Empower the women more than financial inclusion. Skills development, access to finance, technology transfer, capacity building, vocational training and creating quality social norms are all crucial components when it comes to empowering all women," said Wijesundara.

Pix by Lasantha Kumara