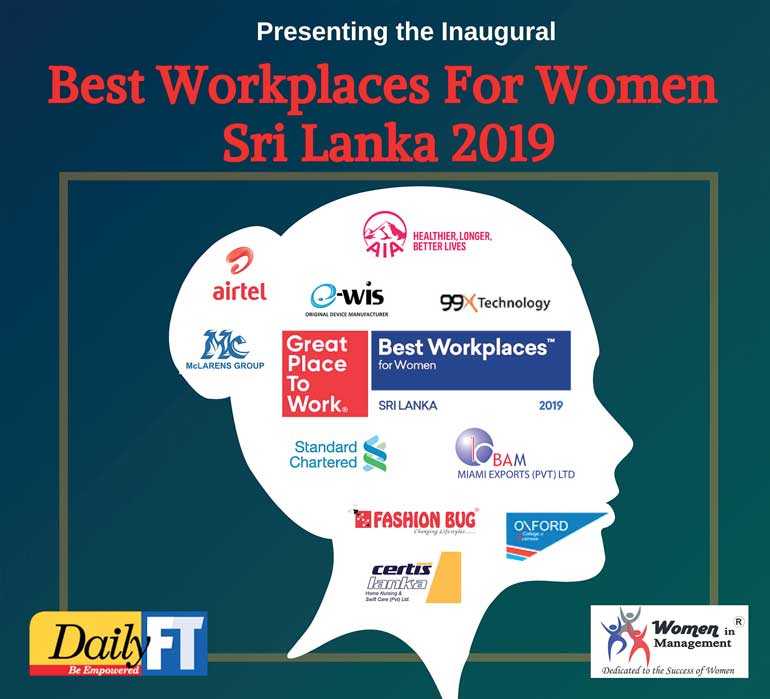 Gender equality at the workplace is becoming a hygiene factor in most parts of the world – not just because it is the right thing to do, but more so because it is good for business. There is significant evidence to indicate that gender diversity in the working environment contributes to better business returns through higher productivity, boost in economic growth and increased welfare of families (International Labour Organization, 2016).
Women constitute 57% of Sri Lanka's population. Nevertheless, Sri Lanka has the 14th-largest gender gap in labour force participation globally (WEF 2016). Even as the economy expanded, the female labour force participation (FLFP) in Sri Lanka declined from 41% in 2010 to 36% in 2016 Men's participation remained above 75% during the same time period (The World Bank, 2017). According to the Annual Bulletin in December 2018 by the Department of Census & Statistics in Sri Lanka, the FLFP has further declined to 33.6%.

Given the high-level of female education and human capital growth in the country, this has been a surprising outcome. Many researches attribute this lag primarily to the high prevalence of social limitations that render employment difficult for women. Providing the necessary psychosocial support to encourage the participation of women in the workforce and break through the glass ceiling can help mitigate this in the workplace.

With a view to commend efforts made by organisations to creating more conducive environments for women, Great Place to Work Inc has been identifying and recognising "Best Workplaces for Women" since 2015 in the USA. Similarly, recognising the pivotal role women play in the labour force and sheer proportion of women capable of contributing to the Sri Lankan economy, Great Place to Work Sri Lanka conducted the inaugural edition of the Best Workplaces for Women Study 2019.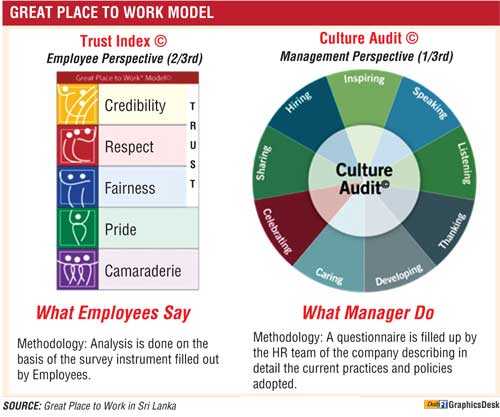 Assessment methodology

The Great Place to Work model used to assess Best Workplaces is based on two lenses; firstly, the Trust Index employee perception survey is conducted to understand the employee workplace experience. Organisations are measured on whether employees trust the people they work for, have pride in work they do and share camaraderie among people they work with. Secondly, the practices and processes in place to drive the employee experience are evaluated through a central submission termed the Culture Audit. Results for each of the listed organisations are audited to maintain accuracy and validity of its inclusion in the Best Workplaces List.

In addition, considering the challenges women face due to their intensive contribution within the nuclear as well as extended family unit, we have given priority to selected areas – SHE ROCKS. This is the same framework carried out in India.
A framework to create great workplaces for women
Supporting through creation of women friendly policies
Hiring for diversity and special programs for returning women
Equal pay and promotions
Rejoice and celebrate successes
Orientation on unconscious bias
Continuously inspire
Knowledge and growth opportunities
Stress-free workplace environment
Source: Great Place to Work in India
Best Workplaces for Women

Great Place to Work Sri Lanka received applications from over 30 organisations across the country. These organisations were assessed to understand how they enable and empower women in their workforce to experience successful careers. The assessment involved studying the employee experience of these organisations and the people practices they have, that help them deliver the desired experience to their women employees.

There was a rigorous validation process based on which 24 organisations qualified for this study, and the Top 10 organisations in the country have been recognised as the "Best Workplaces for Women in Sri Lanka" for this year. These organisations have been published in random order.

Eligibility criteria:
At least 10% of the overall workforce should be represented by women employees
Participating organisations should meet the minimum criteria of being Great Place to Work-Certified Organisation need to have submitted specific initiatives practiced in the organisation that contributes to a conducive environment for women.
Evaluation criteria:
A minimum 70% positive perception of the female employees
The perception of specific survey statements related to engagement and empowerment of women
The overall perception in the women in the organisation vs. men needed to be within the range of 10 %
Score gained for overall practices for the organisation
Score gained for the submission of women specific initiatives.
In order to arrive at the 10 Best Workplaces for Women in Sri Lanka 2019, 60% weightage was given to the experience of women employees and 40% weightage was given to the people practices specific for women employees in the organisation.
What differentiates these organisations from the rest?

The 10 Best Workplaces in Sri Lanka 2019 range from 50 employee organisations to over 3,300+ employees workplaces. The female representation varies from 16% to 85% of their total workforce.
Employee experience

Over the years, we have seen a slightly higher employee perception from women when compared to men. This is reiterated through this study as well – nine out of the 10 recognised workplaces indicate an equal or higher female perception when compared to males. This has led to an average 86.4% of females are positive about the workplace while 83.3% of males of the same organisations are positive about their workplaces. At the same time, it is interesting to note that the gap in perception based on gender is relatively low – limited to three percentage points.

Not gender biased: Over 80% of the female employees in each of the recognised workplaces believe that they are treated fairly regardless of their gender – this indicates an average of 91% for the 10 organisations.

Training and Development: Over 86% of the female workforce believe that there is sufficient training and development offered at these organisations to further themselves. Fair evaluation: 86 % of the female employees think that performance evaluations are conducted fairy at their workplace.

Fair promotions: In these workplaces, promotions are also perceived as fair with an average 79% of employees indicating agreement for the same.

Career progression: 87% of the women at the recognised workplaces feel that there are opportunities for their career growth.
People practices (organisations mentioned in random order)
AIA Insurance Lanka

This MNC has dedicated practices to helping employees lead healthier lives. It has a comprehensive wellness program. Employees have health insurance coverage provided by the company which includes maternity coverage too. Annual health check-ups are given to all employees. Health and fitness programs as well as flexible hours and telecommuting are benefits available to employees. Furthermore, generous policies in allowing time for career breaks, vacation periods, paid leave, job-protected maternity leave are available. They go a step further as even mothers who are adopting children are given 30 working days paid leave in order to bond with the child.
Oxford College Of Business

This company has made it a point to implement a well-structured grievance redressal practice. It recognises that all grievances are important and gives priority and fair hearing to those affected. The first line supervisors are trained in recognising and handling a grievance properly and promptly by using the following techniques; recognising, accepting, problem diagnosis, collecting facts and proof, analysing the facts and figures, arriving at alternative courses of action and implementing decisions. The decision is then reviewed to know whether the grievance has been satisfactorily resolved or not. Furthermore, an unbiased external female consultant accepted by all employees acts as ombudsman to redress female employee grievances.
Miami Exports

As an apparel manufacturer comprised of a predominantly female workforce, it understands the importance of having healthy employees who are fit to work and provide for their families. Pregnant mothers in factories are given an additional break during work to provide time to eat nutritious food and relax. Mandatory nutritional education through a company nurse is provided to ensure that both mother understands how to keep herself and child healthy. Paid time off is provided to ensure a safer delivery. Pregnancy and child birth are considered precious and celebrated by presenting expecting mothers with a box filled with goodies including baby napkins and bathing products.
Certis Lanka Home Nursing & Swiftcare

It is an organisation that focuses developing employees so they can perform their personal best to contribute to company and society. At recruitment, nurse aides undergo training which helps mould individuals to the job role and the organisation. Aside from theory and practical sessions in basic nursing, nurse aides are given an opportunity to learn and develop literacy in English and Tamil languages. The curriculum includes training on attitude and personality development. Since the majority of nurse aides are from remote areas of the island, they are given training sessions on adjusting to the culture of Colombo and how to ensure their safety. Training on personal grooming is provided to help reflect their professionalism.
Standard Chartered Bank Sri Lanka

The bank focuses on retaining female employees through the following initiatives; firstly, introduction of a "Fair Pay Charter" to ensure that there is no pay disparity based on gender to increase motivation levels of all employees – females in particular. Secondly, availability of flexible and home working arrangements. Thirdly, an active Women's Network where staff can share experiences and attend workshops tailored for women. And lastly, subsidised office transport services exclusively for its employees ensuring security and safety whilst travelling – Given the negative experiences for ladies using public transport in Sri Lanka this has a become a popular facility used by the female workforce.
99X Technology

Although working in a male dominated industry, women of 99X have recognition opportunities. Women comprise only around 25% of the total workforce, however 25% of them are currently in Team Lead roles strengthening the project teams with their skills. Out of the five internal Excellence Awards given out for 'Exceeding Customer Expectations', four were awarded to women in 2018. Furthermore, 99X Technology has more women leading various other extra-curricular teams within the company, such as sports teams, staff welfare, university relationships, etc. They actively work towards creating more opportunities for all employees to be 'leaders without titles' and it's encouraging to see women step up and use these prospects.
Fashion Bug

Utilising women's strength for communicating, the organisation has female leaders constantly visit showrooms and stores to understand the business operations and share their valuable insights. They engage in cordial chats with the junior level employees and understand issues faced by them which are addressed and actioned upon at senior management meetings. Female employees feel comfortable talking about their grievances with senior female employees of the organisation. To facilitate this dialogue, they encourage an open office system and the corporate contact numbers of management are available within the locations of the company, enabling any employee to contact them during working hours with their queries.
EWIS Colombo

When EWIS Colombo commenced business five years ago, it catered to providing new employment opportunities for females in the southern districts of Sri Lanka. EWIS was a launching pad for many of them to be associated and be part of Sri Lanka's sole computer manufacturing company. This not only empowered these employees financially, but gave them an opportunity in the field of IT which most of them would not have otherwise has access to. This along with support from the company have paved way for them to face life challenges much more confidently. At present the females represent over 60% of the work force, taking up roles at different levels of the company.
McLarens Holdings

McLarens provides equal opportunity for female candidates even though there is a social stigma that shipping industry is more 'male dominant'. Currently there are several female employees who are serving as Shipping Executives in Shipping/ Marine Departments of GAC Group alone and the management lead by one of the few as well as inspiring females CEOs in the country/industry is supportive and encouraging in raising the numbers higher while ensuring that the right candidate is selected for the given job role.
Bharti Airtel Lanka

This organisation prides itself in explicitly practicing flexibility in the working environment, providing room for work life balance for all employees. Operating in a High-Trust Environment, it does not even monitor attendance. Flexibility is provided for employees to leave office mid-day to pick and drop school children and return to office. There is a work from home arrangement for pregnant employees as well as an agile work arrangement for a female employee residing out of Colombo. Number of days are not stipulated as such but the reporting manager is empowered to approve such leave on request with HR being kept informed. When parents face an emergency, they can make special arrangements to bring kids into work too.
Benefits of a diverse workforce

While the success of diversity initiatives are enjoyed by the economy and our society at large, organisations also highly benefit from creating a diverse and inclusive workplace.
Reduction in attrition: Organisations believe that supporting women through critical life stages has helped them retain talent for critical roles
More women in managerial and leadership positions: Providing women the right type of guidance and growth opportunities helps organisations have more diverse representation in strategy planning and decision making at the top levels
Innovation: Encouraging women to participate in Technology fests and external conferences helps leverage the skills that women possess and give them confidence to contribute richer ideas that make a business impact
Volunteerism: Inspiring women to achieve their full potential motivates them to take up activities outside of their work areas, thereby contributing to the larger context of the organisation
About Great Place to Work Inc

Great Place to Work is a global authority on building, sustaining and recognising high-trust, high-performing workplace cultures. Over the past 30 years, Great Place to Work has helped companies of different sizes produce better business results by focusing on the employee experience at work. Research shows there's a clear and direct relationship between employee engagement and financial performance. Every year, more than 10,000 organisations from over 60 countries, across more than 20 industries partner with Great Place to Work Institute for assessment, benchmarking and planning actions to strengthen their workplace cultures. The Best Workplaces study in Sri Lanka is based on the global model and a rigorous methodology, which has been researched, tested and carried out in similar studies worldwide – including in the Americas, Europe and Australia.

For more information regarding the study findings: Contact Hasini Abeywardena (Project Manager) on [email protected] or call the Great Place to Work in Sri Lanka office on +94 11 454 5594.