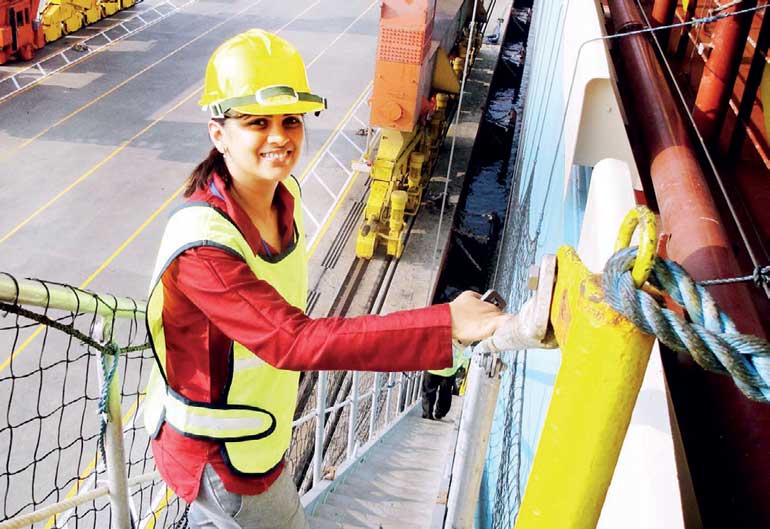 On the invitation of the World Bank, Dhashma Karunaratne, who is responsible for executing the commercial and marketing strategy of South Asia Gateway Terminals, Port of Colombo, is scheduled to speak on 'Women Empowerment' at the 6th SAARC Business Leaders Conclave; an event that brings together the region's economic and business thinkers, doers and change makers on a common platform, in order to take South Asia on the path of shared prosperity through economic integration. Following are excerpts of the interview with her: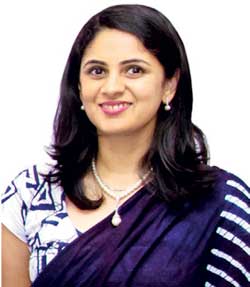 Q: There is a very low women participation when it comes to the logistics and transport sector. How do you think the industry can contribute towards the encouragement of women labour force?
A: In logistics and transport here in Sri Lanka women representation is less than 3%. In a country where 51% of its population is women, this is alarming. There's sufficient evidence that diversity translates to better profits. For the logistics and transport industry to leverage better through diversity, organisations must:
Strive towards effective inclusion and have a compelling strategy towards diversity.

Invest in breaking down conscious and unconscious biases through effective training and performance evaluations

Evaluate corporate policies, norms and practices and asses if these are relevant and test if these cater to the needs of all

HR must build in flexibility to fit work into people's lives and focus on deliverables
Appoint champions to lead from the top to sponsor and mentor; to empower people and create a safe and work conducive environment.
Q: Logistics and transport is perceived to be male-dominant. In your opinion how can female advocacy groups work towards changing the mindset of this social barrier?
A: If we look at the numbers, women representation is a mere 3%. However there's a positive shift. The Chartered Institute of Logistics and Transport is the leading professional body for everyone who works in supply chain, logistics and transport. The female members in our territory, Sri Lanka, was a handful. CILT with the right foresight formed Women in Logistics and Transport with the purpose of becoming the most sought-after for advocacy, professionalism and empowerment of women in supply chain, logistics and transport. Today the membership of women in CILT SL has increased to 19%. We have triggered a shift towards gender balance in logistics and transport. My dynamic Ex-Co and Co-Founder of WiLAT SL Gayani de Alwis are propelling the logistics and transport industry in Sri Lanka. In fact WiLAT SL programs have been adopted by WiLAT chapters across the globe.
Creating awareness is imperative; on one hand we need corporates to understand that diversity is good for business. The research findings are very clear. As per the latest report of McKinsey, companies in the top quartile for gender diversity are 15% more likely to have financial returns above their respective national industry medians. On the other hand we need to create awareness among new entrants to the workforce. Advising them of the opportunities in the logistics and transport industry through creative promotional campaigns such as walks, floater competitions, drama and creative arts, internships have all contributed significantly to this cause.
Q: Research shows that the presence of women raises the standards of ethical behaviour, lowers corruption and results in production and economic growth. What are your comments and has this proven to be true?
A: On one side businesses emphasis is on optimising productivity and maximising potential, however the global economy still underutilises a staggering 48.4% of its available productive potential: women. Mercer found that gender equity worldwide can lead to a 12 trillion dollar increase in global GDP.
For Sri Lanka to achieve the ambitious goal of becoming a regional logistics hub by 2020, we must embrace diversity. Enhancing women representation in the workforce is the game changer, it is indeed a moral imperative, and makes good economic sense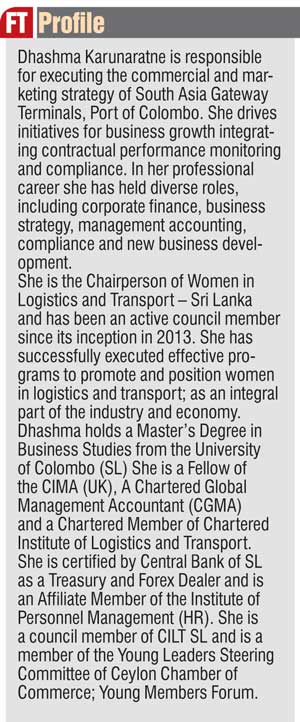 Q: In warehouses, dispatch, packaging, port operation and technical work done has been carried out traditionally by men. However, the changing practices increased requirement of more personnel to carry out soft tasks besides support function like customer care, data entry, and booking which has made the entry of women possible. So what to do you think are the main challenges that women face that keep them from working in the industry?
A: Effective inclusion and diversity strategies require strong, passionate leadership, like any other strategy, this too requires constant monitoring and realignment. Having said that with the ever enhancing; digitisation and automation the world is experiencing a paradigm shift in job roles and personnel specifications. Yes women can penetrate logistics and transport industries by doing soft tasks; however we should not limit ourselves. In a world where crane operator lifts two 40 ton containers remotely from a joystick sitting at a control room few kilometres away from the quay, a store keeper scanning SKUs a few metres above ground level through drones; the possibilities are endless, marvellous developments have eliminated barriers to entry for women in industries in so called traditionally male-dominated jobs.
Q: How can WiLAT enhance the opportunities and mitigate the barriers that women face in the logistics and transport sector?
A: In addition to our mentoring, we launched in partnership with UNWomen an impactful HeForShe program. As per UN Women, men comprise 60% of the employed labour force and 95% of the CEOs of the world's largest corporations are men. The achievement of gender equality requires an inclusive approach that recognises the crucial role of men and boys as partners for women's empowerment, as we believe that men are poised well to amplify women colleague's achievements.
As such, we invited CEOs to lead by example through actions that demonstrably advance and empower women. WiLAT SL obtained the support of 10 CEOs from leading corporates in logistics and transport, namely Aitken Spence, CICT, Expo Lanka, Hayleys, Hemas, JKH, McLarens, SAGT, SLPA and Unilever. By obtaining CEO statements from these entities, assuring and guaranteeing women empowerment in their respective organisations, we are confident of a new dawning.
Globally 1,416 CEOs have signed up as an expression of support for advancing equality between women and men. The next phase of this project is an initiative to recognise their achievements and share their best practices at the WiLAT SL fifth year anniversary.
Q: The imbalance between work, ownership and remuneration faced by women overall is a degrading issue. How can the society adapt in order to create more job opportunities for women that will in fact contribute towards gender equality?
A: This is a challenge and my advice to my mentees has been that in professional life you don't always get what you deserve but what you negotiate. So I encourage them to negotiate at entry level, position themselves differently. Once securing employment every effort must be made to be relevant and augment your own 'Brand I'.
Q: What is your advice to others in the industry?
A: Continuous Professional Development is key. Your degree is only an entry qualification, soft skills are a critical success factor. In my opinion there's a positive co-relation between career success and the level of a person's emotional intelligence.
If I may speak a little about my career journey thus far, I am a Management Accountant by profession, and I have made every effort to broaden my knowledge. It didn't come easy, it's an investment. I wanted to be a doctor, as in my parents' mind this was the best profession a talented girl should aspire to. However I realised their best for me wasn't in-line with my talent and my passion. I chartered on a different journey for my own self. I enrolled for CIMA; my parents and my husband (then boyfriend) funded it, I completed my CIMA and then enrolled to study human resources. Thereafter I got married and shortly enrolled for my Masters at the University of Colombo, when I had my first baby I qualified as a forex dealer, my latest achievement was becoming a chartered member of CILT, this was when I was on maternity leave for my second baby, a few months back. I have always worked towards continuous professional development, not matter the odds. This has enabled me to broaden my horizon.
Q: How is SAGT helping professional women's career advancement and what are its plans to further endorse women involvement in the field?
A: SAGT is currently pursuing a gender diversity strategy. The company is well aware that a diverse organisation will have a sustainable competitive advantage. SAGT has been supporting the ZONTA Woman of Achievement awards, Women in Shipping and Trading Association, Women in Logistics and Transportation.
SAGT nurtures a strong internship program with several opportunities across all functional areas. The company's close engagement with universities and other tertiary-level educational institutions has produced some stellar success stories in regards to mentoring graduates to a career in the maritime, transport and logistics sector. The company takes on interns far more in number than it can integrate into its mainstream workforce. But this is by design to facilitate a greater opportunity for many for a hands-on learning experience and subsequently enabling young emergent talent to shape their futures within the diverse areas of the broader supply-chain and logistics industry.
In 2017 SAGT partnered with UNWomen HeforShe program launched by WiLAT in Sri Lanka, the company signed up to demonstrate leadership on gender equality and pledged to support for advancing equality between women and men to:
Bring the broadest pool of talent to our endeavours;

Further our companies' competitiveness;

Meet our corporate responsibility and sustainability commitments;

Model behaviour within our companies that reflects the society we would like for our employees, fellow citizens and families;

Encourage economic and social conditions that provide opportunities for women and men; and

Foster sustainable development in the countries in which we operate.
SAGT is a corporate member of the High-Level Advocacy Group of IFC's Women in Work program, launched in partnership with the Government of Australia, aimed at providing Sri Lankan businesses with strategies and tools to create more and better private-sector employment and business opportunities for women. SAGT is committed to make a significant change in the female representation in the terminal operation business.
Q: On a personal note, what keeps you busy these days?
A: My children; God has blessed us with a son and a daughter. I observe how differently talented they are, watching them complementing each other is a delight; I like to see the human race, in our communities and our work places be like them, embracing diversity!