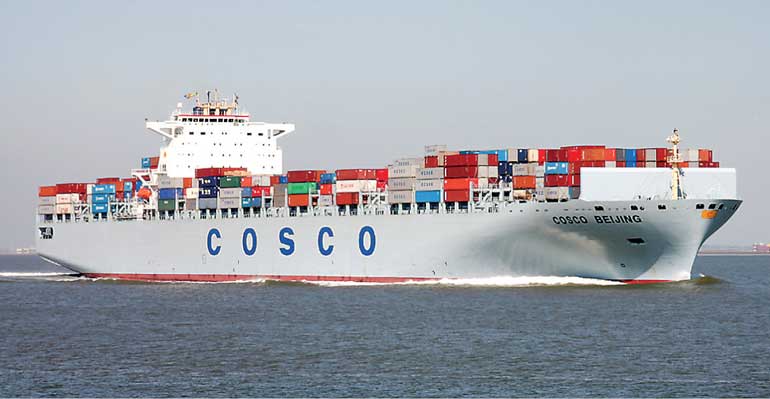 Deal waiting for green light from CFIUS, China regulators
COSCO says keeping close eye on US-China trade tensions
Firm expects further growth in container shipping demand
Shanghai (Reuters): COSCO Shipping's planned acquisition of Orient Overseas Container Line (OOCL) is on track to be completed by the end of June, the company's vice chairman Huang Xiaowen said on Tuesday.

COSCO is still answering questions from the Committee on Foreign Investment in the United States on the deal, and is also awaiting a number of domestic approvals, Huang told a press conference in Shanghai.

He said the deal needed US approval as OOCL had some assets in that country. "Up to now we are quite confident to push forward this acquisition ... it's progressing normally," he said.

COSCO last year offered to buy Orient Overseas International Ltd. (OOIL) in a $ 6.3 billion deal that will see the Chinese shipping giant become the world's third-largest container shipping line. OOCL is the main subsidiary of OOIL.

The company said in July last year that the transaction would be completed by 30 June and the deal had already received approvals from European and United States anti-monopoly regulators.

The proposed deal is the latest in a wave of mergers and acquisitions in global container shipping that has left the top six shipping lines controlling 63 percent of the market and comes at a time when the industry is experiencing recovery after a lengthy downturn.

COSCO said last week it expected further growth in container shipping demand thanks to a continued recovery in global trade, after reporting that it had swung to a net profit of 2.7 billion yuan ($ 429.42 million) for 2017.

Huang said the company was also keeping a close eye on rising trade tensions between China and the United States, trade between which currently contributes to about 15% of its cargo volumes.

Wang Haimin, COSCO's general manager, said there was currently little evidence that the tensions were affecting cargo volumes but noted that the company had reduced its U.S. capacity slightly over the past few years as part of its restructuring.

"We will take appropriate action to protect our company's market as well as the rights and interests of our customers," Huang said.