WISTA Sri Lanka beckoned the New Year by organising a guided port tour for its members and their children. The aim of the port tour was to educate the future generation about port operations and to create awareness about the capabilities of the Port of Colombo (POC).

On 28 January 2017 morning the WISTA double decker bus picked up the eager children and their mothers from Gate 01 and proceeded to the newly constructed break water; this was the first part of the Port Tour. Colombo International Container Terminals Assistant General Manager Commercial and Marketing Catriona Jayasundera outlined to the children the significance of the break water and its purpose. Thereafter the children were introduced to tug boats, dredgers, container vessels and cruise ships. The second session of the port visit consisted, a drive through the container yard, with an introduction to types of containers and a picturesque moment near MSC vessel. The informative video session and the quiz refreshed and enhanced the children's knowledge further.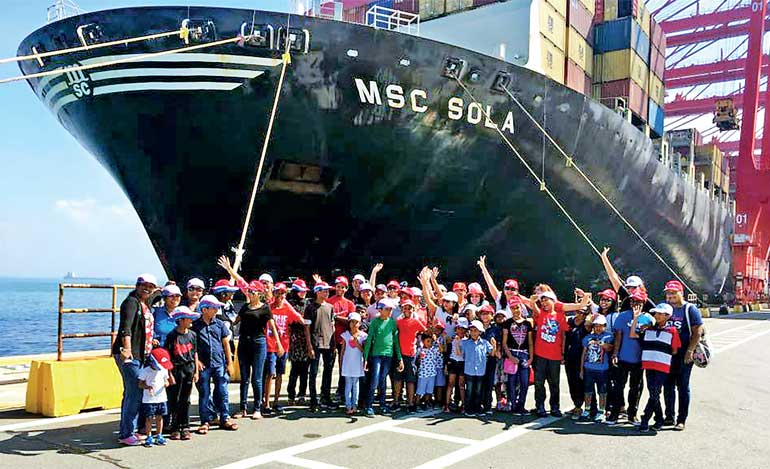 Speaking at the event WISTA Sri Lanka President Shehara Jayawardena shared, "I am proud that today WISTA Sri Lanka invested in the future generation, this is the first step of creating diversity in the Shipping and Logistics industry, which is still a male dominated industry."

"I firmly believe that experiential learning is the most effective method to teach and inspire children. Forming lasting memories keep children engaged and is the channel to route talent to the industry in a challenging maritime landscape the Port of Colombo has yet again shown growth. This year POC grew by 10.6% and is poised to be among the highest ranking ports in terms of growth, this is indeed remarkable," she observed.

A member observed, "The excitement of the children is overwhelming, and the smiles on the mothers' faces is indeed a testament to a very well organised port visit. I am indeed happy to be part of the WISTA Sri Lanka."

The inspired children walked away with a corporate gift bag with the compliments of SAGT; but most of all with a greater knowledge of Sri Lanka's valuable resource, its ports and its significance to the global maritime industry.

WISTA Sri Lanka expresses its gratitude to the Port of Colombo, for the contribution from all three terminals Jaya Container Terminal (JCT) South Asia Gateway Terminals (SAGT) and Colombo International Container Terminal (CICT), the Main Sponsor of the Port Tour.