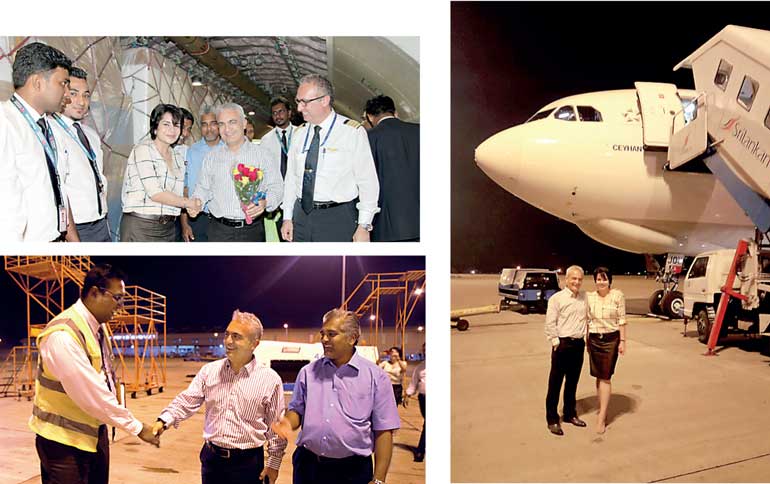 One of the most rapidly growing Airlines of the world, Turkish Cargo points out its place in the cargo sector, and strengthens its relationship with its business partners, and identifies new business opportunities.

Turkish Airlines celebrated the addition of cargo capacity from Colombo, to its global route map with the airline's inaugural Cargo flight which arrived in Colombo Bandaranayke International Airport on 9 November.

This service will be the 58th freighter operating destination of Turkish Airlines Cargo, as it keeps its status as the carrier that flies to more countries and international destinations than any other Airline in the world. Currently Turkish Airline flies to 114 countries covering 281 destinations with its fleet of 344 aircrafts across Europe, Russia, Central Asia, Far East Asia, Middle East, Africa, North and South America.

The inaugural flight from Istanbul was welcomed with the traditional water cannon salute on arrival at Bandaranayke International Airport. The aircraft was received by Turkish Airlines Cargo Regional Director Asia Pacific Region Huseyin Ceyhan, Pership Managing Director Nirmalee Pereira, Turkish Airlines Colombo Cargo Manager Hilshan Rodrigo, Pership Holidays Ltd. GSA staff and media representatives.

With the introduction of this new Freighter service that is operated every Wednesday at 22:20 local time for customer convenience on the route Istanbul/Chennai/Colombo/Istanbul, Turkish Cargo would be able to cater anything from small parcels to Oversized Cargo whether it is general, perishable, live animals, and dangerous goods.