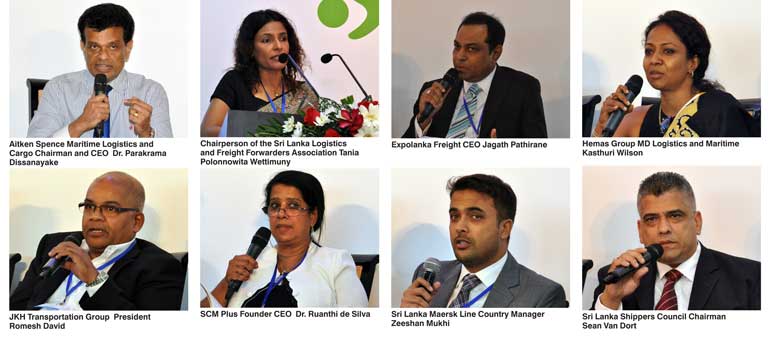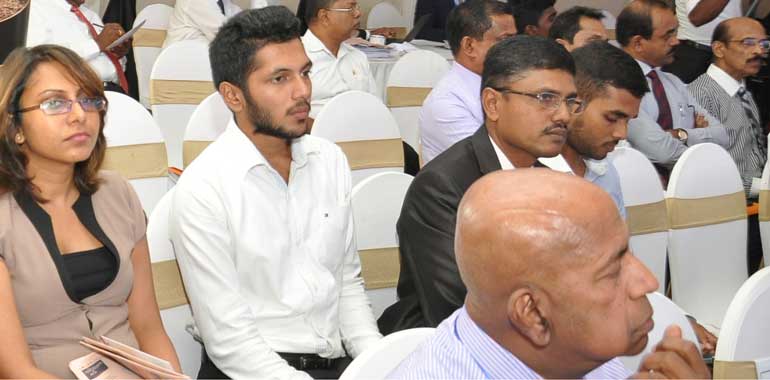 By Himal Kotelawala

If Sri Lanka is to achieve its goal of becoming a global logistics and maritime hub, the Government must introduce trade and transport as a subject at school and university levels and the industry must help remove any stigma associated with working in logistics, a panel of maritime professionals said last week.

In a panel discussion on addressing human resources challenges in the logistics sector at the Sri Lanka Human Capital Summit 2016, industry heavyweights opined that it is up to the Government as well as the industry to bring about policy changes and identify key competencies required to position Sri Lanka as a logistical hub by developing local talent.

Greater professionalism needed

Speaking at the event, Chairperson of the Sri Lanka Logistics and Freight Forwarders Association Tania Polonnowita Wettimuny said that greater professionalism with quality human capital is needed to deliver reliability in the sector.

Sri Lanka's education system gives less priority to logistics at the school and university level, said Wettimuny, adding that at present most companies rely on experienced people to come work for them.

"There is very little research and development in Sri Lanka. Companies too are less focused in training and skills development. Training costs more than it what it should due to lack of trained staff. The Government must encourage logistic and shipping sector education at least after O/L standard, as the country is positioned to be a logistic and shipping hub and maritime centre in Asia," she said.

Wettimuny called on the Government to introduce trade and transport as an optional subject at least from Grade 6 onward in all schools.

"The Higher Education Ministry too must introduce diploma, higher diploma and degree level at all universities and must encourage the subject of transport as a stream for university entrance," she said.

More than a transshipment hub

Opening the panel discussion, Chairman/CEO Aitken Spence Maritime, Logistics & Cargo Dr. Parakrama Dissanayake said that since 1978, Sri Lanka was focused on the words 'transshipment hub' and it is time to move on.

"Forty years down the road, we have not been able to move beyond that. The business model is completely changing. We thrived on the concept of consumption taking place in the US and the EU whilst manufacture was taking place in Asia. This business model is changing altogether. From outsourcing it changed to near-shoring, and from near-shoring it is moving on to re-shoring. If you look at the US elections, it's all about bringing back their jobs. This is a threat to Sri Lanka," said Dissanayake.

India, too, is becoming a threat to Sri Lanka, warned Dissanayake, pointing out that only 30% of Indian volumes get transshipped. Even when it was at 70%, India was never comfortable about their cargo being transshipped, he added.

"Besides that they're developing their own ports. All of this is a threat to logistics in Sri Lanka," said Dissanayake.

He further said that Logistics professionals in Sri Lanka need to come out of their agency mindset.

"We have a small market. Our export volumes are just 250,000 TUs per year. We need to look at markets outside. We need to embrace change. The Prime Minister said we're trying to be a global logistics hub, but look at the reality. There's a tender for the Colombo East terminal. 2.4 million TUs per annum. The top five global port operators are not qualified to bid. A truly global logistic hub, you need to embrace change. You need to bring big brands into the port of Colombo," he said.

Sri Lanka second to none

Expressing a more hopeful point of view, Founder/CEO SCM Plus Dr. Ruanthi De Silva said that Sri Lanka is as well geared intellectually as any other nation to develop in logistics.

"But the problem I see is different. Sri Lanka is very cargo centric. We're not making an effort to move away from that," she said.

If Sri Lanka is serious about realising its lofty goals with respect to becoming a regional hub, the Government needs to consider its options, said Dr. De Silva.

"We have 45,000 ships sailing near us; over 2.2 milliion seafarers from across the world. No more Americans or Europeans, as they have moved on to other professional areas. So where are we going to look for seafarers? Vietnam? Indonesia? Why can't Sri Lanka be a maritime nation like the Philippines? We have a lot of literate, smart people. I think we should focus on this area," she said.

Sri Lanka doesn't need to be a ship owning nation in order to be a maritime hub, she added.

"We can do this without owning a single ship. A maritime hub provides expertise, litigation, arbitration, standards, channelling, etc. We have the most strategic position for the world. We have a ship passing down south every six minutes. Do we tap on that? What can we do with those ships? We can do crew changes, logistics, exchange of spare parts," explained Dr. De Silva.

Education system needs a rethink

CEO Expolanka Freight Jagath Pathirane said that the Sri Lankan education system needs to do more to raise awareness of careers in logistics.

"Most of the attraction in the university system is for the more glamorous positions. Moratuwa University offers a logistics degree. Awareness is an issue. I feel that we should really be looking at a level where we encourage students or popularise it among students," he said.

Logistics is lucrative, not unattractive

Echoing Pathirane's thoughts, Past Chairman of CILT and President Transportation Group JKH Romesh David said that there is a perception that logistics and transport is unattractive, even as an office type of job.

"We have a million women in the middle east and we really have to bring these women back. We need to create opportunities at that level. If you look at a warehouse or distribution, it's almost all male in Sri Lanka. In Thailand or anywhere in Europe or Singapore, it's predominantly women. There is no stigma associated with working in a warehouse. You're not a labouror. You're working with high tech equipment, you need to have computer skills, be able to drive electric vehicles, etc.," said David.

SL needs to know what they need to do

On a rather sobering note, MD Logistics and Maritime Hemas Group Kasthuri Wilson said that Sri Lanka does not have an understanding of what it needs to do in order to become a logistics hub.

"We talk about the need to become a logistics hub. But we don't have an understanding of what it takes, what competencies are required to get there. Even though our corporates are geared, we are playing in the domestic side of logistics," she said.

Opportunities for employment in the domestic consumer market were not growing as fast as was desirable, which has led to a frustrating situation, added Wilson.

"We need to become more than a domestic logistics player. We need to know what the government is doing. The country doesn't know what we need to do to be a hub. We need to identify the competencies, corporates have to get involved, institutes have to get their curriculum up and running for that. The individual applying and their parents have to be educated [on what logistics involves]," she said.

Poverty mentality game

Sri Lanka Shippers Council Chairman Sean Van Dort said that Sri Lanka is in what he called the 'poverty mentality game.'

"Logistics was never seen as a playing pivotal role in maritime and HR forums. Logisticians were in the lowest [rung of the] pecking order, the Government also didn't make policies that ensures that we had proper talent rising up from grassroots level," said Van Dort.

"Even now we don't have a maritime policy in this country. So many was written but nothing has been put forward. The Government must bring this forward from the grassroots level, the school level - international supply chain and commercial and logistics have be birthed from there. It's a very lucrative industry," he said.

The industry is not free of blame, he added.

"Even the companies are at fault for this. They prefer to take a school leaver, pay him Rs. 17,500, get him to work two years, promote him as a junior executive and give him a salary of Rs. 25,000 and work him to the bone. By the time he becomes a senior executive, he's out of the industry," said Van Dort.

Speaking on behalf of the Shippers Council, Van Dort called for a fair wage structure.

"As an association we would like to see a fair wage structure. An executive post is like garlanding a bull. Just to save cost, to save overtime and get the maximum out of them. How many logisticians have you seen? How many have dropped off? For a mere Rs. 5000 they go abroad. Education is lacking," he said.

Be mindful of automation

Calling Sri Lanka a growth market, Country Manager Sri Lanka Maersk Line Zeeshan Mukhi said that his company constantly sees the need to invest in and develop local talent.

"It's a key requirement for us to be able to grow in this market. The skill requirement in the maritime industry is changing. We're going higher in the value chain, in keeping with the automation that's happening. Training is not a one-size-fits-all thing. It needs to be tailored around the requirement of each individual position," he said.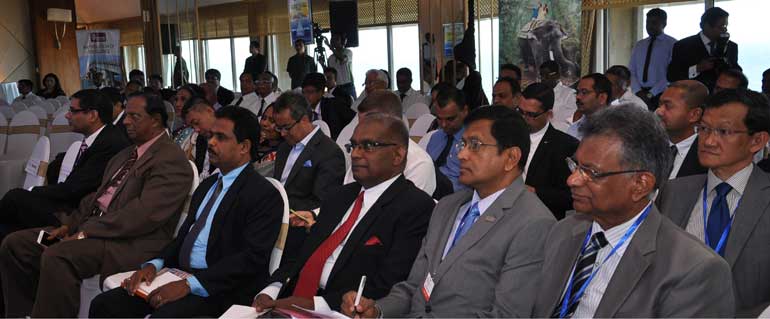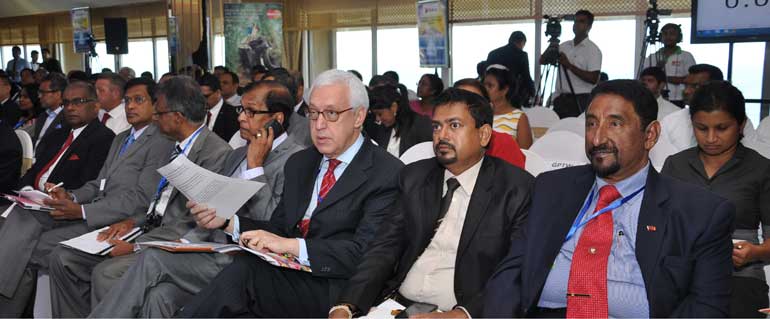 Pix by Lasantha Kumara