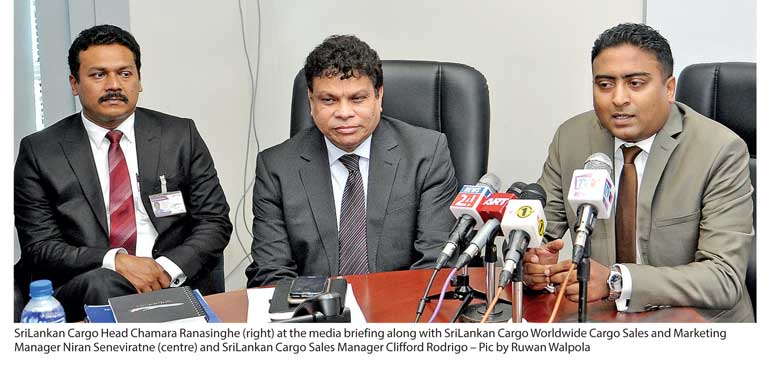 Airport closure digs $ 10 m loss, overcapacity of ME carriers causes 15% dip in yields
Confirms in-house feasibility being rolled out on new initiatives
Considers getting back Europe route via interline partnerships
Eyes on tapping to $ 4 trillion Chinese e-commerce market
Hints on two more cargo flights on a wet-lease
By Charumini de Silva

The price war fuelled by the Middle Eastern airlines has caused SriLankan Cargo profit nosedive in the 2015/2016 financial year with partial closure of Bandaranaike International Airport (BIA) dealing a further blow but the national carrier remains optimistic of the future.

"The heavy increase of capacity by most of the Middle Eastern carriers has developed a situation where capacity is higher than the demand for air freight, which has put a lot of markets under 'price war'. We saw our yields crashing almost 15% in the 2015/16 financial year," SriLankan Cargo Head Chamara Ranasinghe told journalists recently.

He said the contribution from the belly of the aircraft has become a critical factor in terms of the company's total revenue generation as gone are the days where the firm enjoys high air fares or high business class passenger factors.

"Cargo has been contributing around 11% of the total revenue of the company, where as the company would like to be in the range of 15%-20%. Unfortunately, due to various changes in the schedule especially with Europe going off since last winter, we have had a dip in our revenue," he added.

It was also pointed out that the partly closure of Bandaranaike International Airport (BIA) from 6 January to 5 April 2017 had cost them around $ 8 to $ 10 million as a result of not being able to connect its main markets.

In that backdrop, the firm is now rolling out a few initiatives on uplifting performance, improving facilities and expanding its current markets. He said that they were considering getting back to Europe, maybe not to the extent of what they had, but at least through Interline Partnerships.

"At present we are conducting an in-house feasibility study which could link Sri Lanka and Europe. Maybe we will have an intermediate market like the Middle East, just to keep the route's profitability," he noted.

Furthermore the firm is planning on setting up a new facility to uplift their capacities and quality of service provided to the export community especially for those engaged in the perishable exports.

While admitting that the new facility is something that SriLankan Cargo needs fast — at least by mid next year, Ranasinghe refrained by providing further details on investment and capacity stating that the project is still in preliminary stage.

The firm still believes that Sri Lanka could be a great cargo hub connecting China and Europe.

"The biggest emerging market out of China is the e-commerce business, worth $ 4 trillion, which is predicted to be grown in multiple percentages. However, we are not carrying this segment to our liking at the moment, as we do not have sufficient capacity. This business is mainly into Middle East and Europe from China. It is a market we want to have a share of, because that is where the money is," he added.

Capitalising on these factors, the firm was considering in getting two cargo freights on wet lease basis in future.

SriLankan Cargo Manager – Worldwide Cargo Sales Niran Seneviratne said the firm is obliged to support the growth of the national economy.

"SriLankan is the preferred cargo carrier for top notch companies such as Nike, Addidas, Microsoft, IBM, Dell and Nokia. Our service standards at all levels has been raised and is equal to top air freighters in the world," he added.

When asked about the airline's strategy in moving to narrow body aircrafts would have an impact on the company, Seneviratne insisted that they would like to induce the capacity in order to retain their market share. Despite the complaints that SriLankan Cargo is relatively expensive than other air freighters especially with regard to perishable cargo to Maldives he said the rates were based on demand and supply.

"We have maintained our rates at the same level for around two and a half years. It is always based on the supply and demand. Our cargo flights to Male are flown in full capacity throughout the year," he said adding that local exporters should also be patriot and try to send goods through the national carrier.

At present SriLankan Cargo handles 26 online carriers that operate through Bandaranaike International Airport, including imports, exports and transshipments. Last year the firm handled over 230,000 MTs of cargo.