New development to boost annual capacity to 50 m TEUs
​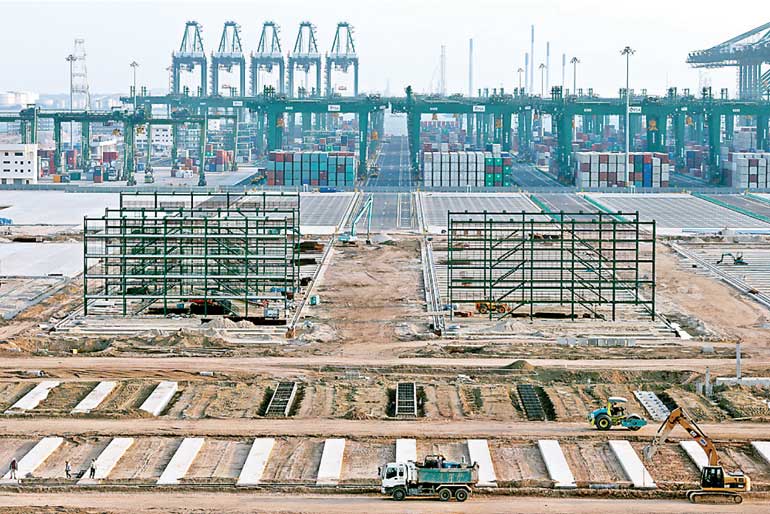 A general view of the construction site of new berths at the Pasir Panjang Terminal Phases 3 and 4 in Singapore
Prime Minister of Singapore Lee Hsien Loong last week officially opened PSA Singapore Terminals' (PSA) latest Pasir Panjang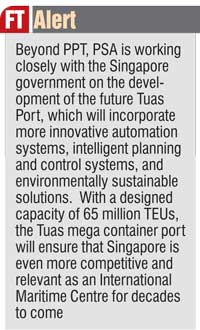 Terminal (PPT) Phases 3 and 4 development.

The S$3.5 billion (US$ 2.6 billion) project, with almost 6,000 metres of quay length and up to 18 metres draft, is specifically designed to serve the next generation of mega container ships that PSA's customers are deploying.

When the expansion is fully operational by the end of 2017, Singapore would be able to handle a total of 50 million Twenty-foot Equivalent Units (TEU) of containers annually.

PPT Phases 3 and 4 feature class-leading infrastructure and the latest port innovations, such as a zero-emission, fully-automated electric yard crane system. Such technologies will help to raise port productivity, enhance PSA's ability to manage greater business complexity and create higher skill-based career opportunities.

At the opening ceremony PSA also took the opportunity to pay tribute to its people, including pioneer employees who had worked on the first container ship to call at Singapore exactly 43 years ago.

Fock Siew Wah, Group Chairman, PSA International said, "It is significant that opening falls on the same day and month as the arrival of the first container vessel, the M.V. Nihon, in Singapore back in 1972."

" We are proud to be always alongside Singapore, playing a leading role in an industry which underpins our nation's economic success. I would like to thank the government, our customers and business partners for their unstinting support over the years. Our dedicated and closely-knit team of management, unions and staff, have been instrumental in making PSA what it is today. Now and into the future, we will continue to count on the trust and support of these vital partnerships, as we write the next chapters of the PSA Story together."

Beyond PPT, PSA is working closely with the Singapore government on the development of the future Tuas Port, which will incorporate more innovative automation systems, intelligent planning and control systems, and environmentally sustainable solutions. With a designed capacity of 65 million TEUs, the Tuas mega container port will ensure that Singapore is even more competitive and relevant as an International Maritime Centre for decades to come.

PSA operates the world's largest container transhipment hub in Singapore. It links shippers to an excellent network of major shipping lines with connections to 600 ports globally. Shippers have access to daily sailings to every major port in the world at this mega hub. PSA Singapore Terminals handled 33.55 million TEUs of containers in 2014.