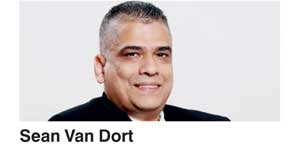 The National Chamber of Exporters (NCE) in a statement said it was honoured by the appointment of Sean Van Dort, who is a Council Member of the Chamber, to the Board of Directors of the Global Shippers Forum.

Van Dort who is the Head of Commercial and Logistics at MAS Holdings, makes a valuable contribution to the activities of the Chamber both in his capacity as the representative of MAS Active Trading Ltd., which is a member company of the Chamber, as well as in his capacity as the Chairman of the Sri Lankan Shipper's Council, to which position he was appointed in 2014.

Since the Global Shipper's Forum is focused on the impact of commercial developments in the international freight transportation industry and policy decisions of governments, and international organisations, that affects shippers and receivers of freight, the Chamber is of the view that Van Dort with his global experience and vast knowledge will be an asset in future discussions and negotiations related to the interest of Sri Lankan Shippers.

In his own words he has stated that he looks forward to working together with Shippers Associations across the world to achieve low surcharges, higher quality, and more open competition, in international trade transport.

The Chamber therefore is of the view that his appointment will be a tremendous boost for the activities of the Chamber as well, since he will be able to impart knowledge regarding the latest developments at the deliberations of the Council of the Chamber, to enable dissemination of such information among member exporters, as well as represent broader issues of member exporters of the Chamber more effectively for their resolution.