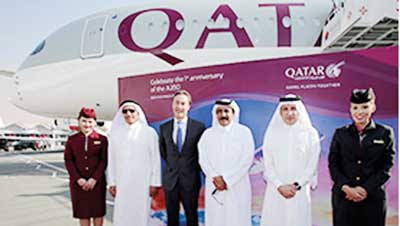 Qatar Airways celebrated its one year anniversary of A350 operations by hosting royal guests, media and trade partners at its dedicated chalet on the first day of Bahrain International Airshow, the first aviation show of the year.

Qatar Airways' A350 was the first A350 to enter commercial service in January 2015, and now flies to four destinations – Frankfurt, Munich, Philadelphia and Singapore – across three continents; Asia, Europe and North America.

Held under the patronage of King Hamad bin Isa Al Khalifa King of the Kingdom of Bahrain, the Bahrain International Airshow (BIAS) 2016 was opened by Shaikh Abdulla bin Hamad Al Khalifa, Personal Representative of the King and Chairman of the Supreme Organising Committee of BIAS and is taking place at the Sakhir Airbase in Bahrain. A number of VIP delegates visited Qatar Airways' chalet on the opening day and were given an exclusive tour of the airline's A350, A380 and G650ER by Al Baker.

Al Baker said: "Qatar Airways is excited to participate in the region's first air show of the year, and Bahrain has already delivered beyond our expectations. We chose this event to celebrate the one year anniversary of our A350 operations, and the public and industry are welcome to tour the very latest in aircraft technology, and we look forward to celebrating this milestone with them."

Offering the latest in design and technology, and combined with Qatar Airways' award-winning service, the A350 has taken the passenger experience to the highest level. Qatar Airways operates the largest number of A350s in the world with seven of this aircraft type in its young fleet. During its one year of operations the Qatar Airways A350 flies to Frankfurt, Munich, Singapore and Philadelphia. Upcoming A350 routes include Adelaide in Australia and Boston in Eastern USA.

Qatar Airways' modern fleet of 175 aircraft, comprising of the A380 and A350, and along with the 787 Dreamliner, is among the youngest and most efficient fleets in the world, meeting long-haul passenger demand on the airline's rapidly expanding network.