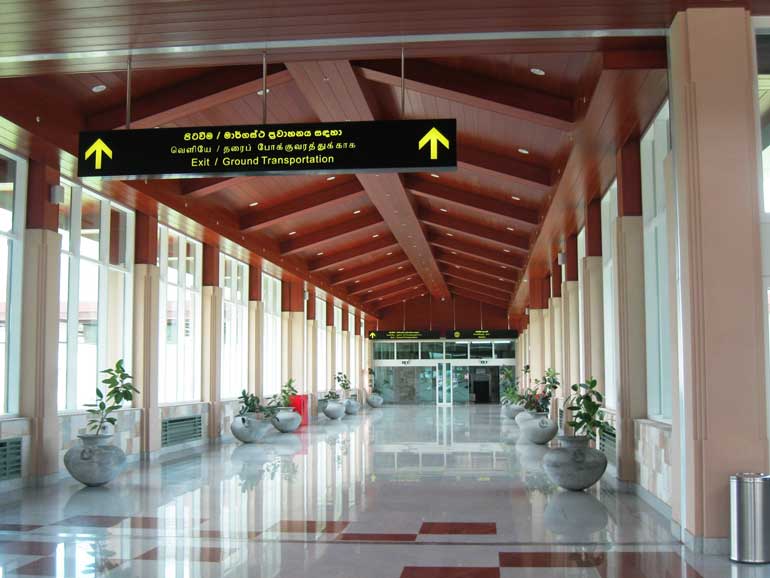 Another busy day at Mattala Rajapaksa International Airport – Anuradha Dullewe Wijeyeratne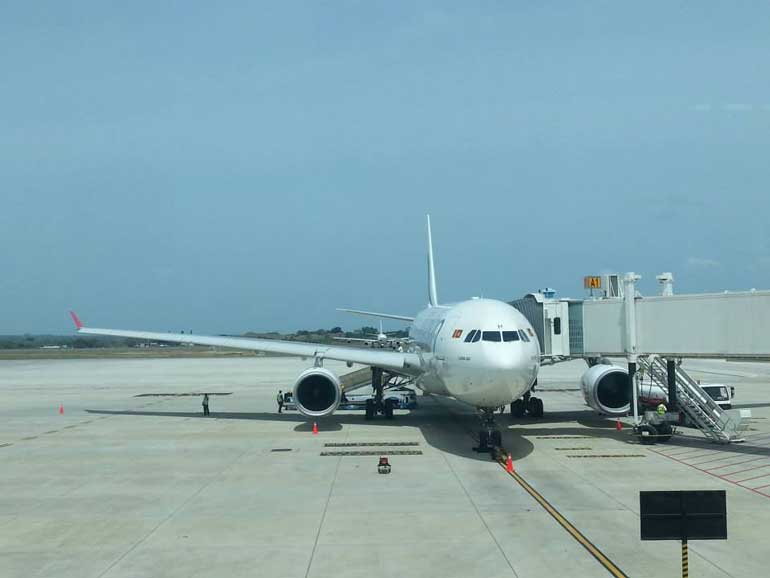 An Airbus A330-200 on the runway, back when they still showed up once in a while – Sakith GW/Wikimedia Commons
By James Cooray Smith

http://www.citymetric.com: If a plane flies into an empty airport, does it make a sound?

On paper Sri Lanka has two international airports. One, Bandaranaike, is long-established, and sits conveniently about 20 miles outside the capital city of Colombo. According to the Civil Aviation Authority of Sri Lanka, it saw over 55,000 air craft movements in 2014, with those planes shipping nearly 200,000 tonnes of air freight and the best part of 8 m passengers.

This makes it rather busy for a single runway airport. So, around a decade ago, the Government of President Mahinda Rajapaksa (2005-15) authorised the building of a second international airport to relieve the pressure on Bandaranaike.

Ballyhooed as a greenfield project, and an opportunity to demonstrate the expertise of home grown Sri Lankan engineers, the second airport was built to strict international standards, under advice from the International Civil Aviation Organisation. It cost $ 200 million to build and is currently costing the Government 2.5 billion Sri Lankan rupees a year in debt payments to its Chinese creditors. It's compatible with the world's largest passenger aircraft and has a projected capacity of 5 million travellers a year.

There's only one problem: almost literally nobody is using it.

Located near the proposed Hambantota Sport City, earmarked as the site for Sri Lanka's bid for the 2018 Commonwealth Games, the project was seen as a catalyst for the economic regeneration of a poor agricultural area, principally known to Sri Lankans as the birthplace of the warrior King Dutugemunu (161BC-137BC), a sort of Sinhalese Henry V.

The existing Bandaranaike Airport was named in honour of the political dynasty of same name. S.W.R.D. Bandaranaike, founder of the Sri Lanka Freedom Party and Prime Minister from 1956-59, died in office, assassinated by a Buddhist monk. A year later, his widow followed him into that office winning election by a landslide and in the process becoming the world's first female Prime Minister. Their daughter Chandrika would be elected President in 1994; their son Anura has variously been a minister, speaker of the parliament and leader of the opposition.

Perhaps inspired by this tradition, Rajapaksa's Government decided to name the new airport after another influential Sri Lankan political family: his own.

That probably made some sort of sense in the abstract: Hambantota is the President's home district. Earlier plans, vetoed on environmental grounds, had been for the military airport at Weerawila to be converted into an international hub (Weerawila being not merely in Hambantota, but the President's actual birthplace). That airport would have kept a variation on its old name. But with a new location selected, Mattala Rajapaksa International Airport (MRIA) came into being.

Unfortunately, the 2018 Commonwealth Games were awarded to the Australian Gold Coast instead. And while the airport was completed, much of it impressively ahead of schedule, estimations of its attraction to international visitors proved wildly optimistic.

Planned rail updates were delayed, and then never happened. MRIA is, as the crow flies, closer to a lot of Sri Lanka's tourist spots than Bandaranaike – but the lack of transport links makes it an improbable destination for international holidaymakers.

The airport opened in March 2013, a grand occasion in which the President himself was a passenger on the official flight into the airport that bore his family name. Less than two months later, Air Arabia, one of the few international operators to sign up for the airport in advance, quit flying into it.

In 2014 the airport saw 69 tons of freight, and just under 21,000 passengers, which between them needed less than 3,000 planes. These figures suggest it wasn't relieving the pressure on Bandaranaike at all.

Its figures have likely dropped further in the year or so since. Shortly after President Rajapaksa lost his bid for re-election in January 2015 (losing narrowly to the former communist Maithripala Sirisena), the national flag carrier SriLankan Airlines abandoned Rajapaksa International.

At present, Fly Dubai puts a single plane into MRIA every day – but that service also stops at Bandaranaike, whichever direction it's going in. Rotana, the Abu Dhabi airline, also puts an aircraft into the airport once a week. It too stops at Colombo on the way there. And back.

This is shame. Anecdotally, people seem to agree that Rajapaksa is, in many ways, a superb airport; well designed, attractive and user friendly. It just happens to be somewhere virtually no one wants to go, or needs to be while on their way to anywhere else.


The white elephants on the runway

It's not difficult to get the chattering classes to talk about MRIA. Everyone has a (probably apocryphal) story or a joke, even the former President's natural supporters. There are endless anecdotes about friends who sat in planes on MRIA's tarmac for hours as their flight made a box-ticking stopover, during which no one boarded or disembarked (those are almost certainly true); others tell of abandoned planes falling to pieces in the dark (those are probably untrue).

Other hangers, some say, are rented out on the cheap as large stores for agricultural material (quite possibly true). And the place itself is shortly to be closed down or knocked down or turned into a flying school (no idea). The dangers posed to the airport's small air traffic by migrating birds are discussed (there have been notable bird strikes there). And there are anecdotes about elephants wandering, at the most inopportune moments, across the airport's runway, because it was inadvertently constructed across a path used by generations of very traditionally-minded pachyderms (pass).

Some people are willing to give the former president the benefit of the doubt, seeing the airport as an attempt to give something back to the poor area where he was raised, an honest endeavour derailed by circumstance, or an attempt to have a concrete legacy unconnected to the country's long and terrible civil war. Others don't hesitate to call it a vanity project, misconceived from the start and consistently mal-administered to boot.

MRIA has a long way to go before it becomes as celebrated a white elephant as Kiri Muhuda, a nineteenth century inland lake. The creation of that, involving as it did extortionate cost and huge loss of life, led more or less directly to the deposition of King Sri Wickrama Rajasinghe and the local aristocracy offering the sovereignty of Kandy province to the British, on the grounds that absolutely anyone else at all would probably be nicer. 200 years on, Kiri Muhuda is a beloved symbol of Kandy and a tourist attraction – despite the probability that the remains of hundreds of that king's enemies reside on the lake bed, thanks to his habit of having them impaled on spikes in the basin during its construction.

There may be some future for Rajapaksa Airport. Cinnamon Air is reportedly to start using it as a maintenance hub for domestic stopping flights between Hambantota and the capital. Such domestic uses, though, will not be enough to secure the long term prosperity of a large scale international airport.

Somewhere in the Government of Sri Lanka, as I am certainly not the first person to suggest, there has to be an official sat pondering: Just how do you solve a problem like MRIA?

Source: http://www.citymetric.com/transport/paper-sri-lanka-has-two-airports-mattala-rajapaska-international-airport-without-planes