New Port Chairman says SLPA will perform the best to make the callers' stay comfortable with standardised facilities at the port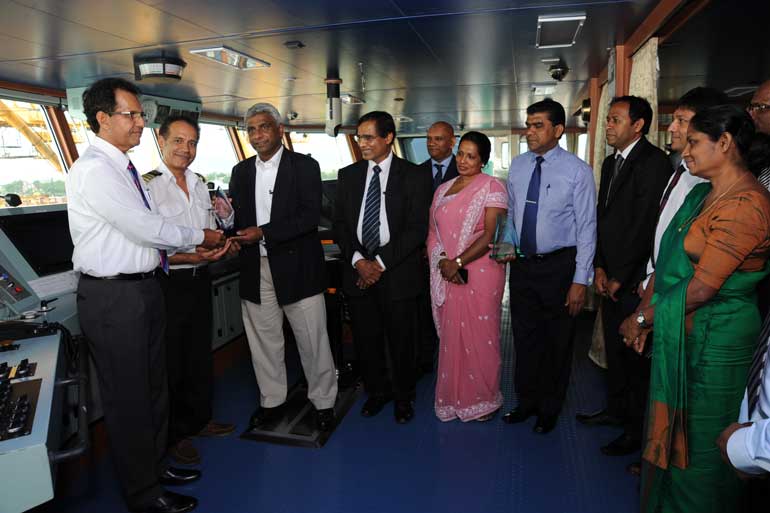 SLPA Chairman Dammika Ranatunga exchanging plaques with the Capt. of the vessel and SIMATECH Marine Lanka Managing Director Saliya Senanayake, to mark the maiden call of Mv. Sima Giselle in Colombo. Secretary to the Ministry of Ports and Shipping L.P. Jayampathi and Additional Secretary to the Ministry Kanthi Perera, Ceylon Shipping Corporation Chairman Sashi Dhanathunge, SLPA Vice Chairman Dr. Prasanna Perera, Executive Director Sanjeewa Wijeratne, SLPA Director (Operations) Upali De Zoysa and Director (Finance) Shirani Wanniarachchi are also seen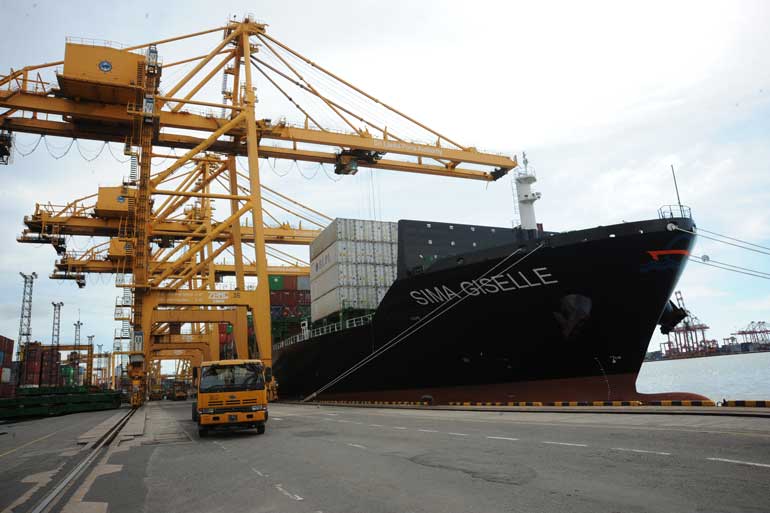 Mv. Sima Giselle called at the Jaya Container Terminal (JCT) of Sri Lanka Ports Authority (SLPA)
SIMATECH Shipping LLC, the world's 27th largest carrier (Alphaliner – October 2015 ranking) celebrated its brand new Mv. Sima Giselle maiden port call on 19 October at the Jaya Container Terminal (JCT) of Sri Lanka Ports Authority (SLPA).

Mv. Sima Giselle the Singapore flagged vessel operated in the AGI (Asean – Gulf – Isc) which had the maiden voyage calling Colombo on 19 October was built in China. It is the largest vessel in the SIMATECH owned fleet. This is also considered the largest feeder vessel owned and operated by a common carrier feeder operator with a capacity of 4400 Teus.

To grace this occasion Secretary to the Ministry of Ports and Shipping L.P. Jayampathi and Additional Secretary to the Ministry Kanthi Perera, along with SLPA Chairman Dammika Ranatunga, Vice Chairman Dr. Prasanna Perera, Executive Director Sanjeewa Wijeratne, SLPA Director (Operations) Upali De Zoysa, SLPA Director (Finance) Shirani Wanniarachchi and senior officials of SLPA were also present.

SLPA Chairman Dammika Ranatunga, while taking part in the exchange of plaques with the Master of the vessel and Managing Director of the agency, shared his sentiments on this inaugural ceremony. He thanked SIMATECH for the initiatives to connect the ISC ports over Sri Lanka, and also congratulated SIMATECH's rapid growth over the previous years, assuring best practises and maintaining industry standards. "We will perform our best to make the callers' stay comfortable with standardised facilities available for them for the maximum productivity through timely operations here in Colombo," he added.

SIMATECH Marine Lanka Managing Director Saliya Senanayake also thanked SLPA for their initiatives and support towards the business growth, and also commended SLPA on the productivity improvements, and initiatives to improve the turnaround of the vessels calling JCT, SLPA. He said the Simatech strongly believes that the Port of Colombo will play even bigger role in the future as the Hub of the region with the Mega ships deployed by major carriers on the East-West route.

SIMATECH Shipping LLC is based in Dubai, with regional offices located in Singapore and India. SIMATECH is the leading Common Carrier Feeder Operator at port of Jebel Ali (DUBAI HUB), SIMATECH has a volume throughput of over 1 million per annum handled at Jebel Ali (Year 2014), operates over 21 services with its own fleet of 12 vessels and 16 charted vessels. Simatech is the second largest Common Carrier Feeder Operator at Port of Colombo, Operating over nine dedicated weekly services over the port of Colombo, Simatech also accounts for over 10% volumes handed at JCT, SLPA.

Colombo is the strategic hub port for Gulf and Indian Sub-Continent ports which Simatech serves directly i.e. Jebel Ali, Iran, Upper Gulf, Karachi, Mundra, Nhava Sheva, Cochin, Tuticorin, Chennai, Krishnapatnam, Vishakapatnam, Chittagong, Singapore, Port Kelang, Port Tanjun Pelpas, Leamchabang, Tianjin, Shanghai and Qingdao.