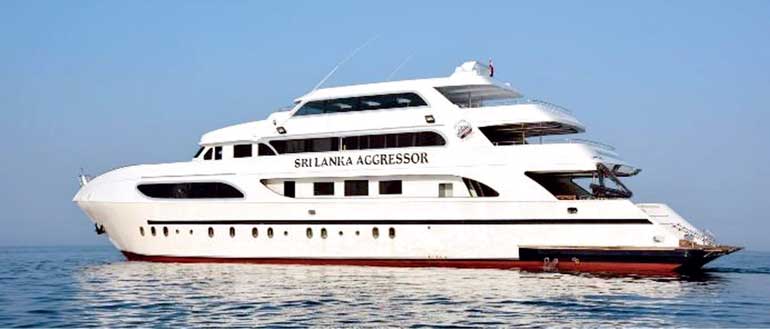 TVB Group in a press release announced that there is a delay in the launch of their new 'Aggressor' branded Super Luxury Liveaboard Yacht in Sri Lanka.

The Yacht operations were scheduled to commence on 3 September with the launch of its first weekly liveaboard charter. At least seven weeks of charters have now been cancelled and the whole development is now in jeopardy as the yacht lays idle in the Colombo harbour.

TVB Group apologised to their international guests booked on the first 7 Sri Lankan Aggressor charters and Aggressor safari lodge trips which have now been cancelled costing Aggressor Fleet, the local management company, local Helitour charter airlines, local five-star hotels and the island of Sri Lanka an estimated $ 700,000 in foreign currency to date.

The delays and cancelations revolve around the Secretariat of Merchant Shipping wanting all commercial yachts that want to operate in Sri Lanka to hold an IACS classification, TVB Group said.

The problem is none of the 1,000 yachts operating in the Red Sea in Egypt or the 430 yachts operating in the Maldives or the 500+ yachts in Thailand are ever built to IACS classification. So indirectly the DG of Merchant Shipping is asking for something that no other commercial yachting tourism national asks for and dooming any new fleet development before one yacht can start to operate.

TVB Group and its local representative Intrepid Development Company wants to thank the Sri Lanka Tourism Development Authority, the Ministry of Defence, Sri Lanka Customs Department, The Immigration Department and Wildlife and Conservation Department for their support of the Development until it came to a grinding halt with the Secretariat of Merchant Shipping.

The Sri Lankan Aggressor Yacht named after the island, is just the first of what could have been a 50 yacht fleet established in Sri Lanka over the next 5 to 10 years by local Sri Lankan businessmen similar to the tourist fleets in Egypt, the Maldives and Thailand, that could generate up to 500,000 new hotel room nights, 100's of domestic charter flights, over half a billion dollars in new tourism revenues per annum and thousands of new tourism related jobs for Sri Lanka.

TVB Group is continuing to work with their local representatives, lawyers and the Sri Lanka Tourism Development Authority to find a solution, in the hopes that more weeks will not have to be cancelled, disappointing 1000's more international tourists over the next three years that could lose their planned vacations and costing Sri Lanka valuable tourism revenue and the launch of this new Super Yacht Tourism business sector for the island.