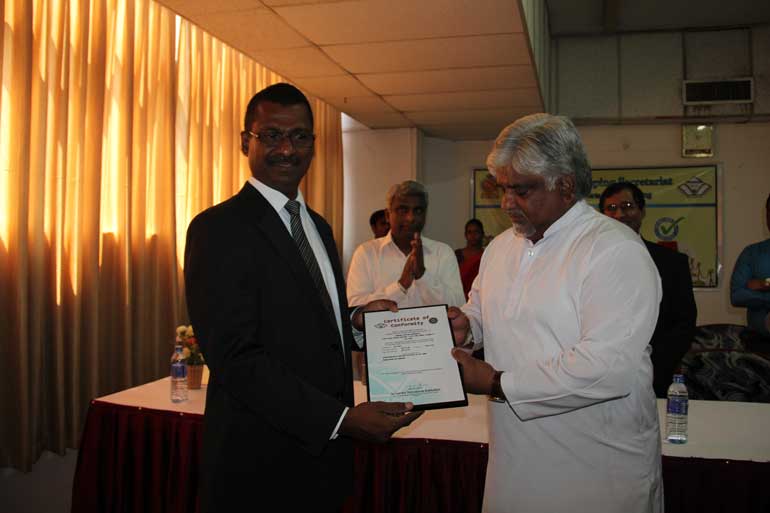 The shipping administration of Sri Lanka, Merchant Shipping Secretariat, was awarded the ISO 9001:2008 standard certification by Sri Lanka Standard Institution Director System Certification T.G.G. Dharmawardena at Merchant Shipping Secretariat office, Colombo 1, on 11 March.

The institution was singled out as the first company in South Asia which has obtained Standard Certification by following rules introduced by the International Maritime Organization (IMO) to reach a high standard in maritime industry operations.

The Chief Guest of the event Minister of Ports and Shipping Arjuna Ranatunga extending his warm wishes to the team of Merchant Shipping Secretariat said the next effort was to let everything in the industry be transparent to the entire world.

"The Secretary General has been very keen on achieving this and we have been discussing this matter several times. I would like to congratulate the entire Secretariat which worked really hard to get to this level. With new websites coming out, it will be very transparent to the entire world. This was something lacking in the past. When I took over the Ministry, I always said that whatever we do, let it be transparent to the entire world not only to our country," the Minster said.

The concluding ceremony of the National Training Course on Marine and Incident Investigation was also held parallel to the event. The Minister extended his gratitude to the lecturers who successfully conducted the training course. "When we took over the Ministry, we always felt that we needed to get guidance and advice from the specialists in the industry. This is what has been lacking in the last so many years. Once again I would like to thank all three of you who have come all the way to spend time with us and educate our own industry to get to the next level," the Minister added.

The activities of the Merchant Shipping Secretariat are governed by the Merchant Shipping Act No. 52 of 1971, Licensing of Shipping Agents Act No. 10 of 1972 and also the relevant clauses of the Admiralty Jurisdiction Act No. 40 of 1983 and subsequent regulations made thereafter. The Merchant Shipping Secretariat deals with ensuring safety of life and property at sea, maritime education, training, examination and certification.