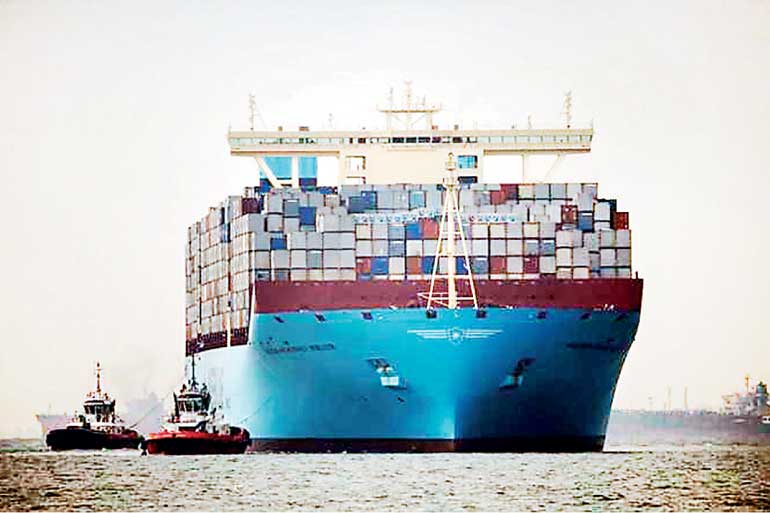 The world's largest container ship, the MV Maersk Mc-Kinney Moller
Maersk Line lost market share in container shipping in the first quarter, disappointing analysts who said A.P. Moller-Maersk's forecast-beating results had been helped by one-offs.

While the world's largest container shipping business reported a jump in net profit to $ 714 million from $ 454 million, due largely to lower bunker fuel prices, analysts noted the Danish conglomerate failed to announce divestments or investor perks such as share buybacks and additional dividends, as it had in recent quarters.

Chief Executive Nils Andersen told journalists on a conference call that Maersk Line would catch up after losing some market share.

"We have no intention of losing market share," Andersen told analysts who focused on this issue in a conference call.

"In a market that grew 1 to 2%, we declined by 1.6%. That is very marginal; if we want to catch up, we will catch up, so I wouldn't worry."

He said Maersk's vessel usage rate had weakened as the volume of goods transported fell.

Freight rates fell 5% although the figure combines spot prices and contracts and does not reflect the fact that on some routes, spot rates have been at loss-making levels.

Maersk Line controls around one-fifth of all containers transported on the world's busiest routes between Asia and Northern Europe.

The higher profit in the container shipping business did not satisfy analysts since expectations were even higher.

"As a consequence of the price war on Far East-Europe during the low season, it seems Maersk Line has stepped out of the market to prevent margin deterioration and lost market share," Nordea Markets wrote in a note to clients.

"Maersk Line ... rates, volumes and costs are slightly worse than expected," said Jesper Christensen, analyst at Alm. Brand Markets. "As a large part of the value of the share comes from Maersk Line, for the time being the disappointment in that business will weigh on the share."

Maersk's net profit rose to $ 1.57 billion from $ 1.13 billion a year earlier, beating a forecast of $ 1.13 billion.

Revenue fell to $ 10.5 billion from $ 11.7 billion, close to a $ 10.9 billion forecast.

Its oil business performed better than expected, however: the lower oil prices eroded net profit by around 40%, while analysts had expected a 95% fall.

The oil price fall saved Maersk Oil $ 170 million in UK taxes, while it was also able to sell a greater share than last year from the 300,000 barrel per day Al Shaheen field in Qatar.

Maersk Oil's agreement to operate the giant oil field runs out in 2017 and Qatar has invited other companies to bid for a new contract. Maersk had expected a renewal without a tender.

"All indications from Qatar is that they are very pleased with us and they would like us to continue as operator but in times of transparency ... they have decided to let others make a bid," Andersen told reporters.

Maersk tweaked its 2015 forecast to 'around' $ 4 billion in underlying profit from 'slightly below' but analysts said that at best brought the target in line with their expectations: Jyske Bank saw $ 5.3 billion in underlying profit.
Daewoo Shipbuilding in talks with Maersk unit for container ships order
South Korea's Daewoo Shipbuilding & Marine Engineering Co Ltd (DSME) is in talks with a unit of A.P. Moller-Maersk for a potential order to build ultra-large container ships, a DSME spokesman said on Monday.

DSME is close to winning an order for some 11 container ships of 20,000 TEU (20-foot equivalent units) from Maersk for about $ 151 million per vessel or more, South Korean newspaper Korea Economic Daily reported last week, citing unnamed shipbuilding industry sources and foreign media.

British shipbroking house Clarkson also confirmed the deal, which is worth $ 1.66 billion in total. The ships would be delivered in 2017, Clarkson said in a shipping industry report on Friday.

The spokesman for DSME declined to confirm or deny other details, adding that nothing has been decided.

"Maersk Line never comments on rumours," a spokesman from Maersk Line, the container shipping unit in Danish conglomerate A.P. Moller-Maersk, said.

DSME won orders totalling $ 3.9 billion from Maersk in 2011 to build 20 so-called Triple-E container ships of 18,270 TEU, which at the time were the biggest container ships ever ordered.