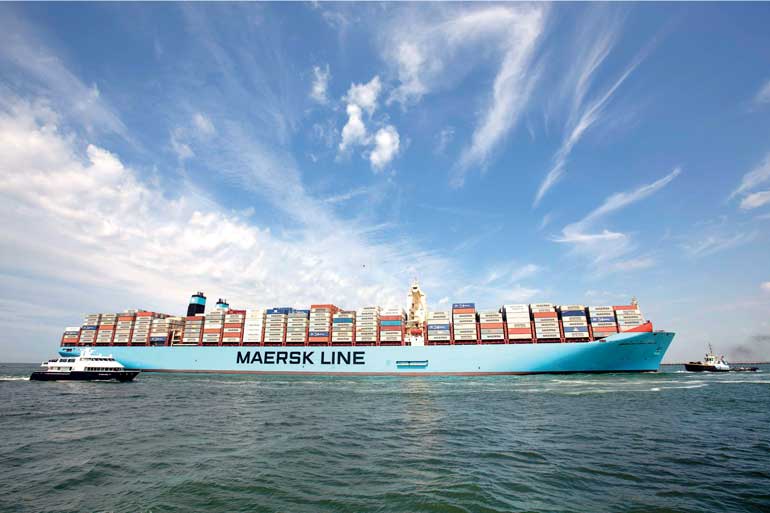 COPENHAGEN (Reuters): The world's biggest shipping firm, A.P. Moller-Maersk, set a new course last week that will see the $ 30 billion firm bulk up its transport business while seeking alliances or a separate listing for its energy operations.

Low freight rates and oversupply have rocked the container shipping sector, with South Korea's Hanjin Shipping Co. Ltd. forced into receivership last month, stranding an estimated $ 14 billion in cargo on its ships.

Maersk, with a fleet of more than 600 ships, will focus its attention on building up its transport and logistics operations despite these problems, while creating a separate energy division combining Maersk Oil and three related companies.

The latter will be split from the main company individually or in combination "in the form of joint-ventures, mergers or listing", within two years Maersk, which is controlled by the Maersk family and was founded in 1904 by A.P. Moller, said.

The spin-off should allow Maersk to shed any conglomerate discount by allowing markets to value each of its businesses.

Estimates for the sum of the parts vary, with Denmark's Sydbank saying the Transport and Logistics division could be worth $26-$35 billion and the Energy division possibly $11-$23 billion, while Barclays analysts say a standalone Maersk Oil would currently have a market value of around $ 4.7 billion.

"Separating our transport and logistics businesses and our oil and oil related businesses...will enable both to focus on their respective markets. Both face very different underlying fundamentals and competitive environments," Chairman Michael Pram Rasmussen said in a statement.

The shake-up will be led by Soren Skou, the 52-year-old chief executive of Maersk Line who became group CEO in June. He will lead the new Transport and Logistics division, while Maersk Drilling boss Claus V. Hemmingsen will head the Energy unit.

Some analysts and investor, however, said the 112-year-old company had not gone far enough.

"It might be one of the most pain-free solutions relative to other scenarios, but they could have gone even further," Nykredit analyst Ricky Rasmussen said, suggesting the group could have been cut into four units.

The weak shipping market has hit the top companies which have invested heavily in "mega-ships", largely to operate on the main Asia to Europe trade route, with industry analysts questioning whether there is enough work for them

Otto Friedrichsen, equity strategist at Danish asset manager Formuepleje, with around 45 billion Danish crowns allocated in bonds and equities, has shunned the shipping industry including Maersk, and was sceptical about the split.

"I still want to see changes in the underlying markets and don't see this as creating any value here and now."

Maersk's second-quarter group net profit of $ 101 million was well below the $ 196 million expected by analysts.

"We had a quite poor second quarter, but some players have it much worse than we do, which we also saw with Hanjin," Rasmussen told Reuters after the split was announced.

South Korea's Hanjin Shipping Co. Ltd., the world's seventh largest container carrier, filed for court receivership in late August. Rasmussen expects a recent wave of consolidation to intensify, and told Reuters that Maersk is ready to use its cash reserves of close to $12 billion to buy up competitors.

"The Chinese shipping companies are now uniting forces because they are under pressure. In the long run, no one finds it amusing to run a loss-making business," Rasmussen said.

Clustered with Maersk Line in the Transport and Logistics division will be APM Terminals, Damco, Svitzer and Maersk Container Industry, which together accounted for more than 75 percent of the group's first-half revenue.

Maersk Oil and related firms such as Maersk Drilling have grappled with stubbornly low oil prices which remain 60 percent below mid-2014 levels.

Grouping the two energy firms with Maersk Supply Service and Maersk Tankers was a positive first step toward exiting the sector, said analyst Morten Imsgard at Sydbank. "It was as far as Maersk could go right now, because they could not have a ready-made solution for the energy division in these markets, if they also want to realise a decent price for the assets," he said. "Maersk Oil...is a small player, so there are many players big enough to take (it) in. (Maersk) Drilling is relatively large, but its competitors are under extreme financial pressure, so it's less likely to find an sale opportunity there."

Earlier banking sources told Reuters that Maersk was in talks to buy a portfolio of North Sea oil assets from Royal Dutch Shell as it considers scaling up the oil and gas business ahead of a spin-off.
Maersk chairman says ready to take role in shipping takeovers
COPENHAGEN (Reuters): Denmark's A.P. Moller-Maersk , the world's largest container shipping group, is ready to use its financial muscle to swallow up struggling competitors as the industry heads for further consolidation, the company's chairman said.

Earlier, in a keenly anticipated revamp aimed at reviving its fortunes, Maersk said it will split itself up and focus on transport and logistics, while seeking a way out of energy.

The global shipping industry is in the middle of its worst downturn in decades, with severe overcapacity at a time when seaborne trade has yet to pick after the financial crisis.

The Maersk group posted a second-quarter net profit of just $101 million, well below the $196 million expected by analysts.

"We had a quite poor second quarter, but there are players that have it much worse than we do, which we also saw with Hanjin," Pram Rasmussen told Reuters in an interview.

South Korea's Hanjin Shipping Co. Ltd., the world's seventh largest container carrier, filed for court receivership in late August.

Rasmussen expects the recent wave of consolidation to intensify, and says Maersk is ready to use its strong financial position – with cash reserves of close to $ 12 billion – to buy up competitors.

"The Chinese shipping companies are now uniting forces because they are under pressure. In the long run, no one finds it amusing to run a loss-making business," Pram Rasmussen said.

Maersk said it aims to expand its market share in the shipping industry every year through organic growth, but could grow faster through acquisitions.

"If we are to grow inorganically, our path is to buy existing assets. There are ships enough already," he said referring to the sector's current oversupply of new vessels.

"By the end of the year, there will be at least four shipping companies less than when the year started, and I think we'll see further consolidation."