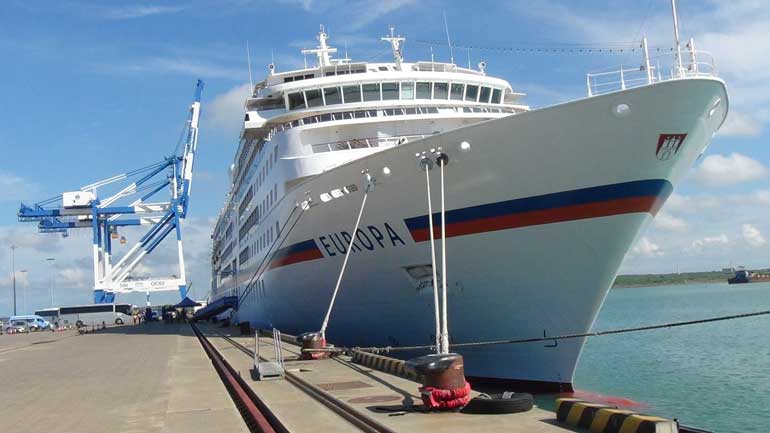 The 400 passenger capacity luxury passenger vessel M/S/Europa called at the Port of Hambantota recently enroute to Ko Phi Phi Islands in Thailand.

The voyages of the vessel include a 154 days world cruise from Dubai to Hamburg and a 19 day Asia voyage from Dubai to Singapore. The vessel also called at the Port of Colombo prior to her call today at the Port of Hambantota carrying 327 passengers on board. The luxury cruise ship MS Europa is owned by German operator Hapag-Lloyd.

Hapag- Lloyd Lanka is the local agent for Hapag-Lloyd, considered one of the largest container shipping lines in the world. Hapag-Lloyd Lanka Ltd is a subsidiary of Aitken Spence PLC Ltd;

Hapag- Lloyd Lanka/Aitken Spence, have made arrangements to bring more passenger vessels to Sri Lanka with the long term vision of promoting the island as one of the best tour and travel destinations in the region and will bring more callers at the Ports of Colombo, Galle, Hambantota and Trincomalee during the year 2016.